Campus & Community
Harvest Conference prepares students for success in college and beyond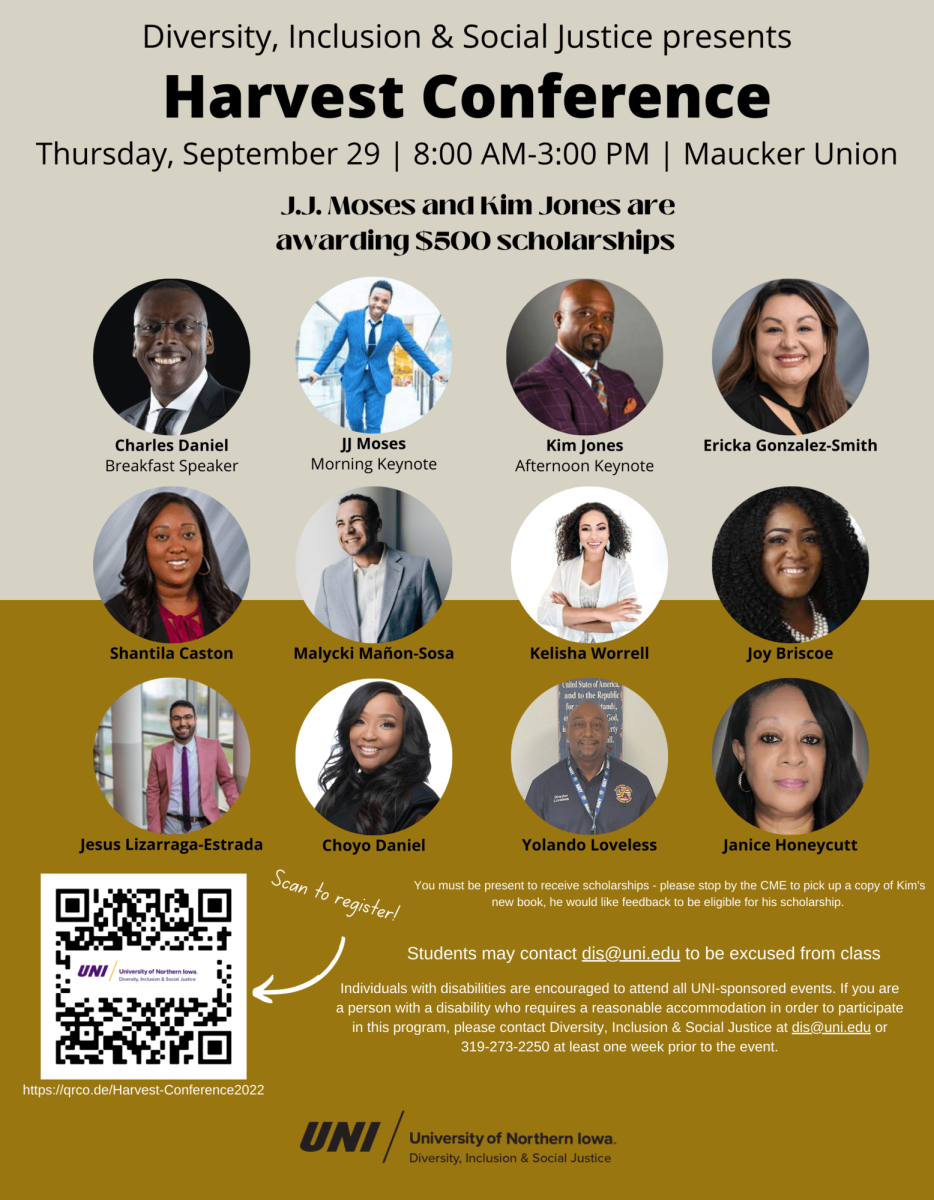 Following a successful turnout in 2021, Diversity, Inclusion and Social Justice will be hosting the second annual Harvest Conference on Thursday, Sept. 29. The conference is for multicultural high school students, college students, UNI faculty and staff and community members. Through a variety of breakout sessions and two keynote addresses, attendees will be encouraged to reset, refocus and renew their minds for optimum efficiency. 
WIth the success of the inaugural event, Director of Diversity, Inclusion and Social Justice Chiquita Loveless said bringing the conference back was an easy choice. It was something students were already asking for during last year's conference.
"All of our speakers are coming in to our students, support them and help them understand the importance of not only coming to enjoy college, but prepare to reset, renew and refocus and get some of the things they need to succeed in life," said Loveless.
The scope of the event has grown from having five speakers last year to 11 this year. The featured speakers will be local community members as well as professionals from around the country. 
"I am excited to return to this year's Harvest Conference and share some insights and wisdom gained through my life experiences with UNI's student attendees," said keynote speaker Kimbertly Jones, who is the founder of a publishing company and a strategic workforce planning advisor for the Centers for Disease Control and Prevention. "My goal and hope is that my message inspires and/or ignites a paradigm shift that both prepares and empowers attendees for success beyond their student experiences." 
The second keynote speaker is JJ Moses, a Waterloo native and former NFL player who now works as a motivational speaker and transitional coach for the NFL.
To gather speakers for the event, Loveless personally reached out to individuals she knew were not only successful in their career fields but also had a heart for helping the next generation.
"During the harvest season, that's when we pluck," Loveless explained. "So in regards to the name, we're plucking up young minds and pouring into those young minds to help them achieve their level best."
Breakout sessions will go over topics like mental health, finances and personal strengths. There will also be sessions directed at veterans and sessions directed at the LGBTQ community. 
"We're starting early and preparing our students for success, not waiting until they're in their second and third year," said Loveless. "We're grabbing them in their first year and saying, 'Hey, here's what you need. We're prepared to give you all these resources and all of the tools to go in your toolbelt so that you can go for it. And it's right at the beginning of the school year, in the fall."
Loveless hopes every attendee leaves the conference with at least one takeaway that will encourage them to make a positive change in their lives. For some, she said that could be going to a mental health screening. For others, it could be taking action to build their finances.
"When you know better, you do better," said Loveless. "So if we prepare our students at an early episode, at the beginning of the game, they won't have to play catch up later on in the future years. We lay out those resources that they need now. They will have resources in front of them to make a positive change in their life."
While Loveless believes going to something like the Harvest Conference when she was younger would have been beneficial, she said she still was able to walk away from the conference last year having learned something.
"We're never too old to learn," said Loveless. "We are all gaining knowledge as we listen and learn. If we stay stagnant in one place, we will never get to where we want to go."
As she thinks ahead to Sept. 29, Loveless gets the most excited about seeing students with inquisitive minds listen and ask questions. 
"The Harvest Conference is putting people in front of young people that have walked in their shoes and letting them know that everything is going to be okay," said Loveless. "You just have to learn how to navigate through the things that you're going to be dealing with."
The day session of the Harvest Conference will be held in the Maucker Union Ballrooms from 8 a.m. to 4 p.m. The evening session which is open to the community will be held at the SportsPlex in Waterloo at 6 p.m. 
Although the event is free, registration, which is already open, is required.