Campus & Community
Meskwaki youth explore college life with summer camp at UNI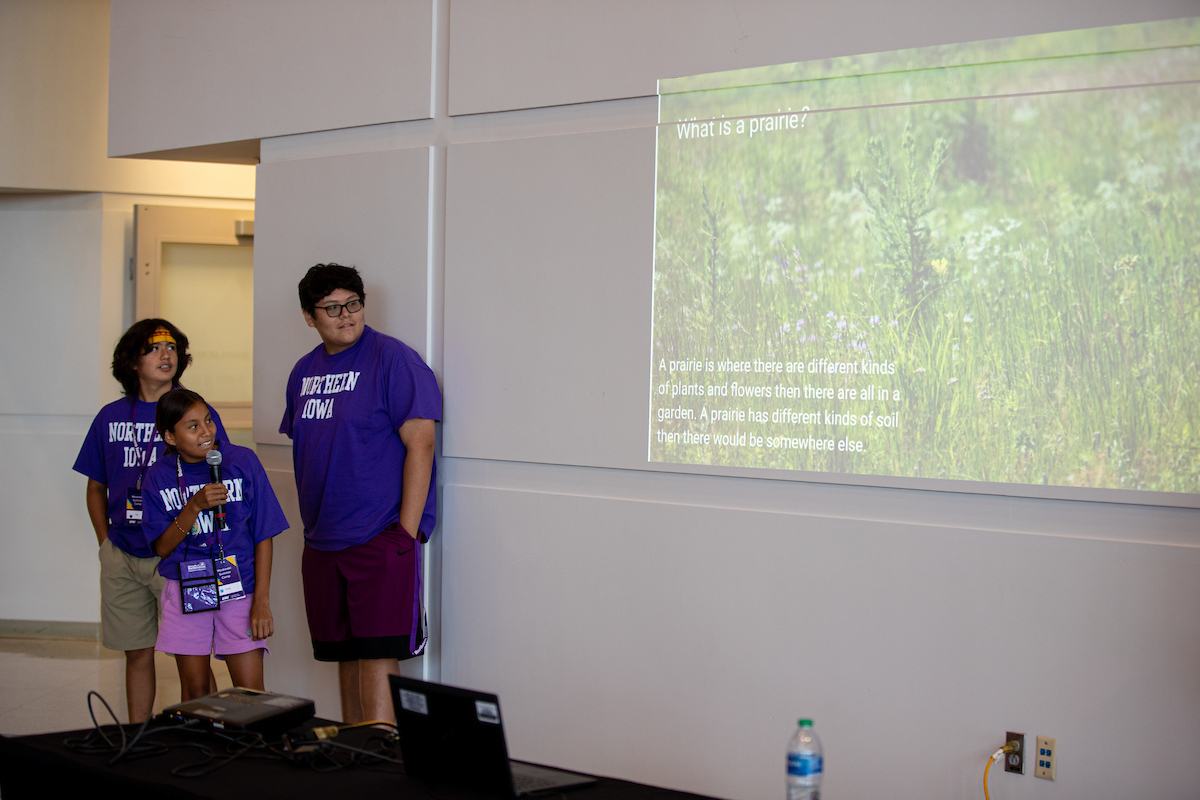 Twenty Meskwaki youth recently enjoyed a five-day college and career readiness camp at the University of Northern Iowa, thanks to the growing partnership between UNI and Meskwaki Nation. 
During the camp, these eighth- through 12th-graders took part in college and career readiness sessions, academic workshops and recreation activities while getting to know UNI and connecting with faculty and staff.
This partnership was born out of UNI's recognition that the university sits on ground once stewarded by the Meskwaki Nation, amongst other native and indigenous tribal organizations. When the university began drafting its Mission Stewardship Statement, UNI leadership asked the Meskwaki Tribal Council how UNI could address the different needs of Meskwaki Nation. The idea for reviving this camp, which was previously offered to middle school students only, came out of conversations between UNI and the Meskwaki Tribal Council.
"I'm really grateful for our partners at Meskwaki Higher Education, for all their feedback and direction as we coordinated the Meskwaki Summer Camp throughout the year," said Assistant Director of Diversity Recruitment Janine Baeza, who was one of the directors of the camp. "The students kept raving about how much fun they had swimming at the WRC, performing lab tests with our Communication Sciences & Disorders faculty and learning about different aspects of college and career readiness. The UNI community loved hosting the camp and I'm so thankful to play my part in coordinating things."
Meskwaki Higher Education, which played an important role in organizing the camp, is a Meskwaki program focused on preparing students to take their next steps after high school graduation. 
Beyond the information sessions and workshops, students were able to build connections with their peers and with current students and faculty at UNI. 
"After seeing the way the students interacted with each other and faculty and staff on day five compared to day one, you can tell they were so much more comfortable even with themselves," said Jesús Lizárraga Estrada, director of student success & retention at UNI. "It was nice to see the growth that happened in such a little amount of time and the mentorship that occurred between the participants and the resident counselors."
The campers also engaged with UNI students — many of whom are members of the Meskwaki Nation — who served as resident counselors during the camp. One of these counselors had even been a part of the previous version of the camp when she was in middle school.
In an effort to help them explore areas they were interested in, campers were placed in one of four different academic sessions. 
"We didn't want them all to do the same thing because they're all different people," explained STEM coordinator Marcy Seavey, who helped organize and implement the camp. 
Academic sessions were facilitated by UNI faculty, and topics included arts and symbols, the Tallgrass Prairie Center, health and education, and food sovereignty. Campers worked closely with faculty in small groups to co-create a project by the end of the week. The goal of these programs was to expose campers to a variety of areas and to show them what a future in art, conservation, health or education can offer. 
Camp organizers agreed that this year's camp was a success, and the goal is to continue it annually.
"What I appreciate the most about the relationship between UNI and Meskwaki Nation is we all want the same things for our youth," said Seavey. "We want them to have experiences that help them figure out who they are and build skills and open doors to their future so that when an opportunity comes up, they can take advantage of it."