Campus & Community
UNI boasts top ranking Education, Social Work and Business programs in new report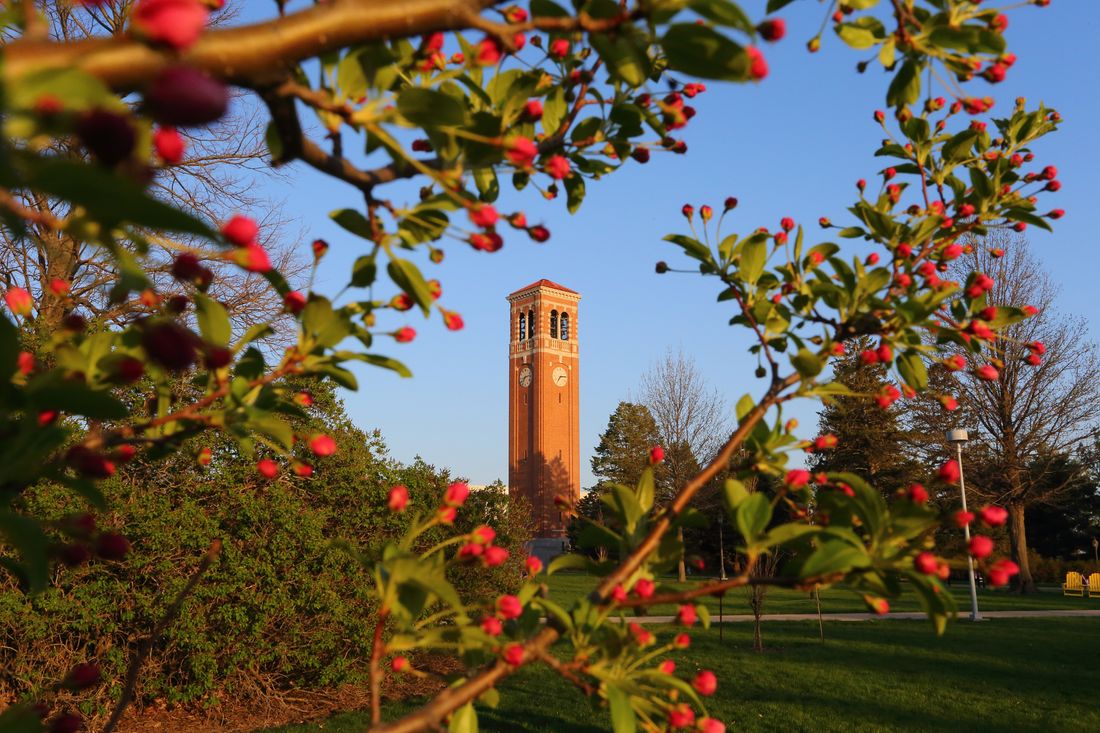 Three University of Northern Iowa graduate programs were named among the top graduate programs in the country, according to a new U.S. News & World Report ranking.
The programs–Education, Social Work, and the part-time MBA–ranked among the top 200 in the country on the publication's Best Graduate Schools for 2023 list. The U.S. News & World Report rankings compare programs offered by colleges and universities across the United States; UNI's recognition places three of the university's signature areas of study atop similar programs across the country.. 
"This recognition for our master's programs points to the high-quality education we provide through our outstanding graduate faculty and staff, who nurture a strong and personalized learning environment that enables students to reach their educational and professional goals," said University President, Mark A. Nook. "UNI is proud to offer nationally-recognized and affordable graduate and professional programs that lead to high-demand careers in Iowa and beyond."
"Having our graduate programs recognized among the top 200 programs in the nation is a great honor," said Jennifer Waldron, PhD, dean of the Graduate College. "Our graduate faculty are committed to providing high-quality teaching and our staff provide exceptional support so students can excel in the classroom and apply the skills they've learned in their current and future careers. The relationships students build throughout the program, both with faculty and peers, provides students with a valuable sense of community and offers added support as they navigate and complete their programs."
Preparing a Strong and Dynamic Educator Workforce
In addition to leading undergraduate teacher education for Iowa, UNI offers the full continuum of graduate education including master's programs and the Doctor of Education. Graduates of UNI's master's and professional licensure programs in education fill areas of critical need across all 99 counties in Iowa, including placements as principals, superintendents, school psychologists, teacher librarians, learning technologists, teachers and more. 
"This recognition is but one reflection of the quality of our programs, and we appreciate being acknowledged as having some of the best graduate programs in education in the country," said Colleen Mulholland, EdD, dean of the College of Education. "We strive to offer a balance of on campus and online coursework that meets the needs of today's professionals seeking to advance their careers and their expertise."
In addition, the ranking also represents programs in school counseling, social work and speech/language pathology in the colleges of Social and Behavioral Sciences and Humanities, Arts and Sciences, roles that meet needs in school districts and across many other industries. The honored programs for graduate education are a mix of face-to-face and hybrid or online degrees offered in partnership with Online and Distance Education and the Graduate College. 
Leading the Preparation of Global Business Professionals
UNI's part-time MBA program is tailored to the working professionals and offers in-person, educational opportunities in four locations across Iowa: Cedar Falls, Pella, Fort Dodge, and Mason CIty. Because of a strong global reputation, UNI also offers the MBA program to students in Shanghai and Hong Kong. Classes are typically held in the evenings and on the weekends so working professionals more easily fit classes into their schedule. 
The MBA program is currently taking applications for a Fall 2022 start at Cedar Falls and Pella. Due to the uncertainty and travel restrictions created by the COVID-19 pandemic, the international MBA program has temporarily paused on accepting new applications.  
"To be ranked as one of the top 200 MBA programs in the country is a huge accomplishment, and it points to the success of our program," said Dale Cyphert, MBA Graduate Program Coordinator. "Over the years, our program has continually ranked among the top in the country, which is a testament to the high-quality education students receive at UNI." 
UNI Social Work Excels in Trauma-Informed Care
Since 2013, UNI's Master of Social Work program has provided a trauma-informed care specialization based on decades of research on how people are affected by stress, adversity and oppression. Students work with scholars and experts in the field of trauma and mental health, gain experience in the field, and learn innovative approaches to address the complex problems facing our world.
"Our program is the only trauma-informed care program in Iowa, and one of only a few across the country," said Cynthia Juby, Department Head of Social Work. "So that's really what makes our program stand out and I believe that is why the program has been so successful." 
The program boasts flexible class schedules, which include online and in-person options. 
For students who prefer the flexibility of online learning there are two options. The first is an accelerated, part-time program that enables students to complete the program within two and a half years. The second is a part-time program for students who do not have an undergraduate degree in social work. That program takes about three years to complete.
Both online options are geared toward working professionals who might not have the time to take on the demands of a full-time program in addition to their careers. 
UNI also offers an accelerated in-person program, which is full time and enables students who have their undergraduate degree in social work to complete their MSW in one year. 
"This ranking is a testament to the quality of teaching we have at UNI," said Matthew Vasquez, MSW Coordinator. "Our commitment to the trauma informed specialization and being able to provide multiple learning offerings, whether it be in person or online, is what makes this program so successful and brings in a pretty wide draw of people who are wanting to get affordable social work education without compromising on quality."
About the U.S. News & World Report Rankings
Each year, U.S. News ranks professional school programs in business, education, engineering, law, medicine and nursing, including specialties in each area, and periodically ranks programs in the sciences, social sciences and humanities, health, and many other areas based solely on academic experts' ratings.
The Best Graduate Schools rankings are based on two types of data: expert opinions about program excellence and statistical indicators that measure the quality of a school's faculty, research and students. 
To gather the peer assessment data, U.S. News asked deans, program directors and senior faculty to judge the academic quality of programs in their field on a scale of 1 (marginal) to 5 (outstanding). In business, education, engineering, law, nursing and medicine, U.S. News also surveyed professionals who hire or work with new graduates. The schools supplied U.S. News with the names for those surveyed for peer assessment and the professionals in each field in summer 2020.
The data for the rankings in the six main disciplines in the 2023 listings came from statistical surveys of more than 2,150 programs and from reputation surveys sent to more than 23,000 academics and professionals, conducted in fall 2021 and early 2022.