Campus & Community
UNI-CUE hosts educational, community leaders in Waterloo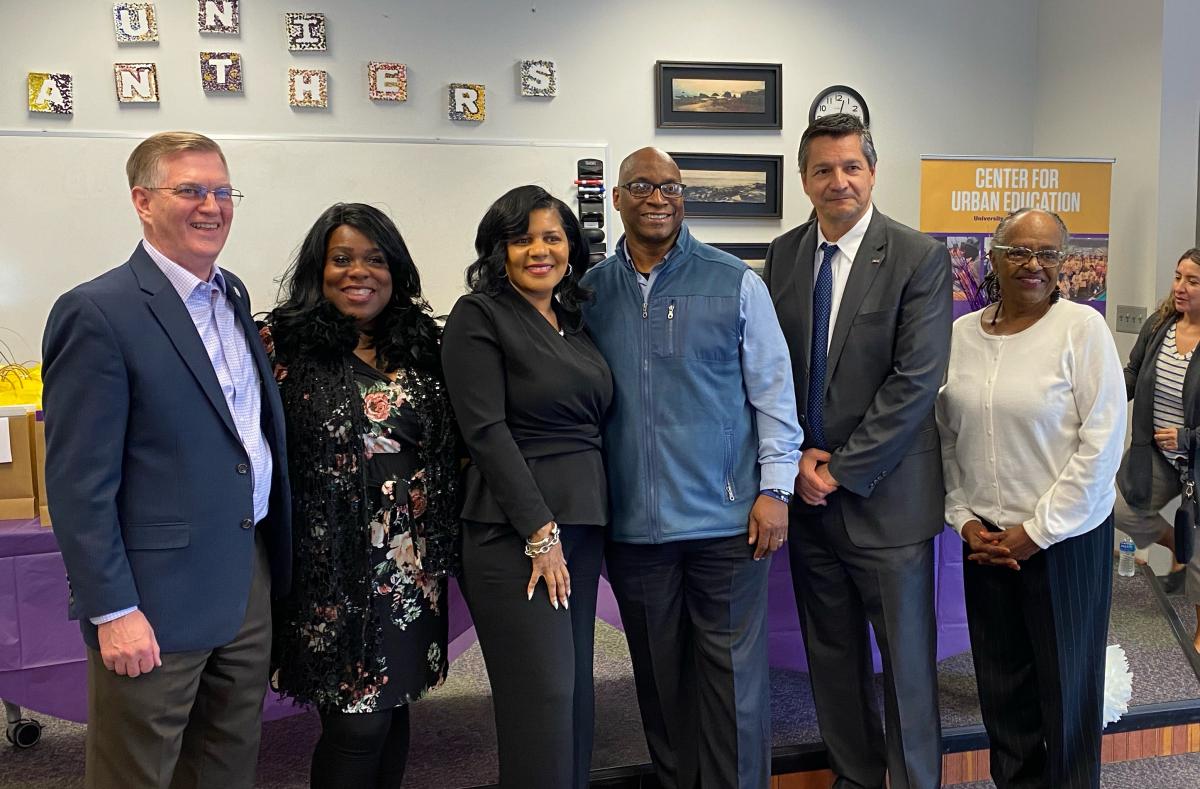 From left to right: UNI President Mark Nook, Marcy Roundtree - Cedar Rapids Board of Education, Cedar Rapids Community School District Superintendent Tawana Grover, UNI-CUE Executive Director Robert Smith, UNI Provost Jose Herrera, Nancy Humbles - Cedar Rapids Board of Education
The University of Northern Iowa Center for Urban Education (UNI-CUE) in Waterloo served as the host for educational and community leaders from across the greater Cedar Valley and Corridor on Tuesday. UNI-CUE executive director Robert Smith and his team hosted their annual "thank you" luncheon which also served as a forum to share perspectives and to learn how UNI continues to help meet the needs of students across the state of Iowa. 
UNI President Mark Nook and Provost José Herrera shared their appreciation for the work UNI-CUE does in Waterloo, Cedar Falls and Cedar Rapids, as well as their vision of UNI's ongoing commitment to making a college education accessible to a wide range of students who may not have considered college a viable option in their lives. 
In addition to UNI leadership, Cedar Rapids Community School District Superintendent Tawana Grover participated in the event, along with representatives from John Deere and other community stakeholders. 
"Thank you to the many individuals and organizations who continue to support UNI-CUE," Smith said. "In addition to members of our UNI leadership team, it is our privilege to welcome the school district superintendent from Cedar Rapids and engage in dialogue with our staff. We are grateful to have so many people who are so invested in our young people and our communities gathered together. UNI-CUE is committed to continuing our many programs that have produced proven results and outcomes for students across the Cedar Valley."
In October 2021, UNI-CUE added Educational Talent Search - Cedar Rapids to its programming. Like its Waterloo counterpart which serves the Waterloo Community School District, Educational Talent Search serves middle school and high school participants in the Cedar Rapids Community School District.
Funded by the United States Department of Education and the University of Northern Iowa, the Educational Talent Search program provides tutorial services, career exploration, information on postsecondary education, exposure to college campuses, information on student financial assistance, assistance in completing college admissions and financial aid applications, assistance in preparing for college entrance exams, special activities for sixth, seventh and eighth graders, as well as workshops for the families of participants.
For a complete list of programs supported by UNI-CUE visit the UNI-CUE website.