Campus & Community
UNI plans Black History Month kickoff with dinner and show, Ayanna Gregory's "Daughter of the Struggle"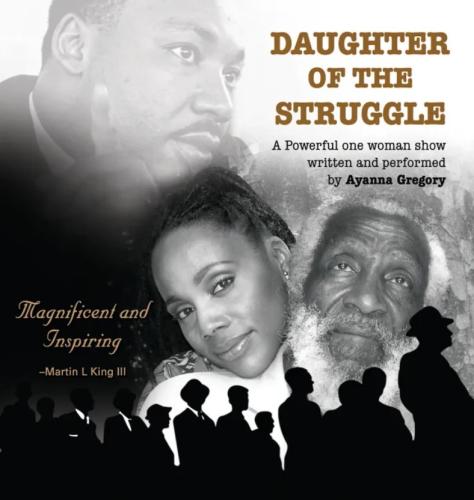 The University of Northern Iowa is kicking off the celebration of Black history and culture with an evening with Ayanna Gregory on Feb. 3, as she performs her one-woman show, "Daughter of the Struggle," which takes the audience on an unforgettable journey into the life of the legendary Dick Gregory and the family that loves him.
Sponsored by UNI's Diversity, Inclusion, and Social Justice Department, the dinner and show starts at 5:30 p.m. in the Maucker Union ballrooms. The event is free, but individuals interested in attending should secure their spot by registering in advance.
Ayanna Gregory's one-woman show is a tribute to her father's life and a memoir of her upbringing as the daughter of a civil rights activist, portraying the sacrifices of her family and those of other freedom fighters. 
Born in 1932 in St. Louis, Dick Gregory was an accomplished comedian and author and fervent civil rights leader. He was the father of 10 children, including Ayanna, and was known for his direct language when discussing race and racial inequality. He died in 2017 at the age of 84.
Ayanna describes the show as a gift that keeps giving. "It continues to change form and is transforming me in the process," she said. "It is such an honor to stand as the continuum of such a powerful legacy. It is so important to me that my father knows who he is to me. Martin and Malcolm never got the chance to hear their children talk about them."
UNI will also host several events to celebrate Black History Month throughout February, including the African American Read-In and African American Children & Families Conference. UNI's Black Student Union, which recently celebrated its 50th year on campus, is also coordinating a series of events.