Education
AEA head John Speer earns Educational Leadership Legacy Award
CEDAR RAPIDS, Iowa - John Speer, chief administrator with the Grant Wood Area Education Agency in Cedar Rapids, Iowa, has received the 2023 UNI Educational Leadership Legacy Award. 
This award is given annually to a graduate of the University of Northern Iowa principalship, superintendency or doctoral programs who has demonstrated exemplary educational leadership as a leader of learning, service and/or change, core values of educational leadership at the College of Education. 
Speer earned his BA in English education in 1994, his MA in educational administration/secondary in 2000, advanced studies certificates in superintendency and principalship in 2002 and his EdD in the educational leadership intensive study area in 2017, all from UNI. He began his teaching career in 1994 and moved into administration as high school principal by 1999. Prior to joining the AEA in 2018, Speer served in superintendent positions with the College Community, Ballard and Allamakee school districts.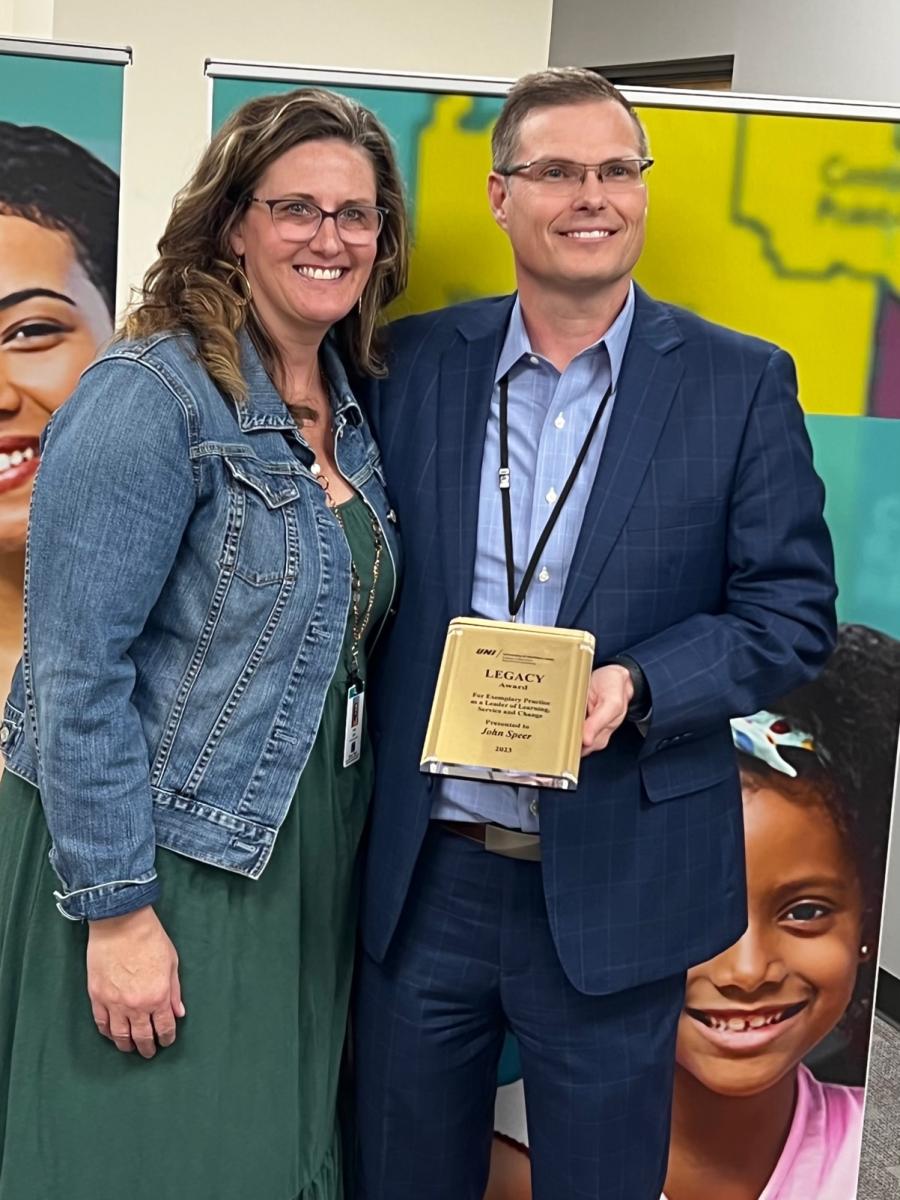 John Speer with his wife
Comments from colleagues upon hearing news of the award recognize Speer as a visionary leader who focuses on service, connects well with people and has a passion for students and schools.  
"John always led by example. So many leaders will say the right thing, but John always did the right thing and those he worked with, including myself, saw that and we appreciated that more than he'll ever know," said Mary Jimmerson, current West Branch superintendent. 
Roark Horn, EdD, instructor in educational leadership who holds the Pomerantz Professorship in Educational Excellence,  served as a mentor to Speer earlier in their careers.
"It can be viewed as a statement of fact that, although I was the mentor, I learned far more from John than he ever learned from me," he said as he presented the award to Speer on May 9 on behalf of the college and the educational leadership team within the Department of Educational Psychology, Foundations and Leadership Studies.
The annual award was established with support of a gift from the family of Vernon Kirlin ('46, BA), a longtime educator and school administrator, to honor his legacy of educational leadership. 
Members of the Educational Leadership Team at UNI and John Speer