Education
Finding her voice at UNI
For a time when she was 11 years old, Leydi Eagan stopped talking. Her childhood dream of being adopted had come true, but traveling 2,000 miles from an orphanage in Colombia to live with her new family in Iowa turned out to be the easy part. 
Traversing the vast language and cultural differences was much harder, especially for a child. And when she found herself bullied in elementary school for her accent and skin color, silence seemed like the best option.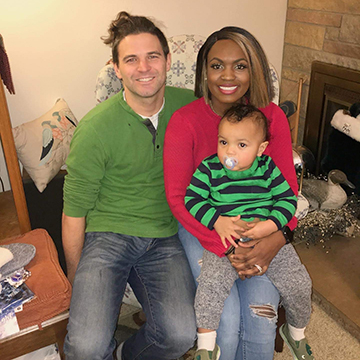 "My mom worked really hard on teaching us English, but we had an accent and we got made fun of," said Eagan. "I stopped talking at school altogether."
At UNI, the senior is reclaiming her voice, not only digging deeper into the culture of her birthplace but studying to teach English to other non-native speakers. It's a journey that has taken her from Cali, Colombia to New Hampton, Iowa (pop. 3,406) and back again. 
With her husband and son, 3, by her side, Eagan recently returned to the Cali orphanage where she spent her early childhood. She plans to return to Colombia when she graduates this fall to teach English. 
"I want to become a teacher because I know what it's like to be the student," Eagan said. "A big part that I would teach, because of what I experienced, is to let students remain  who they are. It's important for people to learn the new culture and environment they're going to be in, but it's just as important to maintain the language and culture that you come from, because it's a part of who you are.
"When I first moved here, I only wanted to speak English. You kind of want to forget [your first language] language so you can fit in," she said. "People don't know that there are Black Hispanics. No one really knew that I was Hispanic. I kind of buried that. Then when I started taking classes at UNI, slowly I started reclaiming that part of me."
It was an academic Spanish class with UNI professor of Spanish and Associate Dean of Spanish Jennifer Cooley that inspired Eagan, who went years without speaking her native language,  and gave her a vision for her future as a language teacher helping others trying to cross cultures. "That's when I knew that this is what I want to do — teach … the way she taught," she said.
The respect is mutual. Cooley said that Eagan rose to the challenge of learning academic Spanish — and taught Cooley some things in the process. Cooley was inspired seeing  Eagan gain confidence and "embrace her unique perspectives and abilities."
"She was facing the challenge head on, seeking to learn on every possible level and to share her discoveries with others," Cooley said. "She earned my respect as a student, a future teacher and an individual."
Eagan wasn't always so confident or sure about her future. Growing up in the orphanage in Colombia, Eagan would often spend time sitting by the window outside her room praying for two things — to be adopted and for a baby sister. When she and her brother were adopted in the fall of 2006 by a family from Britt, Iowa, alongside another baby girl from their orphanage, it seemed like her prayers were being answered. But adjusting to life in the United States was a challenge.
"We started school in January and that's when the culture shock hit," she said. "All the kids were white, and Colombia is a very diverse country, so my brother and I knew right away that we stood out."
Eagan and her family moved from Britt to New Hampton two years after she was adopted. She said she faced bullying and prejudice through her middle school years. For high school, she moved in with her grandmother in Cedar Falls to attend classes there. That's when she started getting serious about her future. She applied to Hawkeye Community College, unsure of whether she'd get in.
"Once I got the acceptance letter I kind of started looking up from there thinking maybe I can do this… I can dream big," she said.
Her mother attended UNI, so she planned to transfer to UNI in spring 2019 to study social work. But while she was at Hawkeye, Eagan got pregnant with her first child, and she wasn't sure if she would be able to balance classes with motherhood. But when she discovered the TESOL major, she knew she found a calling. "That's when I was all in," she said.
With her husband, brother and son alongside her, Eagan recently returned to the orphanage she grew up in.
It was a powerful experience. She  hugged Mama Laura, the "mother hen" who helped raise Eagan and her brother, and traded stories about their time together. She smiled  at the ones about her brother - then an infamous troublemaker sneaking out onto the orphanage's roof. "He was kind of a legend," she said with a laugh. 
And she saw the same bedroom where she used to stare out the window and pray for a better life.
"You have this whole life before you get adopted and the older you get, you start to wonder if you made it all up," she said. "It was awesome to go back there and show my husband this is where I grew up."
For the first time, Eagan is excited to share these memories — through her teaching, and with her son, who's now 3 years old. She plans to move back to Colombia when she graduates, which she hopes will allow her to apply the skills she learned at UNI to make a difference there.
"I want to teach English there because I feel English as a foreign language will allow me to use the same method that Jenny used for her class," said Eagan. "We also want [our son] to learn Spanish there and I think it's important to show him where I grew up. What's me is a part of him, so I want him to embrace that part."