Education
Teacher education students gain extra classroom experience through professional development school partnerships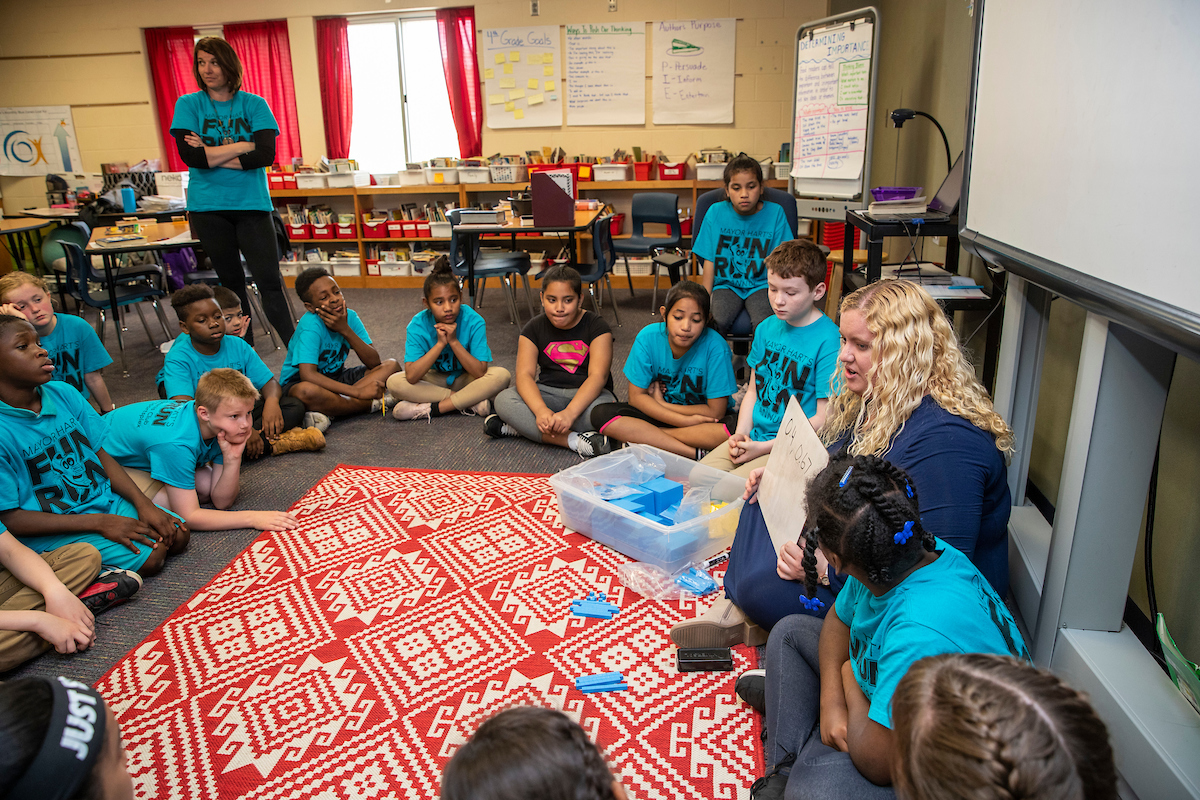 Starting on Oct. 17, students working toward becoming educators all across the state put on their teacher clothes to take on greater responsibility in the classroom setting. The week-long experience, known as level threes, will culminate in these students taking charge of the classroom. 
Some University of Northern Iowa students will be going into this field experience knowing the students and teachers they will be working with thanks to UNI's professional development school (PDS) partnerships. Since 2016 when UNI began to develop this program, the PDS has given students more field experience, allowing them to connect coursework to real classroom experiences with real students. UNI has dedicated classrooms in Irving Elementary and Highland Elementary in the Waterloo Community School District where UNI professors teach classes and focus on methods of teaching with UNI elementary education students.
"The intent is the school becomes a part of teacher preparation, and teacher preparation becomes a part of the school, allowing our students much richer experiences with diverse teachers and classrooms," said Robin Dada, department head and professor in Curriculum & Instruction.
UNI has multiple PDS partnerships, including one with Irving that allows students to take all of their methods courses, which are courses that truly teach them how to teach, in the PDS format. The methods courses encompass five classes: one on teaching literacy, one on teaching math, one on teaching science, one on social studies and one on classroom environment and management. Each of these classes is taught by a different professor whose class is connected to a grade level or levels at Irving where students can apply what they are learning about in their UNI class directly to the elementary classroom. Students enroll in these five courses together and take them simultaneously. They spend each week during the semester planning a lesson one day, then teaching it in the classroom the next.
Akeili Hawkins, a spring 2022 elementary education alumni who went through PDS and now works as a first-grade teacher at Irving, describes the PDS as an extra field experience. 
"It gives you more of a 'right away' type of hands-on experience," said Hawkins. "It's great to sit and learn, but to be able to apply those concepts right away versus waiting until field experience toward the end of the semester — it was really, really nice to be able to put those skills in a place like up front," said Hawkins.
Hawkins participated in multiple PDS courses across multiple semesters. Two of them were at Irving. Without that PDS experience at Irving, Hawkins said she may not have wanted to work at Irving.
"My degree is in K-six," said Hawkins. "If I wouldn't have done extra PDS, I wouldn't have been able to bounce around to different grade levels and see how they were. I loved being able to be in the schools more than my peers who didn't have a PDS experience."
Irving Elementary School Principal Zach Zimmerman is used to hearing similar sentiments from PDS students. When he asked a recent cohort of 24 PDS students at the beginning of the semester how many of them would be interested in teaching in an urban school setting like Irving, just two raised their hands. At the end of the semester, 22 of the students said they would be interested after getting to know the students and gaining familiarity with the school.
"All those questions and uncertainties and self-doubt that you may have as a teacher — this program helps get them out," said Zimmerman. "That's really the greatest gift this program has given us."
One of the most crucial components of the PDS model is that it gives UNI students more time to bond with the students, which Hawkins notes is an essential part of becoming a strong teacher in the real world.
"I always say you can't teach a kid who doesn't think you care about them," said Hawkins.
While Dada says that it's common for UNI students to enter the PDS with a little hesitancy, she gets to see them develop over the course of the semester in understanding students and in leadership.
"By the end, they're quite confident and comfortable in the classroom," said Dada. "They're ready to jump in when a teacher needs a little extra help."
Through the PDS, students also gain classroom management skills. Mason Kuhn, associate professor in the Department of Curriculum & Instruction who teaches the science methods course to PDS students, said this is crucial as it's something first-year teachers in particular often struggle with. 
"We make lessons and we talk about what you should do, but you can't replicate actually trying something in a classroom," he said.
While PDS helps students become better teachers, it also helps the schools they are in. The PDS relationship allows schools to get to know future educators who could end up interviewing for teaching positions.
"For a school district, they see it as a real opportunity to get a chance to meet our students, and it's like a semester-long job interview," said Dada. "Schools are looking at people who fit and understand the kids who learn there and can relate and be patient with them."
Hawkins also appreciates the way students step up and help as they gain more familiarity in the classroom.
"It's honestly really nice to have extra eyes and extra support in the room," said Hawkins.
At the end of each semester, Kuhn asks his students to write notes to the next semester of PDS students. He said it's common for students to tell their younger counterparts that the PDS is hard but worth it.
Most students go through PDS the semester right before student teaching.
"The more confident they are going into student teaching, the greater the growth and experience they derive during student teaching," said Dada. "These students are able to take on responsibility quicker, teach for deeper understanding and experience more."
After student teaching, the UNI graduates go on to take on their own classrooms. Some may go on to unfamiliar school districts, but others, like Hawkins, may return to schools where they experienced PDS.
Since the inception of the PDS program at UNI, Irving has hired four teachers who have gone through the PDS program at their school.