Education
Teacher education students share experiences in the classroom
Nothing makes you appreciate the work of teachers quite like getting in the classroom and teaching yourself. 
"There are so many small things that teachers have to think through that you wouldn't even think about from a student's perspective," said Carter Greenfield, a senior majoring in PE teaching. "There's a lot of time commitment and effort. And, you know, educators are people too. So no matter what they're going through in their personal life, they're still putting on a smile and making sure that day or that class period is as fun as it can be for the students."
Greenfield has known he wanted to be a teacher since he was a high school freshman in Roland, Iowa. At the time, he was a lifeguard beginning to teach swimming lessons. This was his first exposure to leading lessons and teaching kids, and he quickly discovered that he loved both.
Greenfield was also heavily influenced by his own teachers and coaches, especially his elementary school PE teacher, Cathy Braathun.
"She always did a great job of making PE classes fun and educational," he said. "I feel like if a teacher is committed to building that relationship with students, you're going to enjoy PE class naturally."
Greenfield started his time at UNI as an elementary education major, but that changed when he got to see students participating in PE during one of his early field experiences. He was blown away by how much fun it looked. Since Greenfield has always been passionate about staying active, making the switch to PE teaching seemed like the perfect fit. 
From the very beginning of his time at UNI, Greenfield has been impressed by how much time he's gotten to spend in the classroom working with students.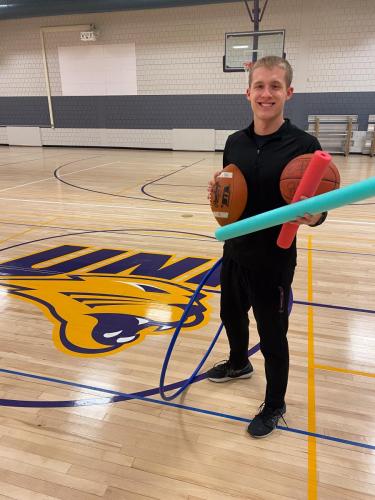 "Coming in as a freshman to UNI, I was not aware that I would get exposure and experiences in the classroom right off the bat," he said. "That's one thing that's really special and unique about UNI. If you've declared an education major, you're going to get your experience, and you're going to find out early on if it's something you want to pursue. I was really thankful for that."
Through his field experiences, Greenfield believes he's become much more confident in his decision-making. He's also become more comfortable adapting when things don't go quite as planned. All of this experience comes before Greenfield has even started student teaching, which he will be doing in fall 2023.
Like Greenfield, Reegan Zinkula, a senior double majoring in elementary and middle-level education with a literacy education minor, knew she wanted to be a teacher several years before entering college. As a high school student in Grundy Center, Iowa, she volunteered in classrooms in local elementary and middle schools where she saw her passion blossom.
"I spent pretty much all my free time in the classroom — I still do, and I love it," she said.
Zinkula was certainly influenced by her own teachers — including high school English teacher Betsy Kuecker — but Miranda Rekers, whose fourth-grade classroom she volunteered in, holds a special place in her heart because she's accepted a job as a fourth-grade teacher, which she will begin in fall.
"Seeing how she was to me as a high school student, encouraging me and guiding me, and also how she treated her students really shaped me," she said.
The thing Zinkula finds most inspiring in teachers is their ability to form relationships with students. She's seen this trend continue at UNI with many of her professors who used to be teachers themselves. 
"Throughout my college career, I've felt like my professors actually cared," she said. "They cared about me as a person. They cared about me as a learner. They wanted me to succeed. They pushed me to be the best I could, and they found me different opportunities through different organizations and different experiences in schools to help me become who I am today."
One such professor is Sarah Montgomery, who teaches elementary education. Even as Zinkula has navigated student teaching this semester, Montgomery has remained a consistent source of support and helped Zinkula feel confident enough to accept a full-time teaching offer.
Of course, even with this support, Zinkula recalls the nerves she experienced in anticipation of student teaching. Luckily, they didn't last long.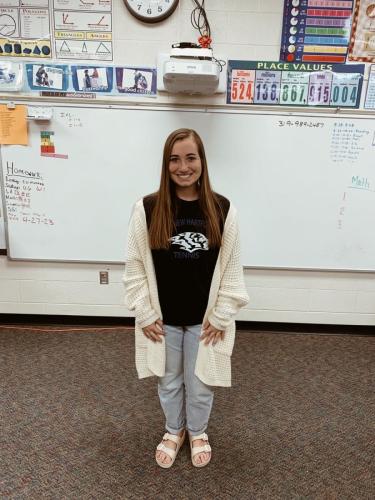 "All my worries disappeared the first day," she said. "The teacher I was working with was amazing — she was so welcoming. The students were welcoming."
Zinkula has already started making an impact on students. One of the highlights from her first student teaching placement was receiving a note from a student who was grateful for her positive experience. She is looking forward to hopefully having similar experiences as she starts her full-time teaching position in the fall.
"I hope I'm a teacher that students enjoy being in class with, someone that will help students reach their goals," she said. "I'm huge on that — not even just academic goals but personal goals, too. School is more than just learning what's in the curriculum book. It's also about learning those life skills. So I hope I'm a teacher who can help teach life skills and can help build relationships with the students — someone they can trust and come to later on in life if they need to, someone who is not just there during fourth grade but someone who's there down the road as well."
Greenfield expresses a similar sentiment about the type of teacher he hopes to be someday.
"I hope to become a teacher who is a role model for students of all ages, someone who they can count on, somebody who they can trust, and go to with any concerns they might have," he said. "I want to be someone that they can go to fully knowing that I'm going to do what is best for them or at least get to get them to someone who can help them."