Education
UNI's director of Student Success & Retention is paying it forward for students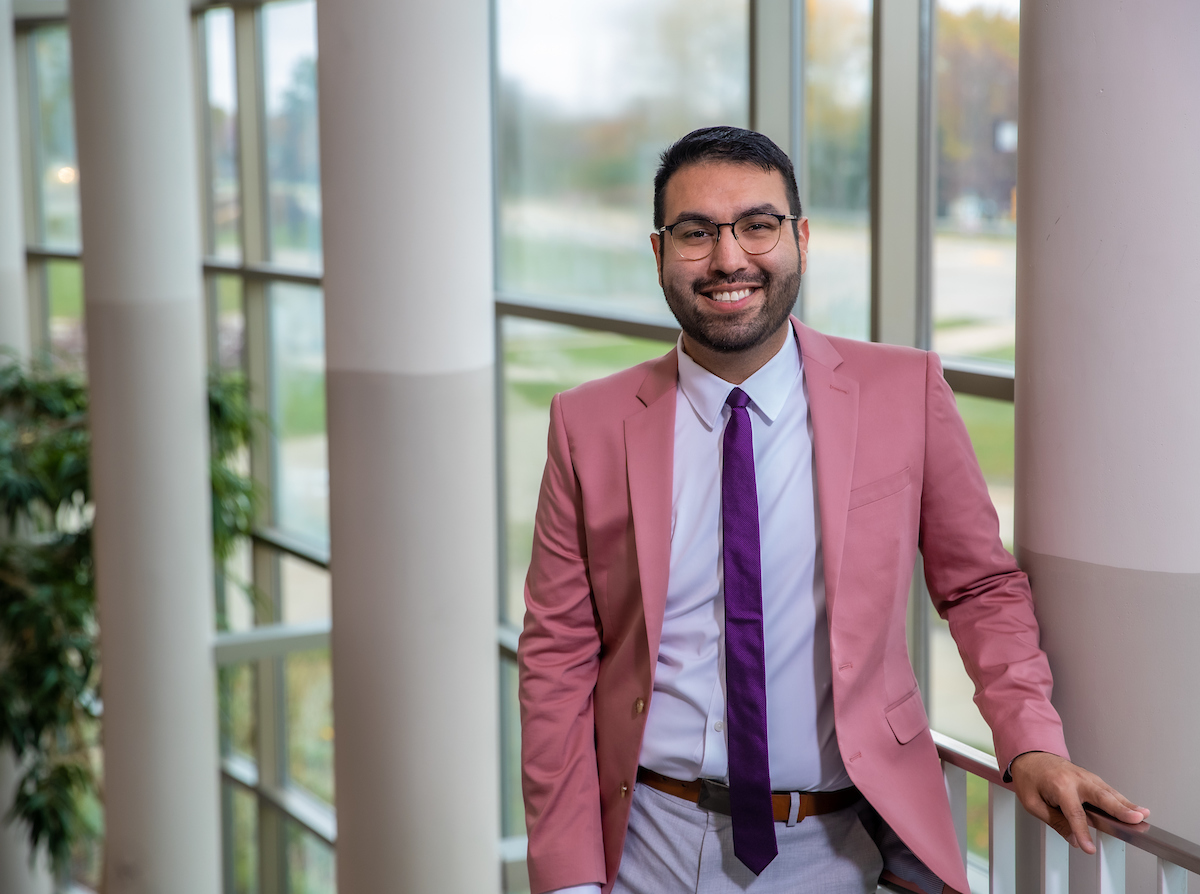 For over a decade, the University of Northern Iowa has played a major role in Jesús Lizárraga Estrada's life. He's worked at UNI for seven years and currently serves as the director of Student Success & Retention. As a student, he received his bachelor's degree from UNI in 2013 and his master's in 2017. He also just defended his doctoral dissertation to receive his doctorate in May. 
But, as a first-generation college student, the path to higher education came with many obstacles – obstacles Lizárraga Estrada now helps remove for students in his current position.
"I believe that I am here because of others, and it's my duty then to pay it forward," he said.
Lizárraga Estrada didn't intend on having such a long career in higher education. After earning his degree in business management, he thought he would take a job as an admissions counselor for multicultural recruitment at UNI for maybe a year. He planned on ending up working in human resources.
"From a young age, I thought of myself working in a corporate office in a tall building, making lots of money in a suit and a tie." 
Things shifted when he began noticing the impact he was having on students and their families. He started helping students who looked like him. He connected with families who didn't speak English who reminded him of his own mom. And he noticed that his impact continued even after students enrolled at UNI.
"The students that I recruited would come visit me in my office and hang out," he said. "At first, I didn't understand why. But, honestly, it was a reminder of the importance of representation."
For Lizárraga Estrada, the ability to build relationships is what separates counselors from mere recruiters. That's why when he started supervising admissions staff at UNI, he defined success not in terms of numbers but in his staff's ability to build relationships with students.
One thing Lizárraga Estrada does to stand out from other counselors is to not only answer student questions but also provide them with the next step. It's a method he saw Paul Sapp model when Lizárraga Estrada was a student at Muscatine Community College looking to transfer to a four-year institution. At the time, Sapp, who is now the director of UNI@IACC, was an admissions counselor. He was highly responsive to Lizárraga Estrada's questions and was especially helpful because, as a first-generation student, Jesús didn't always know what questions to ask.
"That's something that I've always mirrored," he said. "I don't know who I'm talking to, so I always provide them with the next steps and options because many times you don't know what you don't know."
Sapp isn't the only person from UNI who Lizárraga Estrada considers a mentor. He's also been mentored by Juanita Wright, who worked in admissions and financial aid at UNI for over 40 years, Jenny Connolly and Kristin Woods. Each of them have helped Lizárraga Estrada hone an authentic approach toward helping students.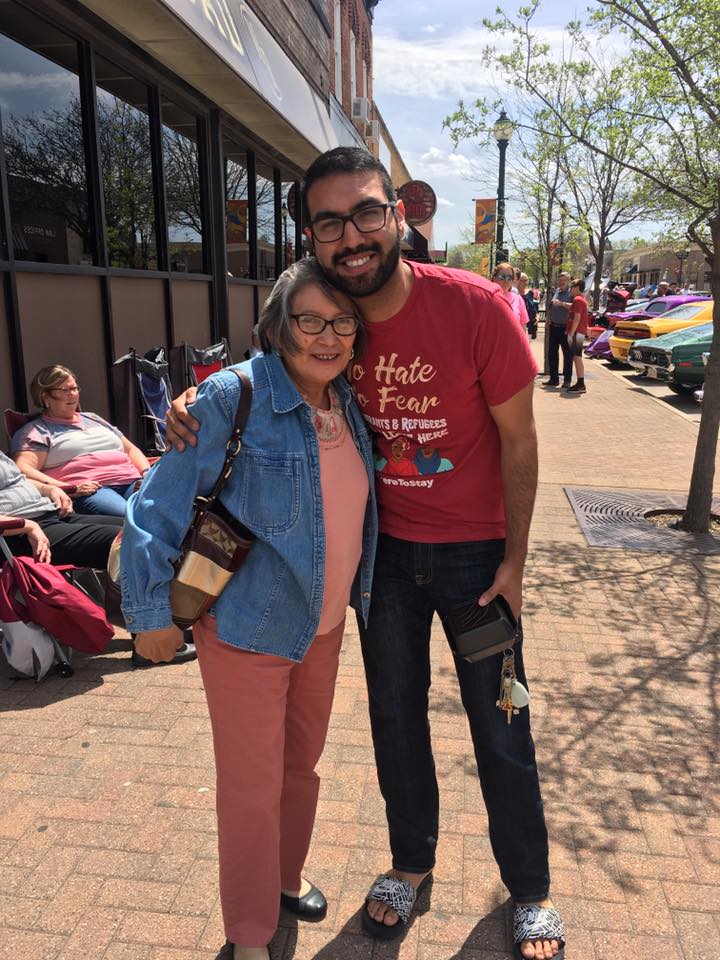 Jesús Lizárraga Estrada with Juanita Wright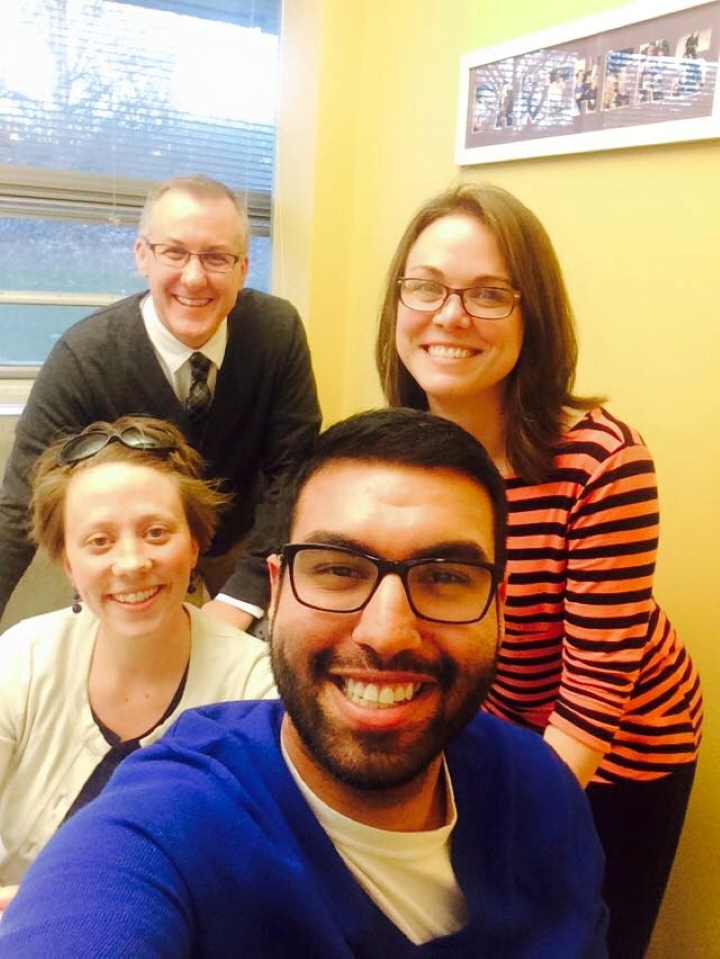 Jesús Lizárraga Estrada with Paul Sapp, Jenny Connolly and Kristin Woods
It was also Jenny Connolly who encouraged Lizárraga Estrada to return to school. She went out of her way to tell him how much potential she saw in him. She knew he had the ability to move up — but he was going to need a master's degree to do it.
Because of that, Jesús enrolled in the master's of postsecondary education: student affairs program at UNI in the spring of 2015. He worked full-time at UNI and went to school in person full-time. Because there was no online option, it was especially challenging when Lizárraga Estrada had to travel for work. Fueled by Starbucks, he visited 80 schools in a single semester  — driving to his destination, heading back to Cedar Falls for night class and then driving back to his destination the next morning.
"That was tough, but I think it made it more rewarding in the end," he said.
Lizárraga Estrada graduated with his master's in 2017. He took a couple of years off from being a student, but that changed when he started seeing more and more friends as well as students he'd counseled at UNI apply for doctoral programs. A new goal emerged: earn a doctoral degree.
Lizárraga Estrada describes the process of completing his Doctor of Education as an isolating process. He spent many nights and weekends in his office doing schoolwork. There were multiple times he wanted to quit.
"At the end of the day, when I asked 'Why am I doing this?' or 'Why do I continue to do this?' it's because of the students," he said. "I think it's important for them to see someone who looks like them be able to achieve this. I was hoping to inspire students who look like me. BIPOC students, those who are the first in their family to go to college, students who come from single parent or low-income households. LGBTQ+ students, immigrant students and those who come from mixed-status families, students who live with anxiety and depression. But in the process, these same students ended up inspiring me."
The three-year program also gave Lizárraga Estrada a whole new level of understanding the challenges his students were facing.
"When they were tired, I was tired," he said. "When they were stressed, I was stressed. It provided a reminder of what they're going through."
The day of his dissertation defense, the grand culmination of Lizárraga Estrada's hard work, finally arrived on April 7. He describes the experience as surreal. Dozens of his loved ones, colleagues and students were all there to cheer on the person who had spent years cheering them on.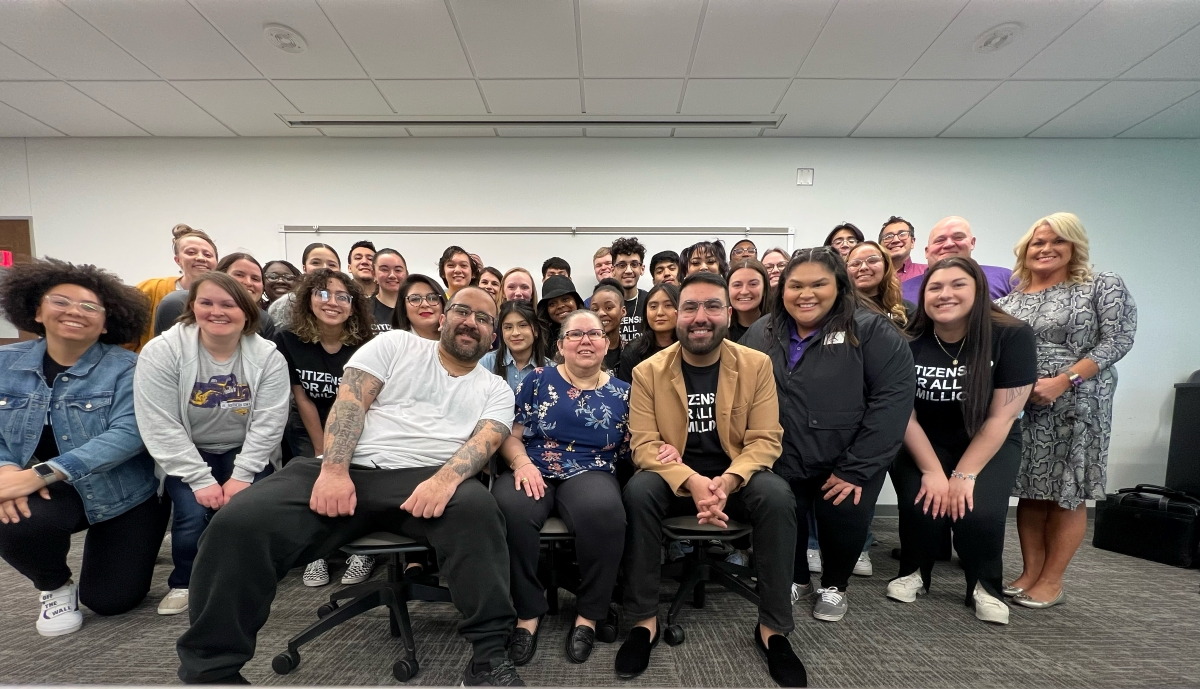 "It sounds cliché, but I felt the positivity and the love in the space. That made the presentation feel more like a conversation. I knew that people wanted the best for me, and that made it easier."
Now, with such a major accomplishment behind him, Lizárraga Estrada is looking forward to getting some rest and, hopefully, a vacation. He is interested in teaching a graduate class, but, at the end of the day, he loves his job and feels content.
"I"m the person that a younger me always wanted to be but I didn't think was possible."