Education
UNI African American Read-In expands statewide
Record registration as 17th African American Read-In hosted by UNI nears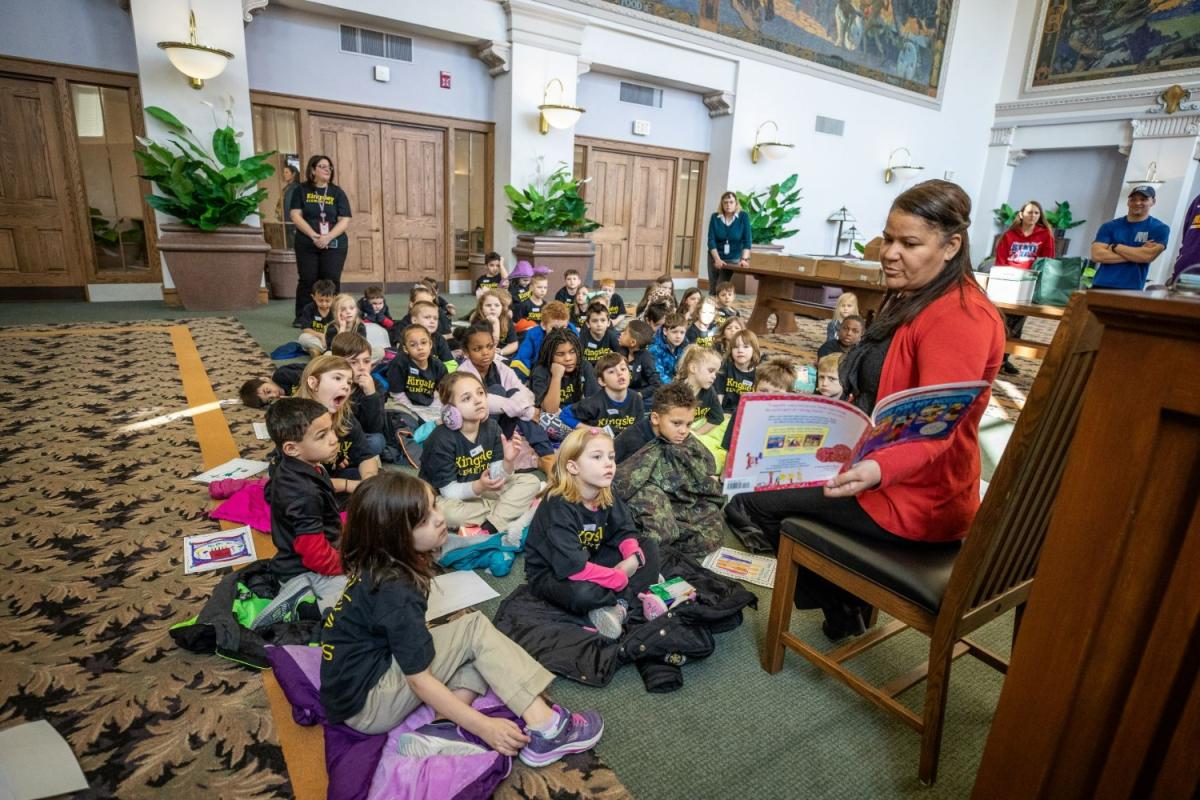 CEDAR FALLS, Iowa – More than 3,200 first-graders from school districts across Iowa will join the 17th African American Read-In hosted by University of Northern Iowa College of Education as a free, virtual event on Feb. 16. 
Each year, the read-in connects students with African American authors, illustrators and literature. For the first time, UNI extended invitations to first-grade classrooms statewide after mostly contiguous counties to Black Hawk County were added in 2022. The record registration as of mid-January includes first graders from a mix of 162 mostly public, but also private, school classrooms in 66 schools and 27 counties from across the state. Last year's event drew about 2,300 participants. 
A two-hour morning block of activities with Waterloo and Hudson students includes:
live read-alongs of "Black Magic," by Dinah Johnson, "Lily Brown's Paintings," by Angela Johnson
a "draw-along" with Don Tate, illustrator of "Carter Reads the Newspaper;" 
a puppet show 
UNI student-led activities during brief breaks 
A one-hour afternoon session will feature readings via Zoom by either Dinah or Angela Johnson and a draw-along with Tate. 
Among the districts and communities participating are Ames, Ankeny, Anita, Burlington, Cedar Falls, Danville, Davenport, Denver, Des Moines, Dike-New Hartford, Dubuque, Dunkerton, Eldridge, Emmetsburg, Fort Dodge, Gilbertville, Independence, Iowa City, Iowa Falls, Janesville, Jesup, Johnston, Kalona, Manchester, Moville, Nashua, Oelwein, Osage, Ottumwa, Radcliffe, Ruby-Van Meter, Sloan, Spencer, Spillville, Tabor, Tama, Union-La Porte City, Waverly and Webster City. 
The Read-In was first organized by Gloria Kirkland-Holmes, PhD, a UNI emerita early education professor. She continued its coordination after her retirement until her death in December. "In its first year, Dr. Holmes began by reading to one small group of children. She would be both humbled and excited by the number of first graders connecting with this year's event," said Robin Dada, head, Department of Curriculum and Instruction. "She so believed in the power of sharing the voices and images of African American authors and illustrators with all children."  
All students registered by Jan. 13 were guaranteed a free copy of one of the authors' books while each classroom will receive a copy of Tate's book. 
The National African American Read-In is sponsored by the Black Caucus of the National Council of Teachers of English (NCTE) and endorsed by the international Reading Association. UNI's read-in is held annually in conjunction with the African American Children and Families Conference, also a virtual event this year on Feb. 17. 
 Questions regarding the event can be directed to Amy Curley, coe-events@uni.edu.