Education
UNI announces new online pathway to earn the Iowa Director of Special Education endorsement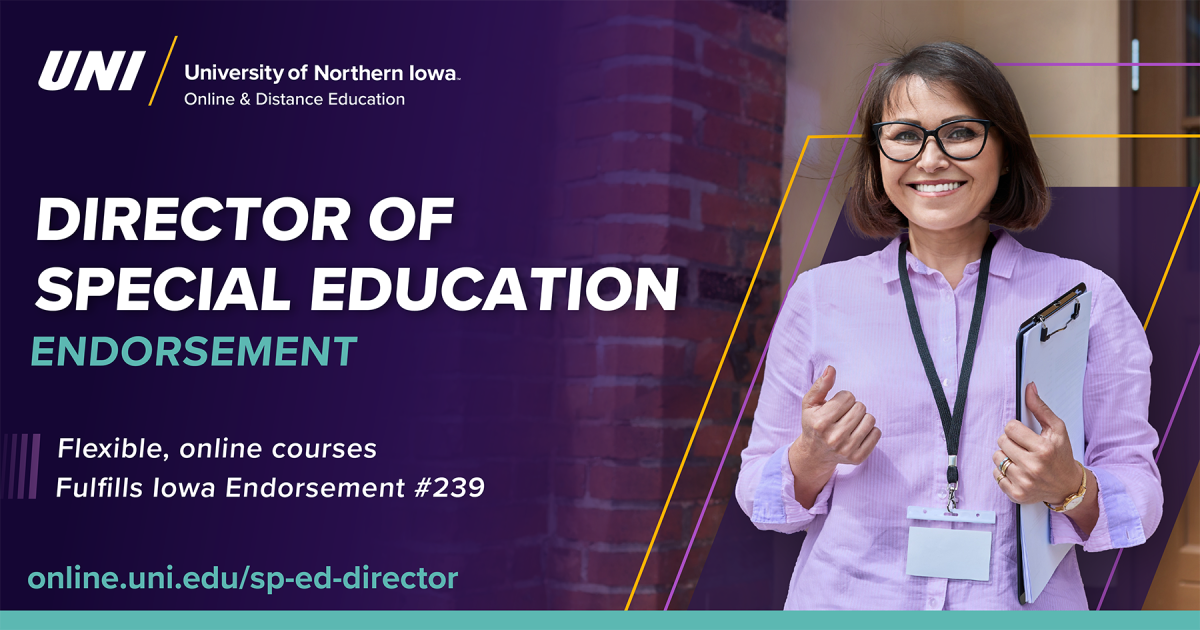 CEDAR FALLS, Iowa - The University of Northern Iowa is announcing a new, entirely online pathway for administrators interested in earning the Iowa Director of Special Education endorsement to serve as an area education agency (AEA) director.  The coursework is appropriate for individuals with a master's degree who are interested in serving in leadership positions for PK-12 special education at the district, AEA or state level. 
Courses will be delivered asynchronously (online using Blackboard) and synchronously (via Zoom). Offered through the UNI College of Education and UNI Online and Distance Education, this endorsement program focuses on developing critical skills in special education administration, directing special education services and programming, organization management, administration, evaluation, instructional leadership, special education law and school funding. 
"We are proud to offer this critical endorsement program as a way to provide professional development for Iowa educators and administrators and support the growth and development of our schools and communities," says Karen Cunningham, associate dean of Online & Distance Education. "We know participants in this program will make a positive impact in our schools and in the lives of our students with special abilities." 
Through five consecutive semesters of part-time study, students in this program will fulfill the course requirements for Iowa endorsement #239, Director of Special Education.  
"We designed this program specifically to help practicing educators and/or current administrators enhance their skills in the direction of special education services and programming," explains program coordinator Kenneth Hayes. "The course sequence, materials and experiences are designed to develop our students in their leadership skills while at the same time gaining the #239 Director of Special Education endorsement while maintaining personal and professional commitments."
Courses will begin in August 2023. Interested educators can learn more and submit an interest form online at online.uni.edu/sp-ed-director.
Additionally, two informational webinars are being held for prospective students on July 18 at 1 p.m. and August 14 at noon. To register for the webinar, please visit: online.uni.edu/sp-ed-director.