Education
UNI professor who was a first-generation college student distinguishes herself as emerging leader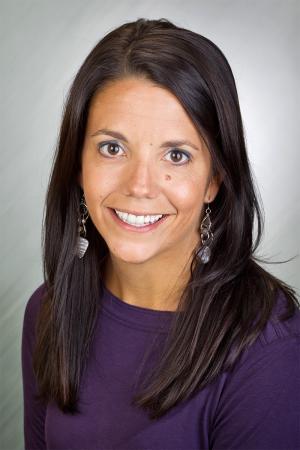 When Professor of Special Education Amy Nielsen applied to participate in the Emerging Leaders Program (ELP) by the American Association of State Colleges and Universities (AASCU), she didn't expect to be one of 36 members who had made it into the most recent cohort — which is exactly what happened.
The ELP curriculum is designed to enhance the skills that make great leaders in higher education. It's for any academic leader in their early to mid-career who is exploring opportunities to advance to mid-level administrative positions. It's put on by AASCU, which is a professional organization made up of nearly 400 state colleges and universities that have a mission centered around students and community.
Nielsen will have numerous opportunities to engage with her cohort, including an in-person retreat in Washington, D.C., monthly virtual workshops and small group sessions for reflection and study. 
"This Emerging Leaders Program will create the space that will allow me to continue to think and reflect and have conversations with others in ways that really will bring clarity to the work that I'm doing at UNI and make a difference on our campus," said Nielsen. 
So far, Nielsen's favorite thing about being a part of ELP has been the connections she's made with her cohort, which includes faculty members from all across the country.
"I've been able to have some really deep conversations about our current context and our challenges and how each of our institutions are taking on those challenges," she said. "That was incredibly valuable because those conversations will continue here at UNI."
As part of ELP, every member must undertake an on-campus project with their president or a cabinet-level administrator. Nielsen will be undertaking her project on diversity, equity and inclusion with Provost José Herrera. This is a familiar area for Nielsen whose coursework is in the area of diversity, equity and inclusion and whose research has always centered around inclusion. 
For this project, Nielsen will be chairing and leading a committee reviewing policies across campus through a lens of diversity, equity and inclusion to revise the policies to be more equitable. Nielsen will also be working on creating a process for drafting new policies and revising old policies to ensure diversity, equity and inclusion are always an emphasis going forward.
Provost Herrera was also the one who nominated Nielsen for the Emerging Leaders Program. He was impressed with Nielsen's leadership to strengthen shared governance on campus, including revision of the University Faculty Constitution to extend voting rights to the term, renewable term, and most temporary faculty, as well as her collaborations across campus to help facilitate and support the general education revision, Academic Positioning and the campus' response to COVID-19.
"Amy already is a leader on campus," Herrera wrote in his nomination of Nielsen. "In addition to serving in sequentially-linked roles of Faculty Senate Vice-Chair (2017-2018), Faculty Senate Chair (2018-2019) and Chair of the Faculty (2020-2021), Amy has been instrumental in organizing and leading various local, regional, and state-wide committees. Consequently, I feel confident that this experience will develop Dr. Nielsen as a leader but, actually, will allow her to share her leadership skills with others in the cohort."
Long before she became a professor, Nielsen always had a love for school. It's what drew her to becoming a teacher, to earning her bachelor's, master's and doctoral degrees at the University of Northern Iowa and, finally, to teaching future educators as a professor. It's also why holding leadership roles in higher education has always been on her radar. However, her journey had one key hurdle: getting a degree as a first-generation college student.
"I always had a sense that I would pursue higher ed, but I wasn't quite sure how since I'm a first-generation student," said Nielsen. "Initially, how to do that didn't make a lot of sense to me. But I had a really strong faculty mentor here on campus — who has since retired — who suggested it was possible and that I did belong here. She then helped me to navigate the logistics. I feel very fortunate to have had such a mentor."
Nielsen's journey to college started out at Kirkwood Community College, which she attended for one year. During that year, she recalls a conversation that made her realize she needed to go somewhere else if she wanted to accomplish her goals.
"I remember very, very vividly having a conversation with my dad at the kitchen table," Nielsen said. "He drew me a diagram of sorts that illustrated if I wanted to make a better life for myself, I would need to get a four-year degree."
Since Nielsen is a Cedar Valley native, UNI was in her own backyard, and it was where she felt she could make the most seamless transition to a four-year institution.
Even after earning three degrees and working as a professor since 2006, Nielsen still sometimes combats those all-too-common feelings of imposter syndrome. 
"I definitely have felt as though I am an imposter here and continue to in some ways," she said. "It's definitely a culture that I was not familiar with, but have learned to become a part of."
To combat imposter syndrome, Nielsen said she leans on the strong work ethic that stems from her working-class upbringing. She also keeps a regimented routine in spite of having a career that allows her a fair amount of flexibility. 
Her method seems to work since she continues to advance in a career that she loves.
"As I grow my leadership skills, I want to pay forward the opportunities I have had at UNI," she said. "I am so impressed with our students at UNI. In the time that I have been here, students have continued to evolve in ways that I find incredibly encouraging and empowering. I love the ideas, energy, and students' desire to transform the world that I think they bring into the classroom. The interactions I have with them are what I love the most. Through my work, I hope to use my background, experiences and work in equity, diversity and inclusion to help students access and be successful at UNI."