Education
UNI student teachers persevere through COVID-19
As COVID-19 prompted abrupt, statewide school closures, University of Northern Iowa student teachers on the cusp of becoming fully certified educators found themselves suddenly transitioning the remainder of their semester to an online format and interviewing for positions remotely. 
It was a jarring shift, but these students had already completed over 100 hours of classroom experience prior to student teaching and were ready to handle the task. 
"The student teaching coordinators were impressed with how the student teachers showed resilience and flexibility in adapting to the situation," said Mary Donegan-Ritter, interim head of the department of teaching at UNI. "Their student teaching experience ended after 9 weeks, but they stayed engaged in alternative learning experiences and frequent communication with their student teaching coordinators."
Despite the sudden change in the midst of their final preparations, seniors Sam Nau, Savannah Scallon, Christopher Merck and Morgan Kappel didn't let the unexpected circumstances get in the way of beginning their teaching journeys.
A classroom of his own
Sam Nau was placed at Morris Elementary School in Des Moines for the first half of the semester as a beginning music instructor with students in kindergarten through second grade. He had just begun his second placement of the semester at Ankeny High School when the shutdowns began.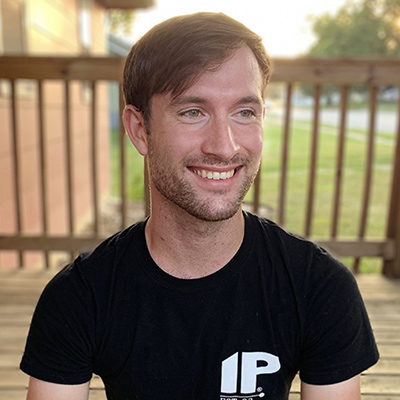 "It was a real bummer when it happened because I was really excited to be there and get to know the students," Nau said. He had just finished completing his plans for the semester with his cooperating teacher when the school district announced they wouldn't be returning to in-person instruction for the remainder of the semester. With virtual instruction being optional for students, many of those plans were no longer a possibility. 
Despite the abrupt end to his student teaching, Nau is excited to have his own classroom this fall. He will be working with the high school and fifth grade bands at Chariton Community School District. 
"UNI definitely prepared me to have my own classroom, and I can't wait to get started," Nau said. 
He's begun to look at method books for his fifth grade students, as well as writing performance drill for the high school's marching band. Nau is also working on alternative options for virtual instruction for students in case it becomes necessary. Unlike core subjects such as math, science and language arts, the lag time in software like Zoom can make it almost impossible for real-time instruction. It's a big job, but Nau is ready for the challenge. 
Nau has been hired to teach high school and beginner band in the Chariton Community School District. 
From UNI to Senegal to Honduras
Savannah Scallon grew up wanting to be a school teacher and often dreamed of the day she'd have her own classroom. Her initial plan was to major in elementary education, but a trip to Costa Rica in high school made her realize that her true passion was in learning and teaching languages. Scallon chose to pursue a degree in Teaching English to Speakers of Other Languages (TESOL) and Spanish teaching instead.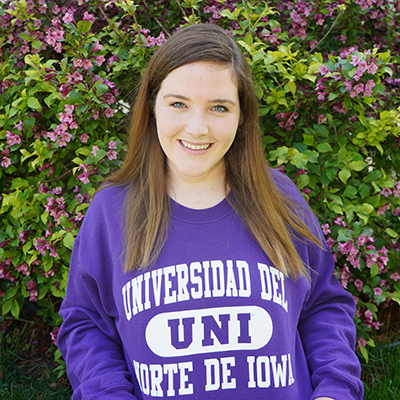 Her first placement was at Johnston High School in a Spanish classroom. Scallon cites getting to know the students as her favorite part of the process. Scallon's love for experiencing new cultures took her all the way to Dakhar, Senegal, for the second half of her student teaching, thanks to the help of the UNI's International Student Teaching program. 
"It was such a cool experience to be totally immersed in another culture," Scallon said. 
She worked with young students at Dakhar's international school who were just beginning to learn English, and it was rewarding to watch them begin to become more confident with the language. Unfortunately, she had to return to the United States after only three weeks in Senegal due to the coronavirus outbreak. 
Scallon's international adventures will continue this fall as she moves to Honduras to become a first grade teacher at the Mazapan School in La Ceiba. She made the connection with the school thanks to UNI's teaching abroad fair. 
Building relationships with students
Christopher Merck, a math education major, did his first half of student teaching at North Linn High School. He worked with students in grades eight through twelve. His favorite part about the process was building relationships with students.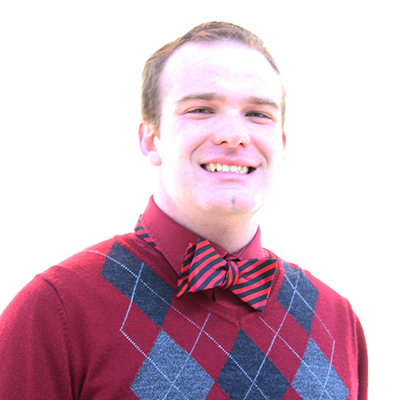 "Seeing the students be able to learn from me while I learned from them was really rewarding," Merck said. 
Teaching students in five different grade levels was a great experience for him to work on employing different teaching methods to best fit each grade level. He felt that UNI truly prepared him to step into the classroom as a student teacher for the first time. 
The second half of Merck's semester was set to take place in a sixth grade math class at Oak Ridge Middle School, but it was cut short by the statewide shutdown of schools. He was only in the classroom for one week, but he valued his time with the students. 
This fall, Merck will be teaching high school math at Davis County High School. 
Making a difference
Morgan Kappel loved every second of her student teaching, despite the unconventional end. 
"My favorite memory was the relationships I built with all of the students I taught as well as my mentor teacher, and it was very apparent how much of a difference I made in just my eight weeks at the elementary school," Kappel said. "The last day of student teaching was very bittersweet and emotional." 
She split her time between two elementary schools in LaPorte City and Dysart and saw almost 500 elementary school students every three days as a physical education teacher. Their boundless energy made them a joy to teach.
At her second placement at South Tama, Kappel transitioned from working with the youngest students in the system to the oldest. She was able to spend two week in the classroom prior to the closure of the schools statewide. 
Despite the end of in-person teaching due to coronavirus, Morgan was still able to keep learning. She worked with her mentor teacher from her first placement to develop lesson plans and helped develop online lessons for students to complete remotely. This fall, Kappel will be teaching at Winterset High School.
"I am overwhelmed with joy to start at Winterset as the 9-12 physical and health education instructor, but it's also a very weird time to be a new teacher," Morgan said. The looming possibility of online instruction continuing into the fall means that it would be a unique first meeting with her students, but she's excited to begin her journey as an educator.