Education
UNI students have life-changing experience student teaching in Ecuador
For education majors, the student teaching experience is the grand culmination of years of hard work. It's filled with nerves and excitement about finally getting to manage your own classroom. And for two University of Northern Iowa students in the fall 2022 semester, it was a time of stepping thousands of miles outside their comfort zones.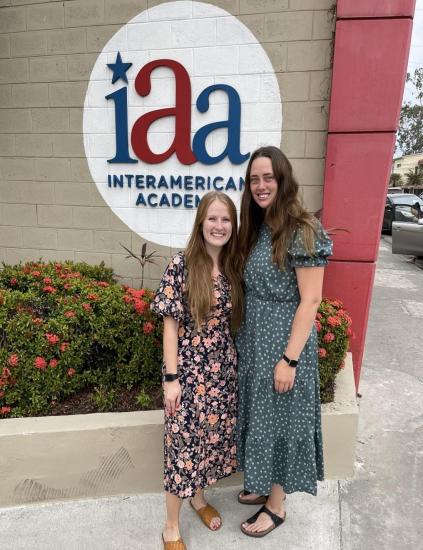 Both Cassey Bly and Emmalee Fannon spent 16 weeks student teaching in Guayaquil, Ecuador at the InterAmerican Academy, an American international school. Bly, a Spanish teaching and teaching English as a second language (TESOL) major, had an elementary TESOL placement for the first eight weeks and an elementary through high school Spanish as a foreign language placement for her second eight weeks. Fannon, a double major in elementary education and communication sciences and disorders with a math minor, had a fifth-grade placement.
"It was a good way for me to get my foot in the door at international schools and a good way to see if it's what I truly want to do," said Bly.
Student teaching abroad fulfilled a lifelong dream for Bly who had been thinking about it ever since her third-grade teacher told her classroom about her own experiences teaching abroad.
"Hearing her say she wanted to do it and talking about it in class sparked an interest in me, and that has been in the back of my mind ever since," she said.
Bly and Fannon both initially planned on student teaching in the U.S. — Bly in New Mexico and Fannon in Tennessee. They didn't even think going abroad was an option, as international student teaching placements had been on hold due to COVID-19. But when the out-of-state and international student teaching coordinator Carrie Elser approached them both about the opportunity to go to Ecuador, they jumped at the chance.
"I knew nothing about Ecuador," said Fannon. "But I told her, 'Yes! I'd love to go!' because just the thought of it was very exciting. I knew I'd get a very different experience than I probably would have had here in the states." 
Initially, both students were supposed to stay in Ecuador for just eight weeks and finish the last eight weeks of their student teaching in the U.S., but they both left such a strong impression on the school that they were invited to stay for the full 16 weeks.
"I knew I loved it there," said Fannon. "​​I wanted to stay and complete my whole student teaching experience in that fifth-grade classroom with my same students I had already formed such wonderful connections with."
"A big part of my decision was based on the fact that I loved traveling around Ecuador, and I loved the culture," said Bly. "All the teachers on staff and the administration were so nice and helpful and supportive. The people in Ecuador are so welcoming and just want to show you their culture and their country."
Since Bly and Fannon lived together and worked at the same school in Ecuador, they also did the majority of their traveling together. 
"I was very thankful to have Cassey with me throughout this experience," said Fannon. "We didn't know each other beforehand. We met in the apartment when I showed up the day after she did. It was a really big learning experience, and I was glad we had each other to get through it together."
With the beach two hours in one direction and the mountains three hours in the opposite direction, it was easy for Bly and Fannon to occupy their weekends. Throughout the semester, they experienced whitewater rafting, canyoning, ziplining, bungee jumping and horseback riding. Both students also arrived in Ecuador a week early to travel to the Galapagos with their families.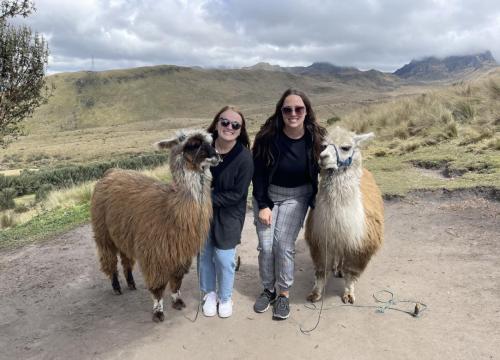 In their downtime, Bly and Fannon were experiencing a new way of life, and in the classroom, they were growing as educators.
"This was a lot of good practice that really did help my confidence," said Fannon. "Seeing the difference I made in the kids' lives made it all worth it."
"I felt my major did a really good job of preparing us for going into student teaching," said Bly. "So I felt very comfortable in my student teaching, which was nice because I've heard other stories where people don't feel as comfortable. I became a lot more independent and relaxed and more confident in myself because I was doing something challenging, but I was finishing it."
After graduating and making a holiday visit back in Mason City on break, Bly is returning to Ecuador in January to start her full-time position as an English language learner teacher at the same school! She is eager to get back to her students, whom she said she already misses.
"I took a few weeks to think about the job offer because it's so far away from family and friends," she said. "But I knew I wasn't done in Ecuador yet." 
"Seeing our students walk away with offers of employment is fantastic," said Elser. "International schools are very selective in who they hire."
Fannon's next step will be long-term substitute teaching in her hometown of Sioux City before she looks into full-time teaching positions in the fall.
While Elser says reconnecting with international schools after the COVID-19 pause will take time, she is confident UNI students are up for the challenge.
"I appreciate how our students represent themselves and UNI," she said. "International student teaching prepares our students who return to Iowa to meet the needs of diverse classrooms. They will have honed their skills in working with multilingual learners and building bridges across cultures."
"Even if you only go for eight weeks, it'll be a life-changing experience," said Bly.
"It was a phenomenal experience I could have easily said 'no' to," said Fannon. "Getting to be a part of another culture and connect with the students there was a really beautiful experience, and I would not trade it for anything."