Education
UNI tradition runs deep for Schneeberger family of educators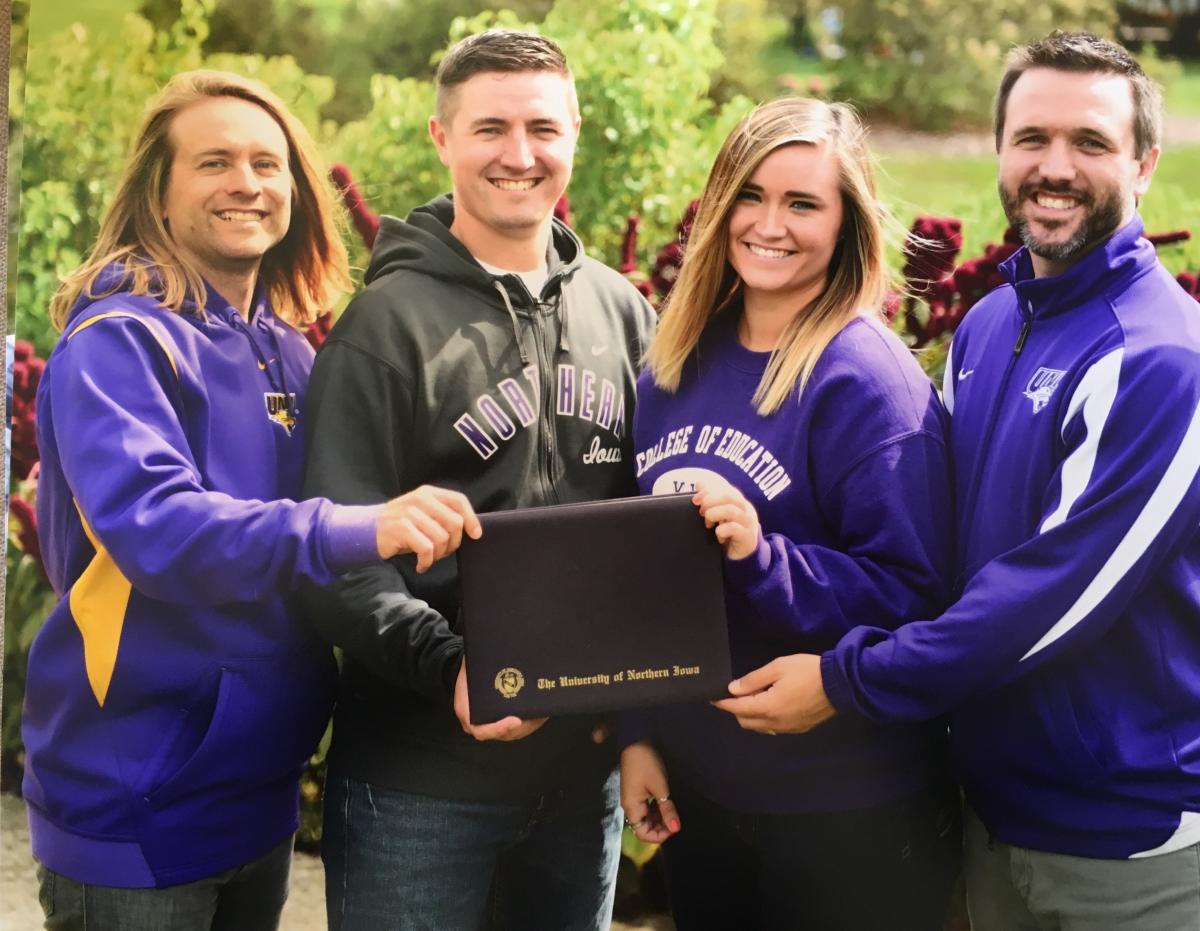 For students who attend the Clinton School District, chances are they've had, or will have, at least one of four UNI-educated siblings as a teacher. All four family members grew up in Clinton and have returned to their hometown as educators. Their time studying at the University of Northern Iowa was the bridge between.
Kellen Schneeberger started the family tradition. He is a 2005 English teaching alum who currently teaches high school and AP English. He also coaches cross country and track. 
When he first went to college, Kellen went to another state school, largely because it was where many of his friends were going. But it wasn't the right fit. After numerous visits to UNI, he made the switch and never turned back. Kellen was particularly fond of UNI's smaller size, both in terms of the campus and his classes.
"My professors and advisors were amazing," he said. "I was on a first name basis with most of them, and I really credit my growth as a student to them and their passion."
Next in the Schneeberger clan is Marcus, who chose UNI largely because of Kellen. Marcus had been a freshman in high school while Kellen was a senior, and he wanted to replicate that in college. He had visited Cedar Falls and UNI on several occasions and knew it was the place for him.
"I consider the education I got at UNI to be second to none," said Marcus. "Beyond the academic work, the social growth I made at UNI made me a better human. I was able to meet so many different types of people, and it definitely expanded my worldview."
---

"I consider the education I got at UNI to be second to none."
 
---
Marcus Schneeberger majored in elementary education and graduated in 2008. He is currently a seventh-grade science teacher who also coaches cross country, wrestling and track and field at the middle school level.
Marcus was able to also attend college at the same time as his younger brother, Dylan.
"I never took a visit and had only been there to visit my brothers," said Dylan. "God had a plan. I love UNI and the city of Cedar Falls — so many great people, such a beautiful place to live and a campus that makes you feel right at home." 
Although Dylan followed in his brothers' footsteps of attending UNI, he didn't start as a teacher. He earned a criminology degree in 2011. After working in law enforcement for a few years, he began coaching wrestling, which made him realize his true passion lay with teaching. He has now been teaching U.S. history to high schoolers for six years and also coaches football and girls wrestling.
Karly (Schneeberger) Ryder was the last sibling to attend the University of Northern Iowa. 
"I saw how much my three older brothers loved and enjoyed their time at UNI, and I wanted that too," she said. "Once I got there, I knew it was for me."
She graduated in 2017 with a degree in elementary education. For Karly, she wanted to be a teacher for as long as she could remember. 
"I had a harder time in school growing up," said Karly. "I would always get good grades, but I lacked the confidence in myself and would have to work hard to achieve the goals I had. It wasn't until I had some amazing teachers and coaches who believed in me that I learned to believe in myself. I had so many teachers who helped me become the person I am today, and they made me want to do the same for other kids. I wanted to be the person who believed in them."
Karly is now a third-grade teacher.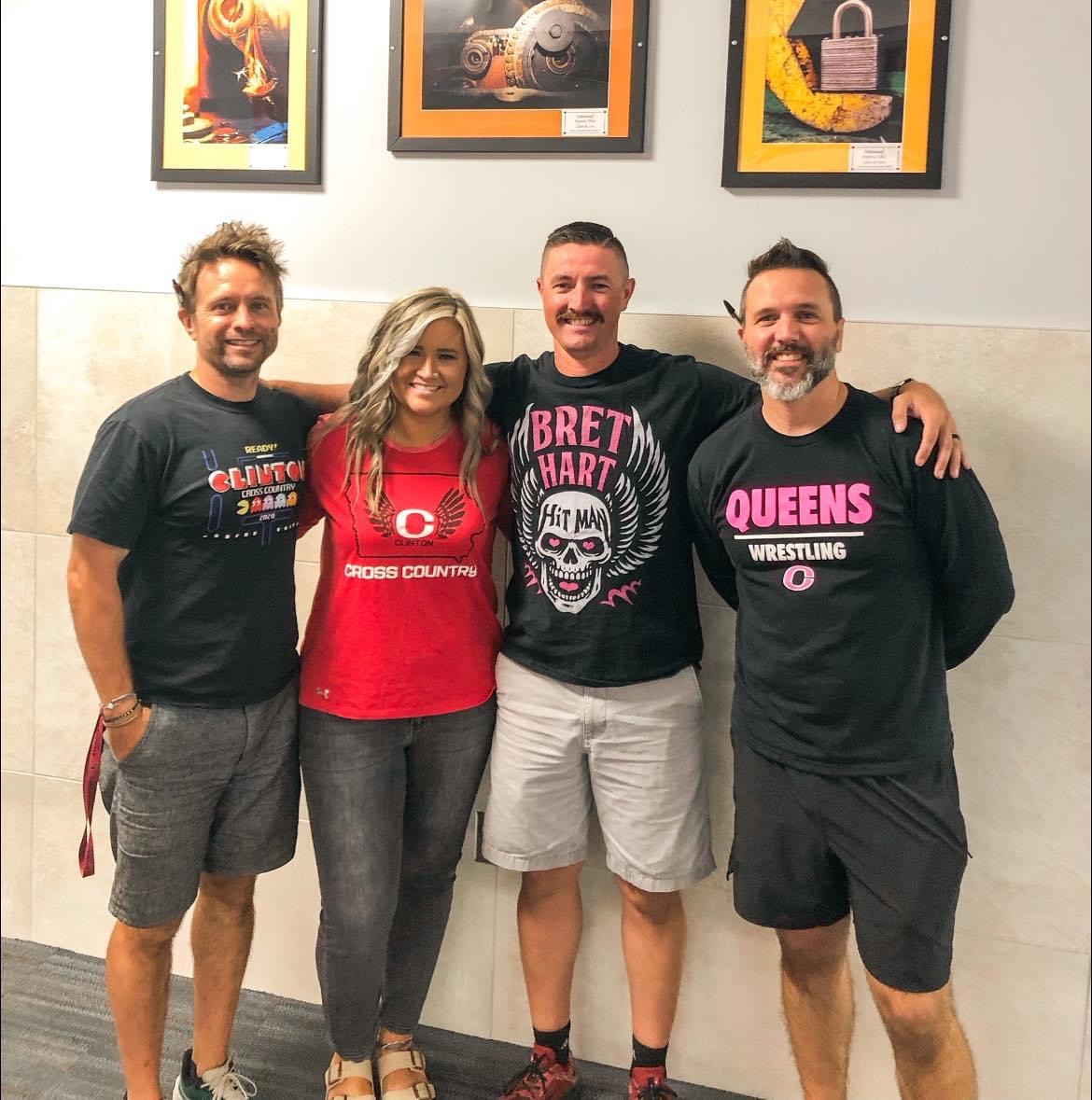 With more than 40 years of teaching experience between them, the Schneeberger family of educators has experienced many triumphs in their professions in addition to trying times. 
"The most challenging part of teaching is the mental and emotional toll it can take," said Dylan. "When you teach and coach, you spend so much time constantly giving yourself to the school and the kids. You are in charge of so many kids, and the demands are always there. It is crucial to know when to take a break and relax. If you are not careful, you can burn out quickly."
Even on the hardest days, their students keep them going.
"I really enjoy seeing students grow both academically and personally," said Kellen. "We have so many students who are curious, creative, tolerant and empathetic. Many adults in our country could learn a few things from them."
"At the end of the day, we have the greatest job in the world, and it provides you with a great life," said Dylan. "If you do what you love and you get to live out your passion, you never work a day in your life."