Education
Zach Lillquist chronicles the life of a UNI-educated teacher on TikTok
When UNI alum Zach Lillquist first downloaded TikTok in 2019, he kept his presence on the platform a secret. After all, the perception at the time was that the app was largely for kids. But now, with more than 110,000 followers on the platform under the username @thatscienceteacher, it's hard to hide his content from his seventh grade students.
"I never talk about it outwardly because I don't want it to be a thing," he said. "But, eventually, my students usually find out. Sometimes when they do, I'll wake up to like 120 notifications because a kid has gone back and liked every single video."
In early 2020, Lillquist said he was surrounded by students obsessed with a viral dance trend. This led him to create his own TikTok video, which now has half a million views on TikTok, but it really blew up on Facebook, where it reached 8 million views in 24 hours.
"All I was doing was poking fun at what students were doing, and I realized that might be my niche," said Lillquist. "So I started doing more of that. I would never specifically call kids out or anything like that, but I would post random stories or things that kids do or a tour of my classroom at the end of the day."
Through TikTok, Lillquist has connected with a community of teachers who have become close friends thanks to conversations over Zoom. The group even met in person at a wedding. After teachers, Lillquist believes his secondary audience is kids.
Lillquist hopes that people learn to not always take life so seriously from his content.
"I think it's fun to share those experiences with people and bring some light into the world of education that people think is really dark," he said.
Lillquist is a third-generation educator. Both of his parents went to UNI, and he'd been to numerous UNI football and basketball games over the years. He visited many schools, but UNI stuck out to the Forest City native.
"Every time I would visit a bigger school and my parents would ask what I thought, I would tell them it was nice, but it didn't have what UNI has," he said. "At the end, when I was finally making my decision, I decided I was just going to go with the one that feels like home."
However, he didn't always dream of following in his mom and grandma's footsteps to become an educator. When he started at UNI, he was majoring in biology and planning on becoming a dentist. Lillquist made the switch to middle school science teaching as a sophomore. At the time, he was working with a youth ministry at a local church. It made him realize his true passion was working with kids.
"They were the group that really showed me I love working with kids, and the relationships are really super important, which I think is why I keep going back to teaching even though it's really hard."
Lillquist stayed busy throughout his college years. He was part of Student Admissions Ambassadors (now known as Panther Ambassadors) and the college ministry BASIC. As a Presidential Scholar, he conducted research with Benjamin Forsyth, College of Education associate dean of undergraduate studies and teacher education, and also worked in the Registrar's office.
Lillquist's time at UNI allowed him to build connections that have lasted years later. Forsyth invited Lillquist back to UNI for Made to Teach to talk to future teacher education students about the profession. Lillquist also invited Kamyar Enshayan, director of the Center for Energy & Environmental Education, into his classroom to teach his students about prairie grass.
"I'm still able to bring pieces of UNI back here, which is really fun."
‌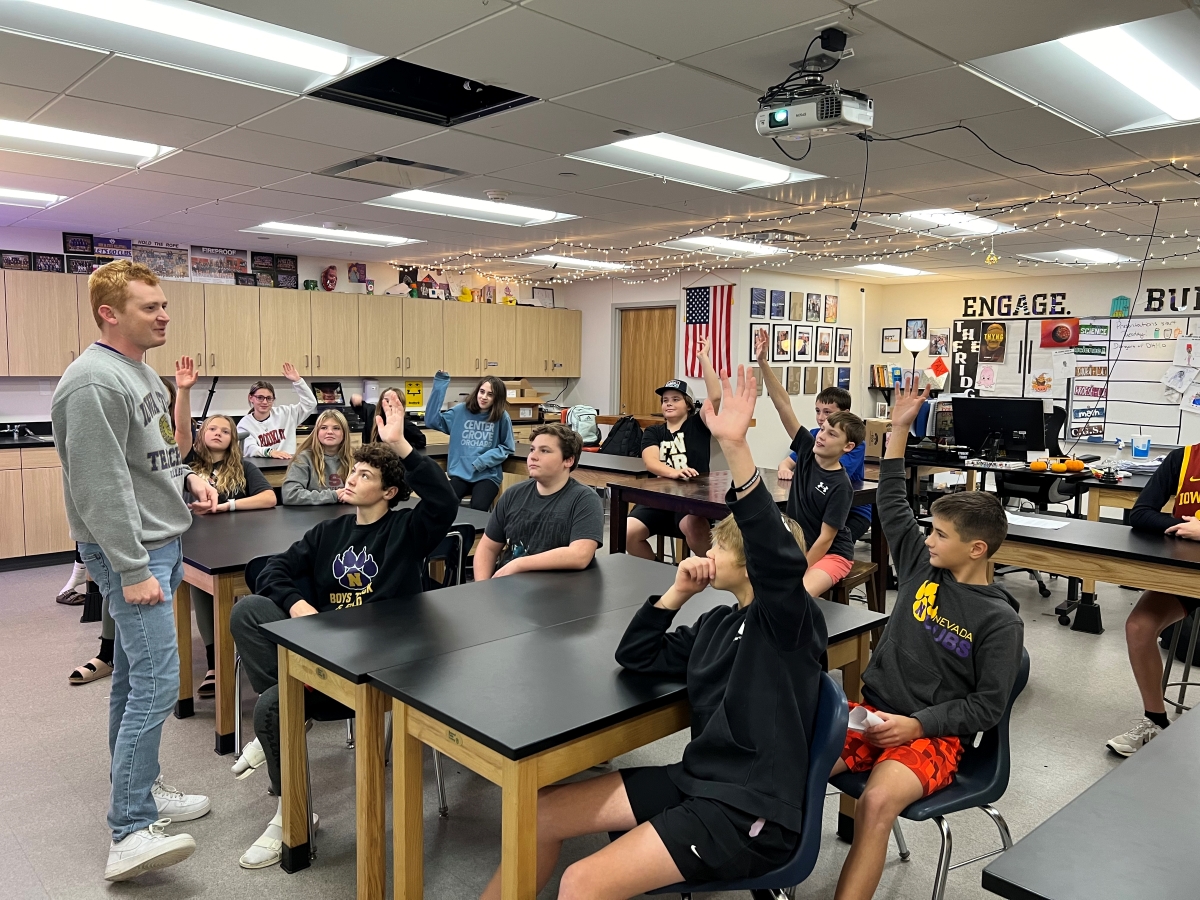 Lillquist graduated from UNI in 2017. He was a substitute teacher for a semester before joining Nevada Middle School. Coincidentally, purple and gold are the school colors. 
Lillquist recalls feeling like the school was the right fit from the very beginning.
"I had the same feeling at Nevada that I had at UNI," he said. "I was able to be myself right away, and I was like, 'I wanna work here.'"
Lillquist hopes that the way he feels about working in the school is the same way students feel coming to school each day. He believes he's worked hard to make sure that's the case.
"Kids love coming in here," he said. "They love science class. I can't imagine how exciting photosynthesis is, but they just love being in here. I take a lot of pride in that because that's something I've worked really hard on. And I think that's something UNI really prepared me for by getting me into classrooms early on."
Lillquist's former students continue to come back to him because of the impact he's made on them that goes well beyond science concepts. In fact, he's helping the first group of students he taught apply for colleges. 
"At the end of the day, I'm teaching life skills through science standards," he said. "I'm teaching students how to be a functional member of society through teamwork, respect, effort, trusting, responsibility and time management through some science things."