Environment
Iowa Waste Reduction Center recognized for contribution to food waste reduction efforts in 2023 Farm Bill Report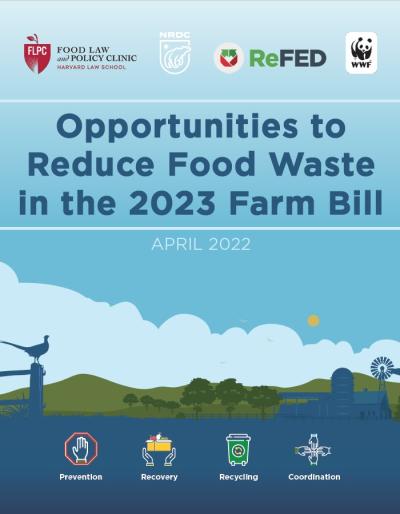 CEDAR FALLS, Iowa – The University of Northern Iowa (UNI) and the Iowa Waste Reduction Center (IWRC) were recently recognized for their contributions in efforts to reduce food waste in the U.S.
University Chief of Staff Andrew Morse, IWRC's Director Joe Bolick, and Program Manager Jennifer Trent were each acknowledged for their contributions to "Opportunities to Reduce Farm Waste in the 2023 Farm Bill" report, which was released by the Food Law and Policy Clinic (FLPC) at Harvard Law School and created in collaboration with ReFed, the Natural Resources Defense Council (NRDC) and the World Wildlife Fund. 
Americans waste more than a third of the food produced or imported in the United States every year and, as a result, potential meals for families experiencing hunger rot in unharvested fields and landfills. 
That annual waste amounts to roughly 80 million tons of uneaten surplus food, 54.2 million tons of which go to landfill or incineration or are left in fields to rot. Collectively, farmers, manufacturers, households and other businesses in the United States spend $408 billion annually to grow, process, transport and dispose of that wasted food. 
The report details how Congress can better prioritize food waste reduction and makes new recommendations addressing food waste gaps in the supply chain and where federal action can spur food waste awareness.  
"We are truly grateful for the opportunity to contribute to this report and the relationship we have with the FLPC," said Trent, who manages the IWRC's food waste reduction efforts.
The report contains several references to the National Food Waste Reduction Act, which was developed in partnership with UNI, IWRC and Congresswoman Cindy Axne's (Rep.-IA) office and introduced by Representative Axne in 2021. This legislation earned the attention of the FLPC when it received bicameral Congressional attention and was built into Representative Chellie Pingree's (Rep.-ME) comprehensive Food Recovery Act for potential inclusion in the 2023 Farm Bill. 
Contact Molly Wells, Communications & Public Relations Manager at the University of Northern Iowa Iowa Waste Reduction Center, for more information at 319-273-5352 or molly.wells@uni.edu.
###
About Iowa Waste Reduction Center. The IWRC has been providing environmental services, including technical assistance and industry training, as well as research and development, for over 30 years. The IWRC is a part of the University of Northern Iowa's Business and Community Services which builds a better Iowa through hands‐on technical assistance for economic and business development, entrepreneurship, environmental improvement and enhanced sustainability. For more information, visit iwrc.uni.edu.