Health
Future health professionals get real-world experience through competitive summer program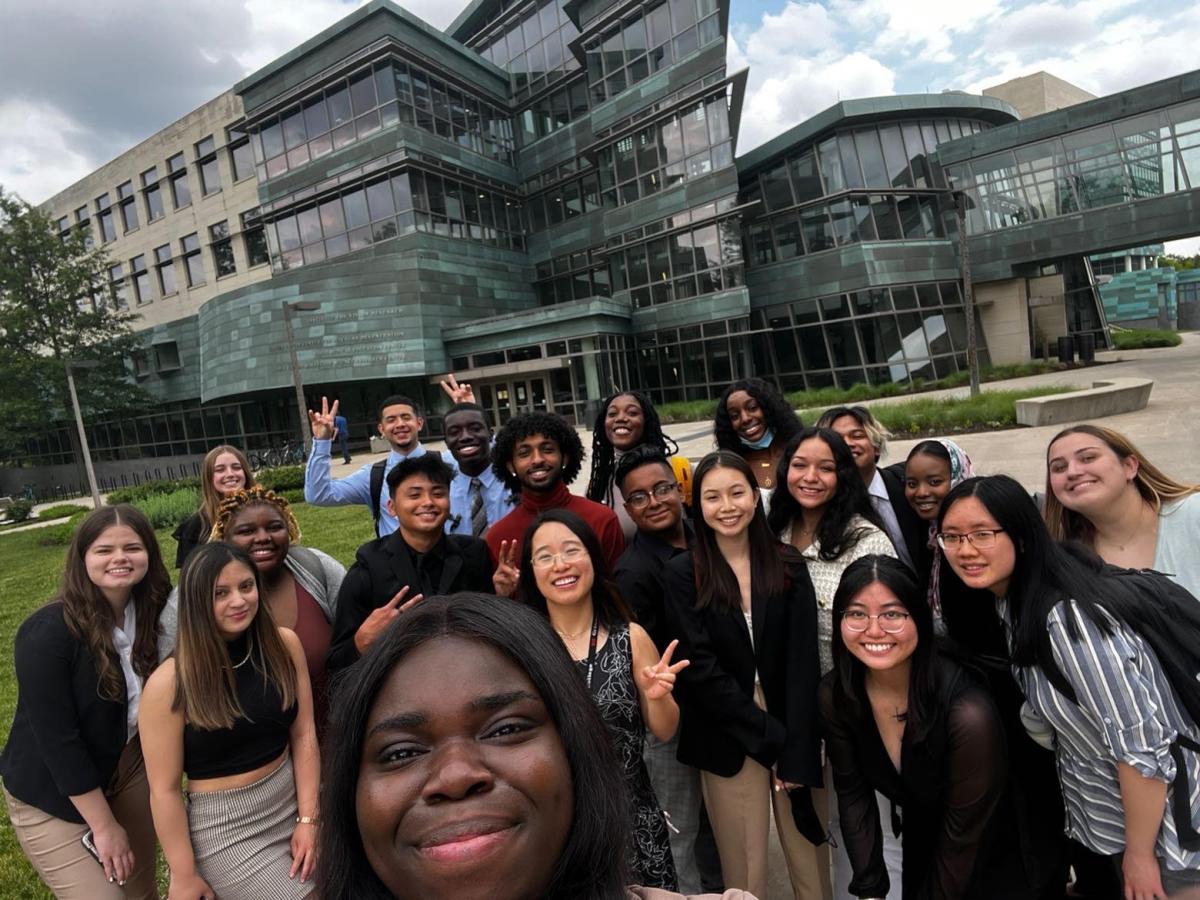 Each year, a small group of 80 students from around the country are accepted to the University of Iowa's highly-competitive Summer Health Professional Education Program (SHPEP). This year, three of those accepted applicants were students from the University of Northern Iowa.
SHPEP is a six-week program for pre-medical, pre-public health, pre-pharmacy and pre-dentistry students. They participate in lectures and learn from professors and health professionals who talk about a variety of health fields. There are small group discussions, and students also get the chance to shadow current graduate students or health professionals who are in the field that interests them.
"Overall, it was the best experience of my life," said Nkasa Bolumbu, a pre-med sophomore biology major at UNI, who went through the program.
Bolumbu first heard about SHPEP through the UNI Pre-Med Club. She said she liked that the program especially encouraged minority students to apply and was excited for all the people she knew she would meet through the experience if she were accepted. Pre-med students who complete SHPEP at the University of Iowa are also given preference if they apply to the University of Iowa's Carver School of Medicine.
"This experience made me feel like being a doctor is really for me and not just some sort of dream or thing I say," said Bolumbu. "It's going to be a reality."
Although she knows her interests may change, right now Bolumbu is especially interested in surgery. A love for "Grey's Anatomy," her people-oriented nature and her family history have all played a role in her desire to pursue medicine.
"I've always wanted to be able to help people," said Bolumbu. "A big part of my drive for pursuing medicine comes from having parents who are immigrants from the Congo and being able to hear their stories. What I can do for people over there is provide health care."
One of Bolumbu's biggest takeaways from SHPEP was the importance of networking and building relationships to help build her career.
The experience was eye-opening in a similar way for Tatiana Barriga, a sophomore double majoring in chemistry and biology who attended SHPEP with Bolumbu. 
"Something that SHPEP taught me was the importance of mentors in my career," said Barriga. "I also learned the importance of networking and having different connections that can help me along the way."
The goal of entering the medical field was a huge part of the reason Barriga came to the U.S. from Mexico as a high school student. She knew wanted to pursue medicine and believed that coming to the U.S. would be the best way to make that happen.
"I decided to begin my path towards medicine because I took an anatomy class in high school and fell in love with the subject," said Barriga, who currently is interested in pediatrics. "I knew that this country would give me a better education and offer better opportunities."
Overall, Barriga thinks the opportunity has helped prepare her for her future, and she believes her time at UNI helped her feel ready to take on SHPEP.
"At UNI, I learned the importance of being involved," said Barriga. "My biology professor once recommended I spend all of my summers either volunteering, shadowing or going to internships. UNI prepared me to be open to opportunities and take advantage of these kinds of fruitful programs." 
Although the six weeks of SHPEP were packed with learning opportunities, there was also downtime for activities like a trip to Adventureland and a Juneteenth celebration. Between the learning experiences and the group activities, it's easy to see how the group formed such close relationships.
"I was not expecting everyone to be so welcoming," said Maddy Waters, a second-year junior at UNI who is majoring in biology on the pre-dentistry track. "By the second week, we were like best friends staying in each other's dorm rooms." 
Waters first heard about SHPEP from her advisor. She was motivated to apply because she knew that if she were accepted, she would be guaranteed a dental school interview at the University of Iowa which she hopes to attend.
"Having that guaranteed interview means that I will get there and I'll be able to show them who I am," said Waters. "Hopefully, I can stand out to the interviewers and get my name at the top of the list versus just being another name in the pile of applicants."
At SHPEP, Waters said they were told 800 to 1,000 people apply to the College of Dentistry at the University of Iowa each year, and only 80 are accepted. Because of this, learning how to become a stronger applicant through the program was incredibly valuable.
"The program was intended for students underrepresented in the healthcare professions, people who don't really have anyone in their lives who know how the system works," said Waters. "So it was really nice to get to know how to work with this system and eventually get accepted into a health professions school in the future."
The University of Iowa is one of 12 host universities across the country for the SHPEP program. A fourth UNI student, Noah Bond, was also accepted into SHPEP at the University of Nebraska.