Health
UNI restructures health programs to launch new School of Health and Human Sciences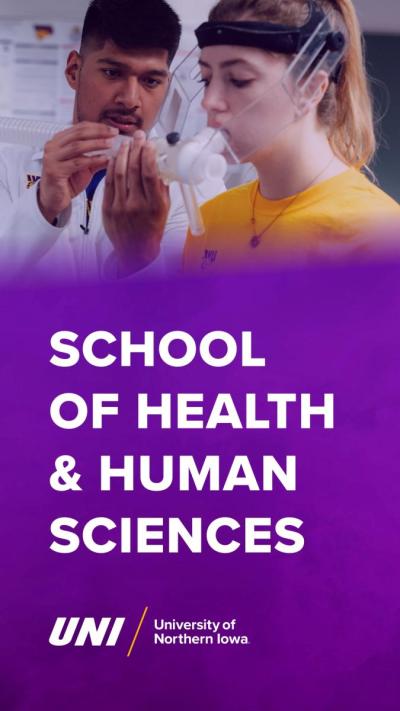 CEDAR FALLS, Iowa – The University of Northern Iowa is addressing the increasing needs in Iowa for health professionals with a new School of Health and Human Sciences, today approved by the Iowa Board of Regents. Following the announcement of a new nursing major, this comprehensive reorganization of health-focused programs will make the University of Northern Iowa an even more desirable destination for students seeking a career in one of the nation's most in-demand fields.  
"More and more prospective students are expressing their desire to pursue a degree focused on health care," said UNI President Mark Nook. "While UNI has long offered a robust variety of options in health, we strongly believe that by organizing our existing degree programs with new offerings such as nursing, we will be better positioned to meet the future needs of our students, as well as the workforce, particularly in the state of Iowa."   
Under the direction of Dean Brenda Bass, the new School of Health and Human Sciences will house UNI's new nursing program, along with longstanding UNI programs such as athletic training, kinesiology, gerontology, public health, family services, counseling and social work. 
This collaborative reimagination of UNI's health programming was completed after exhaustive research and dialogue led by Provost José Herrera, Associate Provost Patrick Pease, Dean Bass and faculty across campus over the past several years.
The school will serve as a central hub for health programs and academic advising, collaborating closely with departments that house other pre-professional pathways for future doctors, dentists, physical therapists, pharmacists, veterinarians, occupational therapists, optometrists and more.
"The School of Health and Human Sciences will help develop relationships amongst programs, allowing additional opportunities for collaboration, advising and strengthening of curriculum," Bass said. "Bringing the programs together also allows for an increased visibility for prospective students, families and professionals in the field."
Over the next 10 years, the health care sector is projected to add 2 million new jobs with an additional 2 million openings each year due to retirements, according to the U.S. Bureau of Labor Statistics. 
Alongside the growing health care sector, there is an increased need for mental health services across the country. The job outlook for careers focused on substance abuse, behavioral disorders and mental health counselors are projected to grow 22% over the next 10 years.
By housing programs focused on both physical and mental health, the school will help ensure students receive a well-rounded education in integrated care.
"Students will graduate with a better understanding of wellness across the lifespan, as it relates to the whole person, both body and mind," said Bass.
Health care and social assistance remain one of Iowa's largest industry sectors, with an average employment of 219,321 jobs reported in Iowa Workforce Development's 2022 Q3 report. The industry has continued to grow steadily, adding 20,528 jobs over the last decade.
Learn more about the School of Health & Human Sciences at csbs.uni.edu/health. 
Explore all health degrees offered by the University of Northern Iowa at degrees.uni.edu/health.