Health
UNI student seeks to bridge the healthcare gender gap
It was the middle of the afternoon when Phales Milimo saw a pregnant woman go into labor and collapse on the sidewalk.
She was in the Sinazongwe District in southern Zambia, just a five-hour drive from her hometown of Lusaka, the country's bustling metropolitan capital. Technically, she hadn't left her country, but it felt like she was in a different world.
Milimo, now a graduate student and Fulbright scholar in the women's and gender studies program at the University of Northern Iowa, watched as a group of people helped the pregnant woman. The woman lived in one of the rural villages in the district and had walked for around an hour, on the cusp of giving birth, to reach the clinic in 2014. 
It was one of the many challenges Milimo witnessed women face in rural Zambia, and it helped spark her interest in the global healthcare inequalities that are the focus of her studies at UNI.
Milimo arrived on campus in the fall of 2019 with an already decorated academic record. She  was the first Zambian to be awarded the Atlas Corps Fellowship in 2016, and she was also a recipient of the prestigious Barbara Bush's Global Health Corps Fellowship award in 2014.
She started her studies as a graduate assistant at the Center for Violence Prevention, but the image of the collapsing pregnant woman never went away. In the coming semesters, she plans to focus her work on bringing transformative changes to vulnerable populations.
"My passion is women and girls and trying to see how we can work through the inequalities women face and bring them public health access to empower women," Milimo said. 
Her interests fit seamlessly with the women's and gender studies program, which focuses on creating social change through a firm scholarly foundation.
"(Milimo) is an amazing student with great ambitions for her future," said Wendy Hoofnagle, director of the women's and gender studies program and Milimo's academic advisor. "Her previous experiences have served her well as a graduate assistant for the Center for Violence Prevention, and she also volunteers much of her time advocating for international students and working to see that their transition to UNI goes smoothly. She ultimately hopes to enable gender to serve as a strength, rather than a barrier, in the advancement of human rights and equality."
This fall, Milimo will start interning in Waterloo with EMBARC, an organization that helps refugees successfully settle in Iowa, to explore the barriers refugee women face in accessing quality healthcare. The work will be part of her thesis as she finishes her master's degree with a concentration on gender and wellness.
She would also like to explore areas of economic empowerment for these women, using her experience from her time in the Sinazongwe district of Zambia there while working on a project for the international humanitarian charity World Vision, she was first exposed to the stark poverty rural women face.
Poor and silenced
Far from the more cosmopolitan capital city where Milimo grew up, the majority of  women of Sinazongwe live in huts with thatched roofs. They struggle to buy their children necessities, living without electricity in a harsh climate where drought can unexpectedly devastate their crops, putting them at risk of starvation. 
For these women, just a few dollars could be life changing. And that's why Milimo was there.
Designed to mitigate the lack of banks in the area, the World Vision project she was a part of created groups of 20 women who pooled their money together and lent it out. The women would use these funds to purchase food, clothing and shelter and start businesses.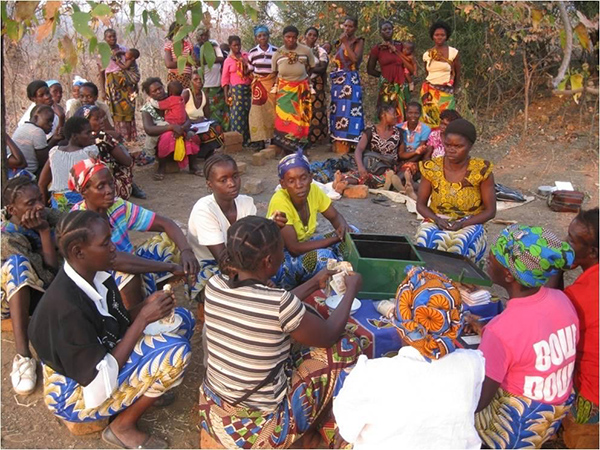 A group of women in Zambia gathers to disperse loans from a communal savings.
It was an unheard-of practice for women in these villages, who were not only poor, but silenced.
"There were a lot of culture norms that undermined women," Milimo said. "They didn't speak or make decisions. They were mostly dependent on their husbands for their livelihood."
The project created a system for women to access capital and provided entrepreneurial training. The businesses they created led to noticeable transformations in the quality of their lives and their social mobility and independence, Milimo said.
"They had money, so they were able to make decisions and didn't have to depend on their husbands," Milimo said. "They would talk about how their husbands were respecting them and actually give them money to save because they saw how positively it was impacting the household."
The gender-based healthcare disparities she saw there were especially eye-opening for Milimo. When she would go to the clinic, there were always more women seeking care than men. When she worked on a project examining HIV and AIDS in the district, the adolescent girls had a significantly higher infection rate than the boys.
These discrepancies illustrated the healthcare gap between urban and rural areas in Zambia, and in many developing nations in the world. That's what has inspired Milimo to devote herself to doing all she can to end gender inequality in healthcare. 
"It starts with the empowerment of women, so they can know their health rights and advocate for better healthcare," she said. "Because they can't advocate for something they're not aware of."