Languages & Communications
Fast Forward at UNI ignites interest in digital media careers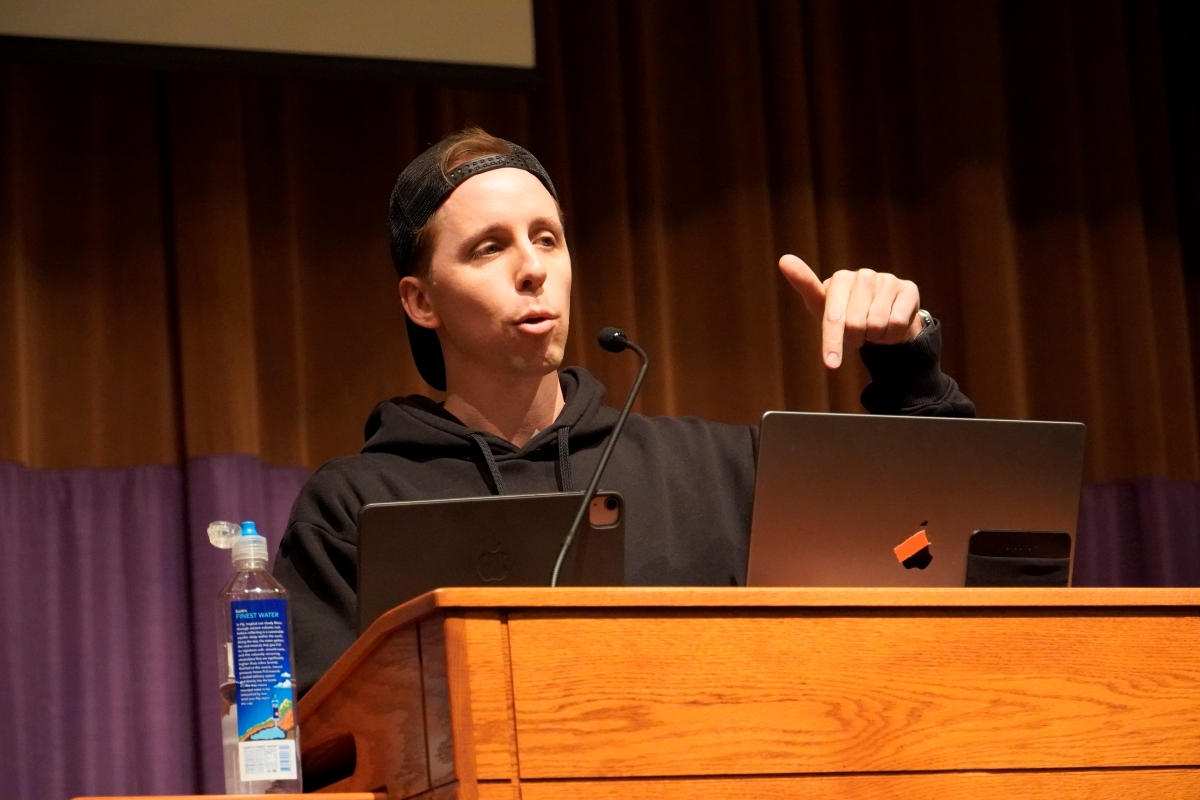 Nearly every year since 2005, graduates of the University of Northern Iowa have given back to the next generation of media professionals by being a part of Fast Forward Digital Media Workshop. This annual event features a keynote speaker and numerous panels discussing all things digital media from cinematography to social media. This year's event was held on Oct. 27 in Lang Hall.
Fast Forward was the brainchild of several faculty members including former professor Ronnie Bankston, and College of Humanities, Arts and Sciences dean John Fritch, who was a department head at the time.
"The thinking was that we have a lot of incredibly talented media alumni — what if we brought them back on one big day each fall to lead workshops in their areas of media expertise?" said Chris Martin, professor in the Department of Communication & Media.
As media technology has evolved, Fast Forward has evolved with it to ensure attendees are getting current, relevant information about the industry. However, the focus of educating students on how to use digital media to tell well-crafted stories for a particular audience has remained the same.
"In the first year, smartphones and social media were not even a thing," said Martin. "We talked about radio, TV and film. We still talk about those things, but in the ways those industries have been transformed. So, now it's cinematography but with tiny digital cameras or drones. It's media promotion, but with social media. It's news reporting, but sometimes using a phone."
At the beginning of the 2023 conference, two UNI alums were honored as part of the brand-new Department of Communication and Media Hall of Fame: Pat Blank, for her 43-year broadcasting career, and Bob Dorr, for his 50-plus year career as a deejay and rock/blues musician. Both Blank and Dorr had long careers with Iowa Public Radio.
This year's keynote speaker was Ben Hagarty, a UNI alum and videographer who has worked with artists like Beyoncé, Jay-Z, Chris Brown and Alicia Keys. Hagarty focused his keynote address on the three pillars he believes have contributed to his success: putting in the time to perfect your craft, saying "yes" to opportunities and never selling yourself short.
As Hagarty mentioned, attending Fast Forward years ago when he was a student was pivotal . It made him believe that a UNI student from Cedar Falls could make it in Los Angeles. 
Breakout sessions this year covered a wide array of topics from animation to award-winning TV news stories. Fast Forward averages more than 20 speakers and panelists each year, meaning that hundreds have been a part of the event over the years.
Martin hopes that students' futures become a little clearer with the help of the conference.
"I hope we can help students make pathways between school and a career, to get them to think about options and possibilities, and maybe to even make some professional connections," said Martin. "I don't know how many times over the years that high school or college students who have attended Fast Forward later say it opened their eyes to new career possibilities."
Fast Forward is open to high school, community college and university students and staff at no cost. The event is sponsored by the UNI Department of Communication and Media, with the generous support of the Iowa Broadcasters Foundation.