Languages & Communications
Fulbright scholars get immersive cultural and English learning experience at UNI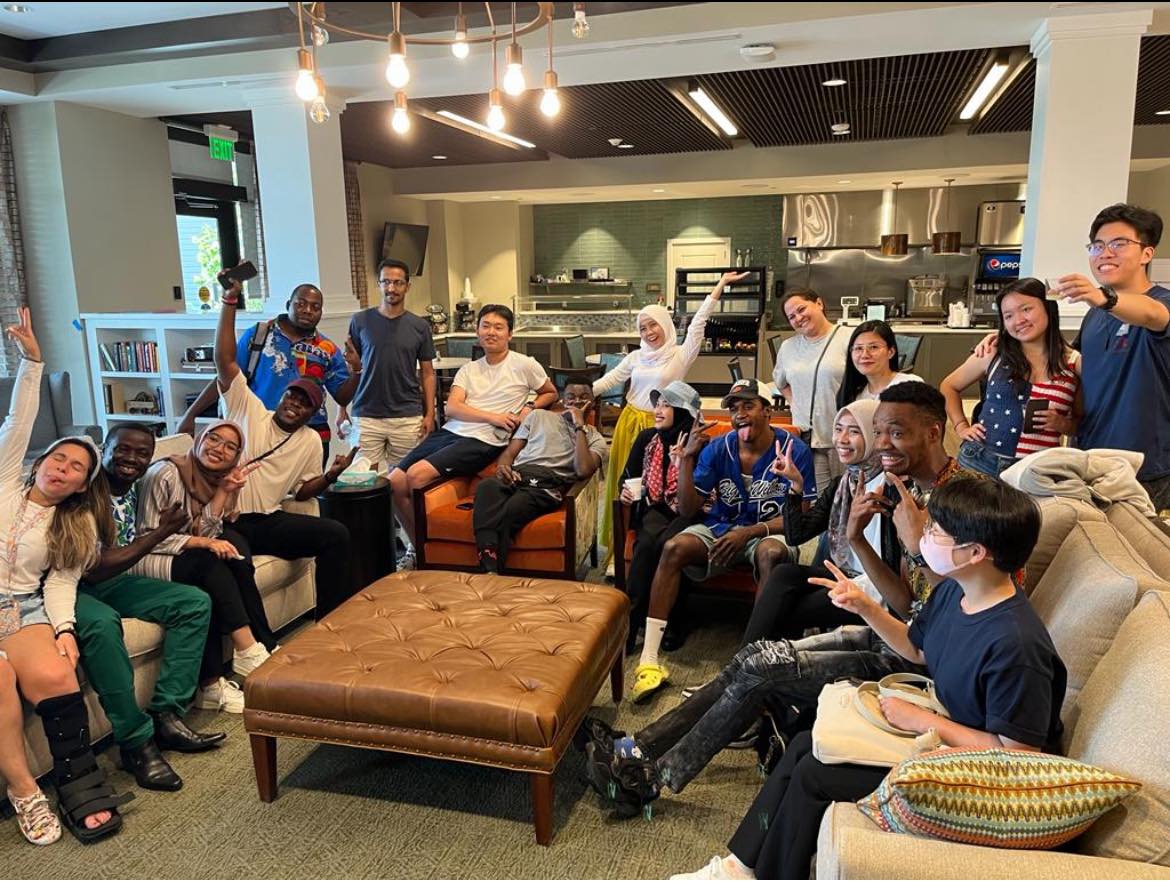 For nine Fulbright scholars from six countries, their time at the University of Northern Iowa is coming to a close. As they move on to their next chapters of earning their master's degrees at various American universities, they are all equipped with improved English skills and a better understanding of American culture, thanks to the Culture and Intensive English Program (CIEP) on UNI campus. 
"We are always trying to provide opportunities for international students to get connected at UNI  and also give domestic students an opportunity they may not have if they don't have connections with countries abroad," said Carolina Coronado-Park, the director of the CIEP and the Office of International Engagement.
The Fulbright program is an international educational exchange program that sends U.S. citizens to foreign countries and non-U.S. residents to the U.S. The Fulbright grants, which are available to students and professionals such as teachers and scientists, are highly competitive and offer selected scholars from different backgrounds the opportunity to study, teach or pursue research projects abroad or at different U.S. institutions.
UNI's CIEP competed with similar programs from other universities to receive these Fulbright scholars. While the CIEP has been around since 1982 to help international students improve their English skills, the group that arrived in mid-March were the first Fulbright scholars to attend the program since 2003. 
To secure the students' enrollment in the program, UNI had to show that CIEP would provide the Fulbright scholars not only with opportunities for academic learning but also for community engagement. 
"It has been so rewarding to see that they have become ambassadors of their countries and are sharing their countries' history and culture," said Coronado-Park.
The students are enrolled in CIEP for 20 hours weekly, including three hours of class and one hour of lab work every day. During the lab, students may complete homework, listen to guest speakers or go to events or field trips in the area. While they go through many of the same courses as other CIEP students, the Fulbrighters also participate in classes that help them improve their Test of English as a Foreign Language (TOEFL) scores, which is an exam for non-native speakers who are enrolling in universities in English-speaking countries.
The learning experience has proven to be a two-way street, as the Fulbrighters have also been educating UNI campus and the broader Cedar Valley community on their cultures. 
"It benefits the campus as a whole," Coronado-Park said of CIEP. "It gives them opportunities to learn global skills that are needed in our daily lives to connect with others. Not everyone's from the same place, and when students go into the workforce, they have to have the ability to connect with people from other cultures."
One of the Fulbright scholars participating in CIEP currently is Mahmud Sheku from Freetown, Sierra Leone in West Africa. Sheku already has a master's degree in vaccinology and drug development and will attend Georgia State University in the fall to study for a master of public health with an emphasis on epidemiology. He received his first master's degree from the University of Siena in Italy and his undergraduate degree in Sierra Leone. The prospect of comparing the education systems of three countries from three continents excites him. Thanks to CIEP, he has gained a better understanding of the American academic system ahead of the fall semester.  
"Through CIEP, I developed certain structural writing techniques like developing an excellent thesis statement, developing a research paper, using hedging and unreal conditionals in complex sentences and also improving my speaking and presentation skills," said Sheku. 
Sheku also said the small sizes of the classes at CIEP have been especially helpful as they allow the instructors to provide more one-on-one support for students.
"CIEP focuses on those four components within the English language: your listening skills, your reading skills, your speaking skills and your writing skills," he explained. "Most importantly, they have impacted my writing skills. Because I'm a researcher, I will be writing a lot of papers for publication. They have shown me how to organize my thoughts when I'm writing a research article."
This is Sheku's first time in the United States. While he's always wanted to visit the states someday, he said Iowa wasn't on his radar. He hadn't heard much about the state before making it his home starting in mid-March. Sometimes when he talks to friends or relatives back home, they are still confused about where Iowa is located in the U.S., said Sheku.
One way Sheku has learned more about life in America while also practicing his English is by meeting with a conversation partner. As part of the CIEP, every student is assigned a UNI student who volunteers as their conversation partner. The pairs are required to meet with each other for at least an hour a week, and, often, these partnerships lead to friendships.
Sheku's conversation partner was Milena Naughton, a junior majoring in social work with a Spanish minor. Initially, she was drawn to the idea of becoming a conversation partner in the hopes that she would be partnered with a Spanish speaker. When she found out there wasn't anyone who still needed a partner matching that description, she decided to move forward with the process anyway, saying she thought it sounded like fun.
"Overall it was amazing," said Naughton. "It was so fun to learn about Mahmud and his culture. I think he and I grew up very differently — different belief systems, different majors, different knowledge backgrounds. So it was amazing learning all about those differences from him."
In the beginning, Naughton said she was nervous because she was unsure what she would talk about with her conversation partner, but she quickly overcame those nerves. The two got into a habit of meeting for an hour weekly in the Redeker Center to talk about everything from family life to religion. One of the most eye-opening parts of the experience for Naughton was learning more about Islam, which is the predominant religion in Sierra Leone. 
"When there are people who can show you things about yourself and things about the world that you've never thought of before — it's truly something I think people should experience at for least one semester in college. Talking to someone for just an hour a week isn't a big time commitment, but it can make an incredible difference."
Although Naughton said she has a busier schedule for her junior year, she still hopes to find time to be a conversation partner again.
In addition to conversation partners, the CIEP educates students outside the classroom by matching them with families from the community. Typically, these "host families" invite their student into their homes at least once a month.
"It is an opportunity for the families to form really close relationships with the students and also for the families with kids to be able to expose their kids to a different culture," said Coronado-Park.
One of the big benefits of the relationships formed through conversation partners and host families is they help dispel stereotypes, said Coronado-Park. She is also quick to point out the CIEP has a ripple effect beyond just the students enrolled in the program.
"We are affecting not just a single person, but we're impacting our students' whole families," she said. "Whatever they're sharing about UNI and about the United States is creating a different perspective in their countries abroad."