Languages & Communications
UNI journalism students become sports reporters for a day
Photo Courtesy of Anelia Dimitrova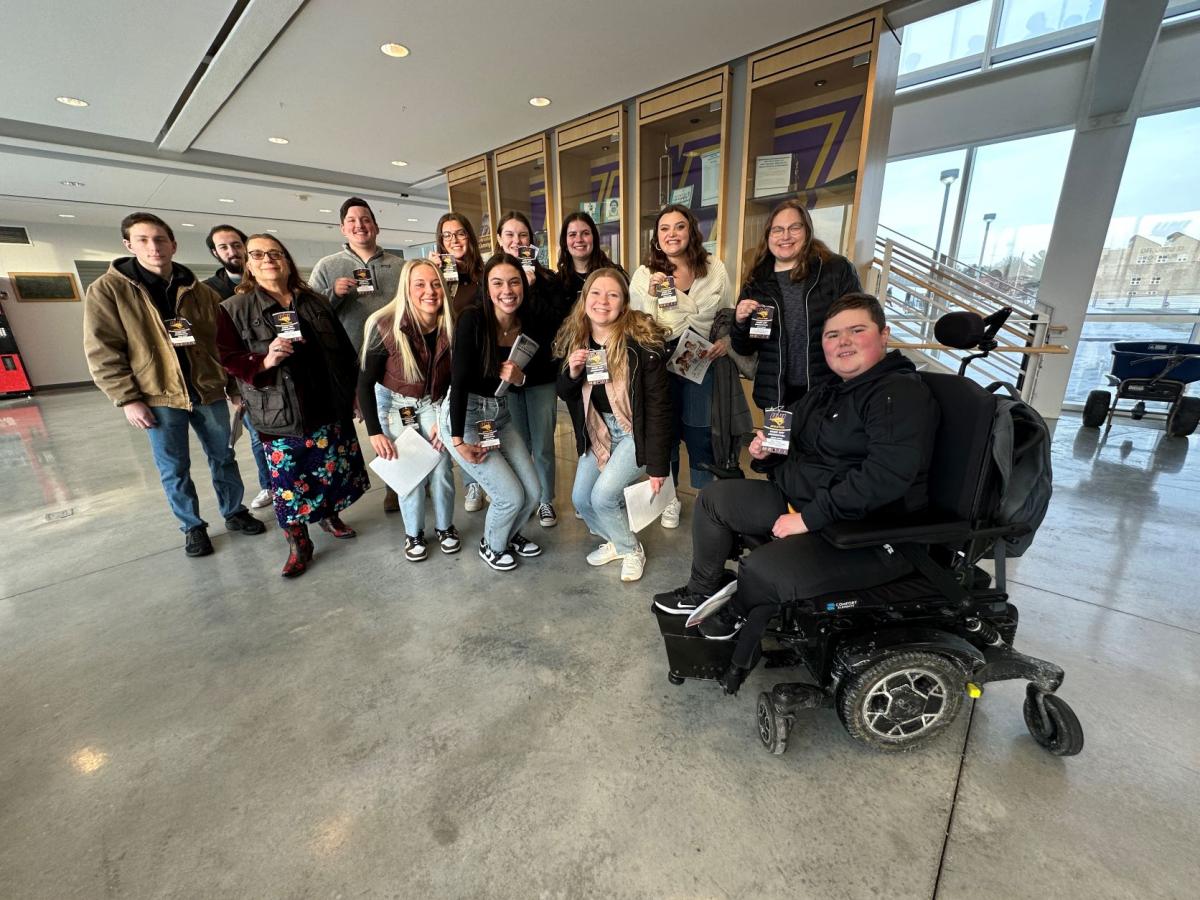 At sporting events, exclusive gameday access is typically reserved for seasoned media professionals, but at a recent University of Northern Iowa men's basketball game, officials issued credentials to 11 UNI students studying journalism. Before, during and after the game, these students from associate professor Anelia Dimitrova's Fundamentals of Journalism class got to experience what a night in the life of a sports reporter is like.
"It was definitely a once-in-a-lifetime opportunity," said Haley Hamm, a freshman majoring in public relations with an emphasis in special events and marketing minor. "I'm super thankful Anelia went to that extent to give us the opportunity because it allowed us to feel encouraged and know the sky is the limit. If sometimes you don't get the call back, that's still okay, but embrace the opportunities you do get."
The idea for the hands-on learning opportunity came when Dimitrova realized she had a student in the class, Drew Daniel, who is on the men's basketball team. She started telling her students they should go to a game together.
"She basically told us that to be a journalist you take your shots, and you roll with the punches," said Hamm, a Manchester native. "She said she'd reach out, but if something didn't happen, then it was okay. We just keep trying. You're gonna fail sometimes."
"When we got an email the Sunday before the game saying our class was going to be media for the game — that's when we knew it was real," said Mikayla Capman, a sophomore from Altoona majoring in digital media leadership with a digital journalism minor.
To prepare for their first big day as media professionals, Dimitrova hosted two guest speakers in her class. Mark Woodley, sports anchor for KWWL, talked to the class about the importance of asking questions at sporting events. Joel Wauters, the assistant athletic communications director for UNI who is also a former student of Dimitrova's, briefed the students on what they could expect from their experience. 
"He told us about the media room because that's the big scary part," said Capman. "You're in a room full of professionals who do this for a living, and you're expected to ask a question when all of the others have been doing this for ages and already have well-rounded questions."
When the big day arrived Feb. 4, the class received their media passes as well as game notes ahead of UNI's tip-off against Bradley University. 
Photo Courtesy of Haley Hamm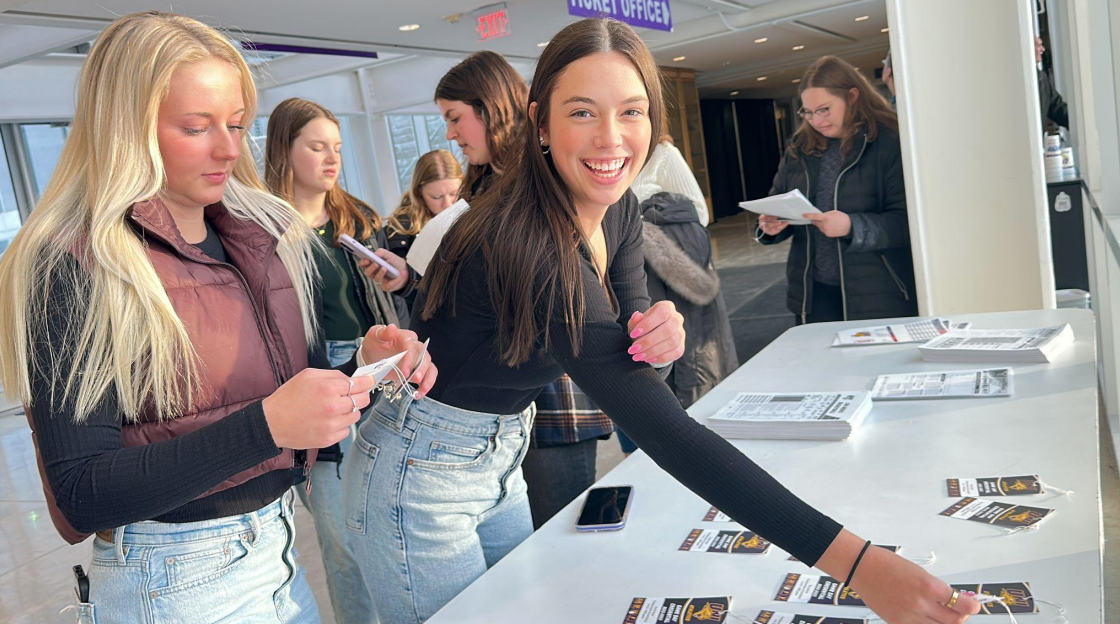 "It was really cool in that moment to see your name and that you had full access of the media," said Hamm. "It's something you're kind of fangirling about because as a little kid, you're like, 'Wow, those people are so cool!' And we got to be that for a day and some students in my class will get to have a future doing that. It was really cool to get a sneak peek of what that could be like."
The Fundamentals of Journalism class sat directly behind the players the whole game, as close to the action as possible. 
"The hardest part about this was we weren't allowed to cheer, and we couldn't make any facial expressions because we had to be completely unbiased," said Capman. "That's very hard to do when your sports team is playing."
Throughout the game, the students took photos and video and recorded notes. This was easier for some than others because not everyone had a lot of knowledge about basketball. Capman admits she didn't know much about the sport. Still, she found herself enjoying sports journalism much more than she anticipated. Knowing that the game was also being televised by ESPN made the experience that much more exciting. 
"Even though I didn't really know a lot about what I was doing, I thought it was very cool being on the other side of the court and watching the game from a different perspective," she said. "It was really cool to have a job at the game and not just be stressing about the players."
Following the game, Dimitrova's students attended the post-game presser hosted by Coach Ben Jacobson and forward James Betz. Some of the students even asked questions. This was the highlight of the experience for Capman.
"It felt very professional, and we were actually put into the shoes of a journalist," she said. 
The press briefing was a collision of students past and present for Dimitrova. Cole Bair, host of the radio show Cole & Company and one of Dimitrova's past students, was also there, showing the students how the skills they are learning in class translate in the real world.
Both Capman and Hamm found value in the assignment not only because of the insight they gained into the world of journalism but also because it helped them think about their future careers. Going into this semester, Capman was questioning if she wanted to keep her digital journalism minor. This excitement of this assignment affirmed she's on the right track.
Hamm expressed a similar sentiment.
"I technically don't know what I want to be when I grow up," she said. "So to have the opportunity to go behind the scenes and be the press at this event gave me a little insight into a job I could potentially have in my career. Who knows? Maybe I'll switch my career path after this class because I've already fallen in love with journalism."