News Release
UNI's GBPAC to host sneak preview of new documentary about local musician
UNI's Gallagher Bluedorn Performing Arts Center will host a virtual sneak preview community screening of "Getting That Note Out" a new documentary film by UNI Associate Professor of Digital Media and filmmaker Francesca Soans, at 7 p.m. on Friday, April 9. The screening is co-sponsored by the North End Cultural Center. 
The film explores the life and work of Waterloo blues guitarist Etheleen Morehead Wright. Following the screening, there will be a Q&A with Soans.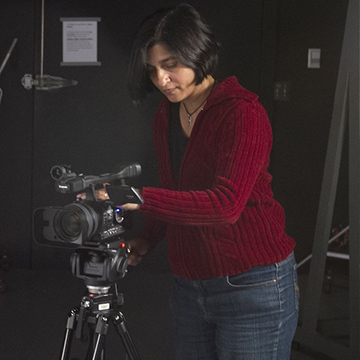 "[Wright] had a story about the early beginnings of music as it developed in the North End … It's the story of a blues guitarist reconnecting with her music," said Soans. "I'm hoping people will be able to connect to [the film] and to Etheleen… both in terms of the story it tells … as well as in terms of the larger story of creativity and connection to creativity."
Inspired by the North End Arts and Music Festival's mission, Soans set out to create a film that would promote the history and culture of the Waterloo community. She points to the North End Cultural Center and the many grassroots community organizations that have worked for years to transform Waterloo. 
Matt Boyd, co-founder of the North End Arts and Music Festival and Wright's backup guitarist for said the documentary ..
"I love Francesca. She's incredible. Her dedication to doing this stuff is just amazing," he said. "I'm really happy about her working on the North End because there's some history in this area that has been sort of lost for a long time and it'll be good to get the true stories of people that were there in the beginning."
The live-streamed sneak preview event is free and open to the public. Details and registration information are available on the GBPAC website, at www.gbpac.com.