News Release
UNI helps develop new legislation to promote sustainable food practices, reduce food waste
New federal legislation introduced today would promote sustainable food practices and food waste reduction by partnering research centers like one at the University of Northern Iowa with the U.S. Department of Agriculture. UNI has been instrumental in working with Congress to develop legislation that will bring effective and sustainable solutions to reducing food waste.
Rep. Cindy Axne (IA-03) introduced the National Food Waste Reduction Act, which would create a Food Waste Research Program within the (USDA) that will partner with five regional institutions, to conduct research, create waste reduction recommendations, and disseminate guidance to the general public.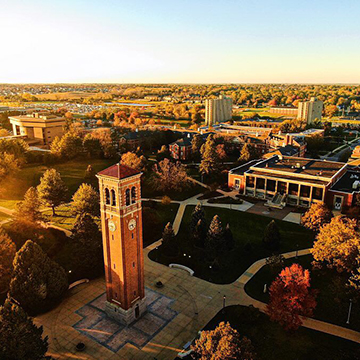 "Iowa has great researchers at University of Northern Iowa's Iowa Waste Reduction Center already focused on fixing this serious inefficiency in our food supply chain – and I want to see labs and non-profits like them across the country empowered to find the solutions we need to improve food recovery and reduce waste," Axne said. "Families are going hungry in America while billions of tons of food never sees a kitchen table. Iowa feeds and fuels the world – but it is our responsibility as citizens of the only planet we have to ensure that our food isn't just going from farm to landfill."
UNI's Iowa Waste Reduction Center (IWRC) reported that K-12 students in Iowa disposed of more than 150,000 pounds of food and beverage waste every school day during breakfast and lunch in the 2018-2019 school year – totaling nearly 30 million pounds of waste for the year. 
"We appreciate Congresswoman Axne's leadership on legislation that will enhance our nation's strategy for reducing food waste and helping in the fight against food insecurity," said Andrew Morse, Assistant to the President for Board and Governmental Relations at UNI.
Axne's legislation would also provide grants to research partners and nonprofits working to improve food waste reduction in their communities and increase food recovery.
Last year, UNI's IWRC received a USDA Solid Waste Management Grant to decrease food waste discarded in landfills by providing direct, on-site assistance and training for key food waste stakeholders within Iowa and bordering states through the Comprehensive Regional Food Waste Diversion Project. 
For nearly 10 years, the IWRC has been working on reducing food waste in landfills by partnering with the US Environmental Protection Agency, the Iowa Department of Natural Resources, and Rural Utilities Service of the United States Department of Agriculture. 
"We've been doing hands-on work with many different entities to prevent and reduce food waste, and we celebrate Representative Axne's bill as an essential strategy to advance awareness, actionable planning and implementation of strategies to keep food out of the landfill." said Jenny Trent, an IWRC waste reduction specialist.  
The Food and Drug Administration (FDA) estimates that up to 40% of the U.S. food supply is wasted on an annual basis – the single largest category of material that ends up in landfills – despite thousands of families still reporting not having enough food to eat.
One report estimated that 80 billion pounds of food are thrown away on an annual basis in the U.S., amounting to about $1,600 in produce per family wasted. UNI is playing a leading role in helping communities across Iowa and the United States address this critical issue.