Press Releases
UNI partnership helps Black-owned businesses
Thanks to some help from a business accelerator program and the University of Northern Iowa, four Black-owned businesses are now selling their products in Hy-Vee stores.
The Cedar Valley Black Business Entrepreneurship and Accelerator program was conceived by the 24/7 Black Leadership Advancement Consortium, a local non-profit dedicated to supporting Black professionals.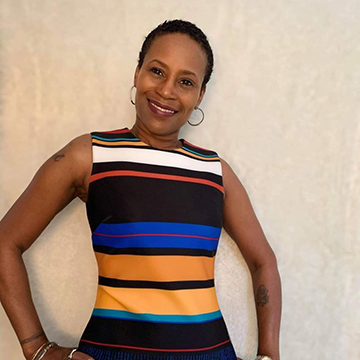 The free, six-month program used the expertise of staff and faculty in UNI's College of Business Administration, John Pappajohn Entrepreneurial Center and Business and Community Services to provide financial aid, business resilience, mentorship and scale strategies for minority-owned businesses. The first group of 12 businesses graduated from the program last month, and four of those have products placed in Hy-Vee.
"Our early support has had a significant impact on the entrepreneurs, and, we hope, will have an even greater impact for the community in moving the needle to close the racial wealth gap, said Denita Gadson, student diversity programs coordinator and academic advisor for the CBA. "It's a simple act of allyship with the potential for huge returns for the businesses." 
Businesses from the program have products that are sold at four Cedar Valley Hy-Vee locations. These businesses include:  
LuLit's Hair Essence, which sells natural hair- and skin-care products. 
ShinDigg, which sells inspirational apparel and accessories. 
The Shari Kollection, a luxury candle company.
AshleyJoy Cosmetics, which sells luxury cosmetics and accessories.
"The program has helped my business tremendously. I am now able to reach more customers, work out my business plan and update different marketing strategies," said Rose Daniels (pictured above), owner of LuLit's Hair Essence. "The uplifting motivation and teamwork I've received from everyone in this program has been truly a life-changing experience, and I am thankful for the opportunity to now say that I am a part of this amazing program."
"Offering products and services by Black-owned businesses is just one way Hy-Vee embraces diversity and remains connected to its local communities," said Rachael Tiby, spokesperson for Hy-Vee. "For more than 90 years, each Hy-Vee store has uniquely sold local products."
UNI faculty and staff taught the business owners about customer discovery and targeting, helped them navigate the legal documents necessary for owning a business and connected them with business experts.
The business accelerator program also received support from Grow Cedar Valley, Iowa C.O.R.E. and Red Cedar.