News Release
UNI's STAR4D grows painter training program for U.S. Department of Defense
A nationally recognized painter training program at the University of Northern Iowa has been awarded a federal contract to provide training at 20 U.S. military sites across the country. 
The Iowa Waste Reduction Center's (IWRC) Spray Technique Analysis and Research for Defense (STAR4D) was awarded the contract to support the Center for Aircraft Structural Life Extension at the United States Air Force Academy. Through this contract, the IWRC will provide STAR4D painter training at 16 military painting facilities across the United States as well as establish four new STAR4D satellite sites to train instructors at depot-level military bases.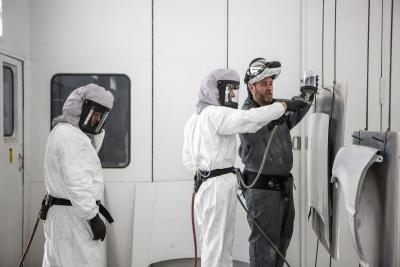 "We are excited for this opportunity and to continue to provide a valuable service to the DoD community," says Chris Lampe, STAR4D Program Manager.
With proper training, painters are able to promote environmental friendliness, reduce the amount of paint wasted during application, and limit the time spent in the paint booth. Last year, the STAR4D program saved taxpayers over $500,000.
STAR4D's training also helps prevent corrosion to military vehicles and equipment, a major expense that costs the military an estimated $20 billion annually across all branches. The STAR4D program began in 2003 as a means to provide effective painter training to the U.S. Armed Forces. The program has grown throughout the years but the core mission has always remained to provide hands-on customized training.
Training is conducted on-site, off-site, and at the satellite sites that have been established across the country and in Japan. STAR4D has grown to be a leading partner (featured in military publications here and here) and has provided nearly 4,000 certifications and recertifications to painters from each military branch. 
Last year, STAR4D was invited to be a part of a national work group to assess resources and needs across the U.S. Department of Defense. This review will help the Department in creating future training practices across the military.