Politics & Justice
Scholarship aims to amplify the voices of women in politics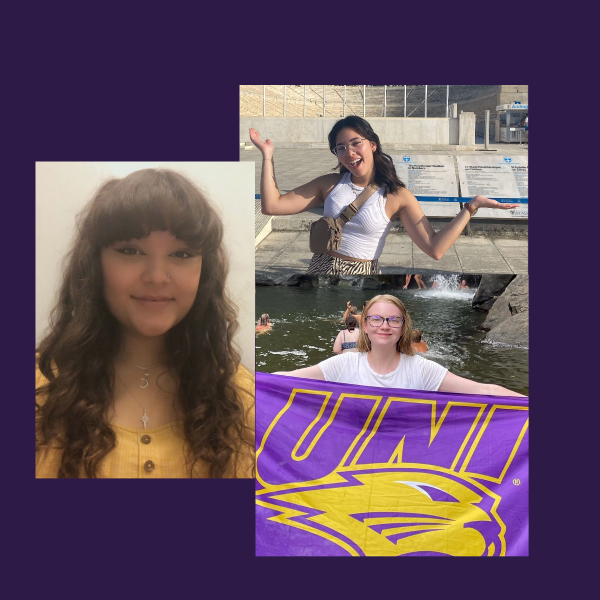 On Oct. 11, the University of Northern Iowa's Department of Political Science will host its annual Women in Politics Bipartisan Scholarship Benefit. This year, there were three recipients of this $5,000 scholarship: Serenity Kollasch, Megan Robinson and Aubrianna Woody. This scholarship is awarded to female junior or senior students with a declared political science or public administration major who have a 3.0 grade point average or higher.
When Kollasch first came to UNI from Spencer, Iowa, she was thinking about majoring in theatre. While she describes herself as always being a very political person, it wasn't until she took an introductory political science course her freshman year that she realized it was her true passion.
"This scholarship literally means the world to me," said Kollasch, who is majoring in political science and has a social justice minor. "I came to UNI not really knowing what I wanted to do, and I wasn't really confident in my own abilities. But when I saw that I was awarded this scholarship, I was just blown away by the fact that I had grown so much in my abilities that I could receive something of this level."
Now as a junior, she's confident she's found a good fit in the political science department at UNI.
"The political science department is really unique in the fact that everybody kind of knows everybody," said Kollasch. "It's a very, very tight-knit community. It's like one big family."
For her future plans, Kollasch said she is interested in political theory and is considering studying abroad for her master's degree or PhD. 
No matter what Kollasch chooses to do, she is confident that UNI has helped prepare her to achieve it.
"I think UNI is great in the way that it prepares students for the future," said Kollasch. "There are so many opportunities on campus for that and in the political science department, particularly. They really push each individual student to be their best self."
For Robison, this is the second consecutive year she's been a recipient of the Women in Politics Scholarship.
"I went loan-free and debt-free last year, and I can pretty much attribute that to the Women in Politics Scholarship," said Robinson, who is a senior political science major with a minor in criminology and a certificate in international peace and security.
The scholarship was also important for Robinson as it helped her be able to study abroad, which she is doing now in Costa Rica. 
The Decorah native knew she was interested in studying political science from the time she graduated from Decorah High School, but her reasons for doing so have changed over time.
"Right out of high school, I thought I was gonna be a lawyer," said Robinson. "I was so dead set on it. So I chose political science because it was a major that was common with law. Then I fell in love with the major over the law portion. So I kept my major, but I totally changed direction." 
After she graduates, Robinson is trying to determine if she wants to get a master's. But regardless, she is leaning towards working in international trade.
Robinson is also the president of the Model United Nations at UNI, but her favorite thing about being a UNI student is her classes.
"I am a giant nerd, and I wear that as a badge of honor," said Robinson. " I don't think I've ever had a semester where I wasn't super excited for my classes."
A huge part of why Robinson enjoys her classes so much is the professor-student connection.
"All of my professors have been amazing," said Robinson. "They're willing to skip whole lectures if there's something current that every student wants to talk about, and they look for discussion."
Like Robinson, Woody was especially excited to receive the Women in Politics Scholarship because it would allow her to study abroad. She is currently in Greece.
"Ever since I was a little girl, I had dreamt of studying abroad," said Woody, who is a senior political science major with minors in international affairs and legal studies. "With this scholarship, studying abroad has become a reality, not just a dream. This scholarship has allowed me to experience a new way of life and learn in a classroom setting that is different from what I have grown up with back in the United States. Winning this scholarship will have an impact on my life forever in a very positive way."
Woody has been interested in politics since she was a child growing up in Creston, Iowa, and all through attending Creston Community High School. This made majoring in political science a natural fit. Through studying political science, she's discovered she's interested in international relations and political theory. She hopes to get a master's degree in the future or attend law school.
Although Woody admits there are challenges with being a woman in politics — especially when it comes to being taken seriously by her peers — there are also positive aspects.
"I think that the best part about being a woman in political science is that it allows for a break in the mold of what politics look like," Woody explained. "Typically, within politics, men dominate the field, so being a woman with passion in this field is an amazing feeling."