STEM
Giving underrepresented students a Jump Start
Jerreme Jackson said it's hard to put into words the feeling he gets when a student says he made a difference in their life.
"I always tell them that's one of the reasons why I wanted to go into higher education and become a faculty member," said Jackson, an assistant professor of biology at the University of Northern Iowa who has spent much of his academic career helping students from underrepresented backgrounds.
His journey as a Black man becoming the first member of his family to earn a doctoral degree was fueled by determination and perseverance. And this summer, he passed the lessons he has learned to high school students participating in Jump Start, an extended orientation program at UNI designed to facilitate the successful transition to college for students from underrepresented racial and ethnic backgrounds.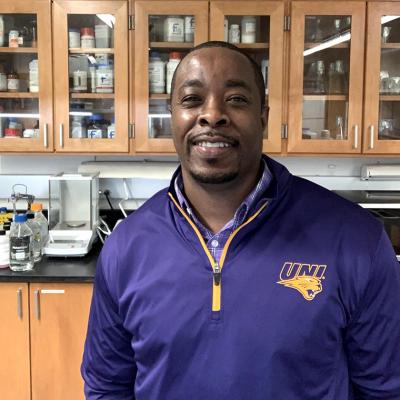 "I feel very fortunate to have Dr. Jackson as a faculty member in our department," said Theresa Spradling, head of the Department of Biology. "He establishes a great rapport with students, and then he leads them to greater accomplishments by stressing that rewards come through hard work, dedication and enthusiasm."
Jackson spent the day with the Jump Start students, showing them around campus and answering questions about the college experience and how to succeed. The program offers the students a range of benefits, from an early move-in to campus residence halls to in-depth explorations of university resources before classes begin. 
"This program really helps us establish a connection with them, at least from the standpoint that they'll recognize faces around campus," Jackson said. "A lot of these students are first-generation college attendees from underrepresented groups. That in and of itself can be very alienating before you get to the university. But then once you get to the university, it can be alienating again, because you really don't know what you're doing, there's no protocol for how to do college, because we all tend to have done it so differently."
He also knows what it's like to struggle. A native of Lawrence, Kansas, he started college at the University of Kansas as a chemical engineering major. But the classes never piqued his interest and his grades reflected that. After changing his major to genetics during his sophomore year, he spent the rest of his undergraduate semesters digging himself from that hole.
"Perhaps one of the misconceptions students have about faculty members is that college was a breeze to us," Jackson said. "I'm a testament to the fact that it was not always easy. There were certainly times when I didn't know if I would be able to do it. I had to hunker down. And one of the things I told myself was I would regret giving up."
He graduated in 2002 with a degree in genetics and embarked on his career. He got a job at XenoTech, a Kansas-based contract research organization specializing in drug metabolism and drug-drug interaction studies, where he worked for three years. He then moved to a laboratory position at Hills Pet Nutrition, which produces Science Diet and Prescription Diet dog and cat food.
There, the interactions with world-renowned scientists and access to state-of-the-art facilities piqued his scientific curiosity, and Jackson began applying to graduate programs. At 28, he enrolled into a doctoral program at the University of Tennessee, where he said he started to become more aware of the racial disparities in higher education.
"I did notice that there just really weren't very many men or women with brown skin on the faculty where I went to school," Jackson said. "It never crossed my mind that it had anything to do with ability, but more a lack of interest and certainly opportunity."
So, when he gets a chance to become a representative for these students, to show them that someone who looks like them can flourish in higher education, he always says yes. But he also tells his students that they don't need a representative like him to succeed.
"Your desire to meet your educational goals has to be stronger than the desires that anyone in your support group also has for you to meet them," Jackson said. "You are really in the driver's seat."
That desire was on display after Jackson passed his entrance exams for the doctorate program at the University of Tennessee.
"I remember approaching the dean of the graduate school and saying, 'I am not leaving Knoxville without a PhD. So you guys are stuck with me,'" Jackson said.
Jackson can relate to Jump Start students because he participated in similar programs. While he was a graduate student at the University of Tennessee, he took part in Programs for Excellence and Equity in Research (PEER), an initiative to increase the number of exceptional underrepresented students graduating with doctoral degrees in STEM disciplines. As a postdoc at Oklahoma State University, he also connected a Hispanic student interested in studying microbiology in graduate school with the Louis Stokes Alliance for Minority Participation Program that helped fund the cost of their tuition.
"There are so many opportunities for students who belong to underrepresented groups who are interested in STEM disciplines," Jackson said.
He also understands the importance of support. Both of Jackson's parents went to college - his mother works for a company that produces phosphoric acid and sodium phosphate products for a wide range of industries, including food, pharmaceutical, and cosmetics. His father works for a specialty contractor providing  HVAC, mechanical, electrical, plumbing, millwright, and architectural metal work in facilities such as hospitals and arenas. But he was the first member of his family to receive a doctoral degree. He said he understands the feeling of trying to achieve something no one in your family has done.
"I didn't really have anyone in my family who I could go to who had done anything that I was attempting to do," Jackson said. "Fortunately for me, my mom and my dad understood the magnitude of what I was attempting to do, and they always remained very supportive."
He now encourages students not to be afraid to ask for help.
"You shouldn't be afraid to let a faculty member know, as early as possible, that you're feeling overwhelmed," Jackson said. "Don't be afraid to kind of acknowledge that you've tried to undertake too much. Part of the maturation process is realizing when you have too much on your plate."
Jackson's work with Jump Start is one of many ways UNI is helping ease the transition to college for students from underrepresented populations. The new Panther Promise Academy started last fall. The developing program seeks to improve the retention rate of students of color at UNI by building community through workshops and community service. The Center for Multicultural Education is also helping the effort through its Multicultural Mentoring for Student Success program, which is designed to ease the transition from high school to college for underrepresented, and marginalized students.
This semester, Jackson can be found teaching the Cell Structure and Function course, and he hopes to begin teaching microbiology courses in the future.