STEM
Indoor drone research takes flight for UNI student
Undergraduate research often conjures images of students in lab coats working with beakers, but undergraduate research takes many forms. For Tanzeel Ur Rehman, a senior majoring in computer science, his year-long undergraduate research project involved flying small drones the size of half of the palm of someone's hand.  
The 2023 IEEE International Conference on Pervasive Computing and Communications Workshops (or PerCom), which has an acceptance rate of less than 10%, published this research earlier this year as part of PerSASN workshop. Rehman worked on this project under the supervision of Assistant Professor of Computer Science Dheryta Jaisinghani.  "We submitted the paper, and Dr. Jaisinghani told me it is a really selective conference, so if it didn't get selected to not be too discouraged," said Rehman, who is from Pakistan. "But it did, and I was really surprised."
Jaisinghani has spent extensive time researching wireless communications for drones. In the past, she's worked heavily on outdoor drones that provide 5G communications. When she came to UNI, she wanted to continue this research with indoor drones. Their small size limits the network's range, typically to just a few meters. To increase this range, Jaisinghani focused on using a flying network of drones. The premise of the research entitled "IoT in the Air: Thread-Enabled Flying IoT Network for Indoor Environments" was developing the network and ensuring the network performed well enough to send communications.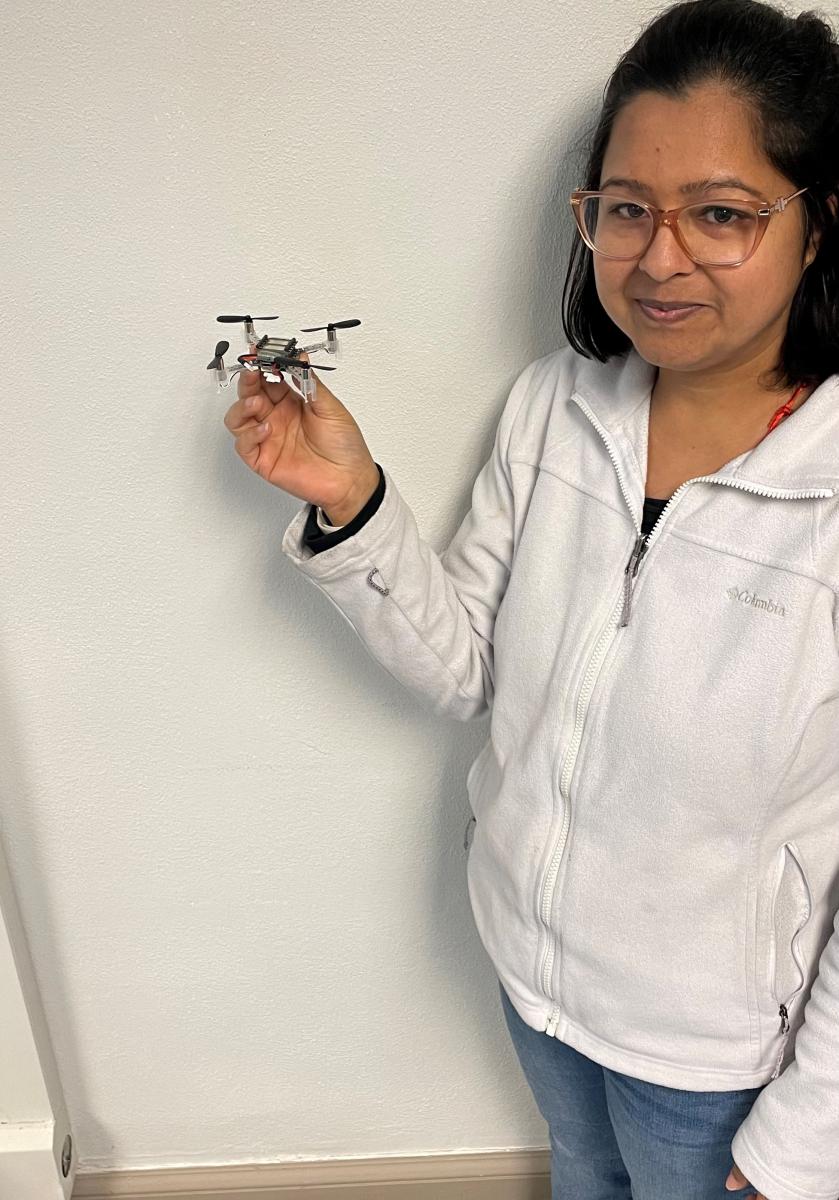 Ultimately, Jaisinghani and Rehman— with the help of Assistant Professor of Computer Science Andrew Berns and former student Ryan Mulkey — were able to create a network that performed well enough to send small text messages, emails, images and very small videos. According to Jaisinghani, this is important for small-scale disaster scenarios. For example, if a building is on fire, the drones could fly inside the building and send important data to the rescue crew.
Jaisinghani believes the real-world application of this research is why it was accepted at the conference.
"There is a recipe to get your research accepted," she said. "The first thing is you need to figure out a problem that is unsolved and that it is a pressing problem to be addressed. So we picked up a problem that wasn't solved and used the latest state-of-the-art algorithms to solve it."
For Rehman, researching this area for about a year solidified the networking principles he was learning in class with Jaisinghani.
"Even though I had taken a networking class before, if I didn't apply the concepts in real-life scenarios, I wouldn't understand them," he said. 
Jaisinghani echoes this sentiment.
"Students are always really amazed to see that whatever I teach them in class is not just theory — it really works," she said.
In addition to the technical skills he used for the research, Rehman believes learning how to write a publication-worthy research paper was also invaluable, especially if he chooses to go on to get his master's degree or PhD.
Rehman presented his research at the PerCom conference in Atlanta, surrounded by computer science professionals, professors and PhD students from around the world. Jaisinghani describes this as a "once-in-a-lifetime opportunity" for her student.
"It was amazing," said Rehman. "There were a lot of smart people. I had no idea I belonged there. But after a while, I realized I had done the work, so I did belong."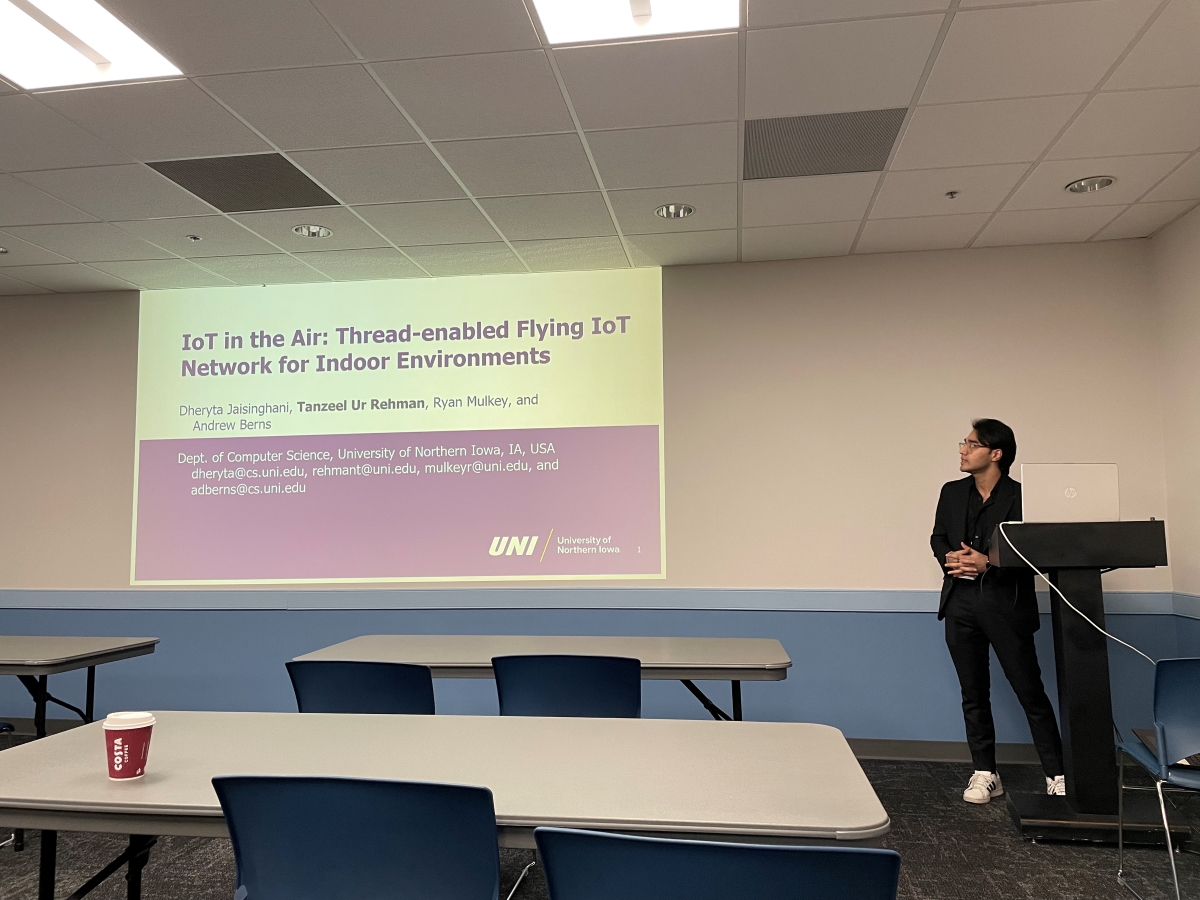 Rehman will graduate in December. He hasn't decided yet if he would like to immediately go on to get his master's or PhD or if he'd prefer to get a job in computer science first. Either way, attending PerCom 2023 opened his eyes to the world of opportunities that await him in computer science. He walked away with numerous contacts.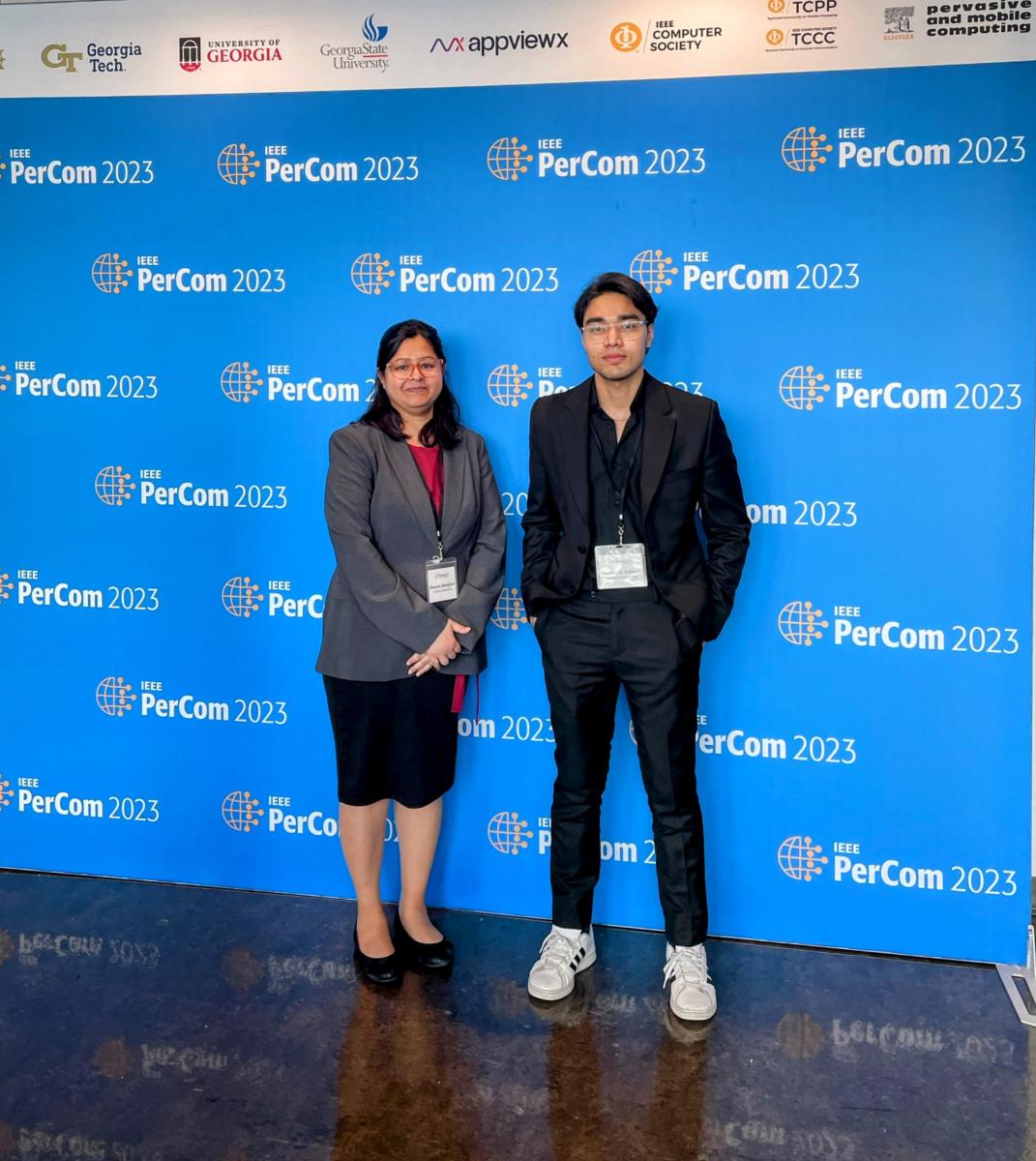 Jaisinghani, who was also featured in a panel discussion with women in networking at PerCom, is glad that Rehman gained research experience through this project so he can make an informed decision on what route he'd like to take with his career.
"If you get a chance, go talk to professors and do some research," she said. "If you get published at an undergrad level, that is amazing. It adds to your CV, so when you go for an interview, it adds to your profile. It gives you extra brownie points that you do not get with typical coursework. This experience is available to you only while you are in school."