STEM
Programmed for success – UNI student finds opportunity building mobile apps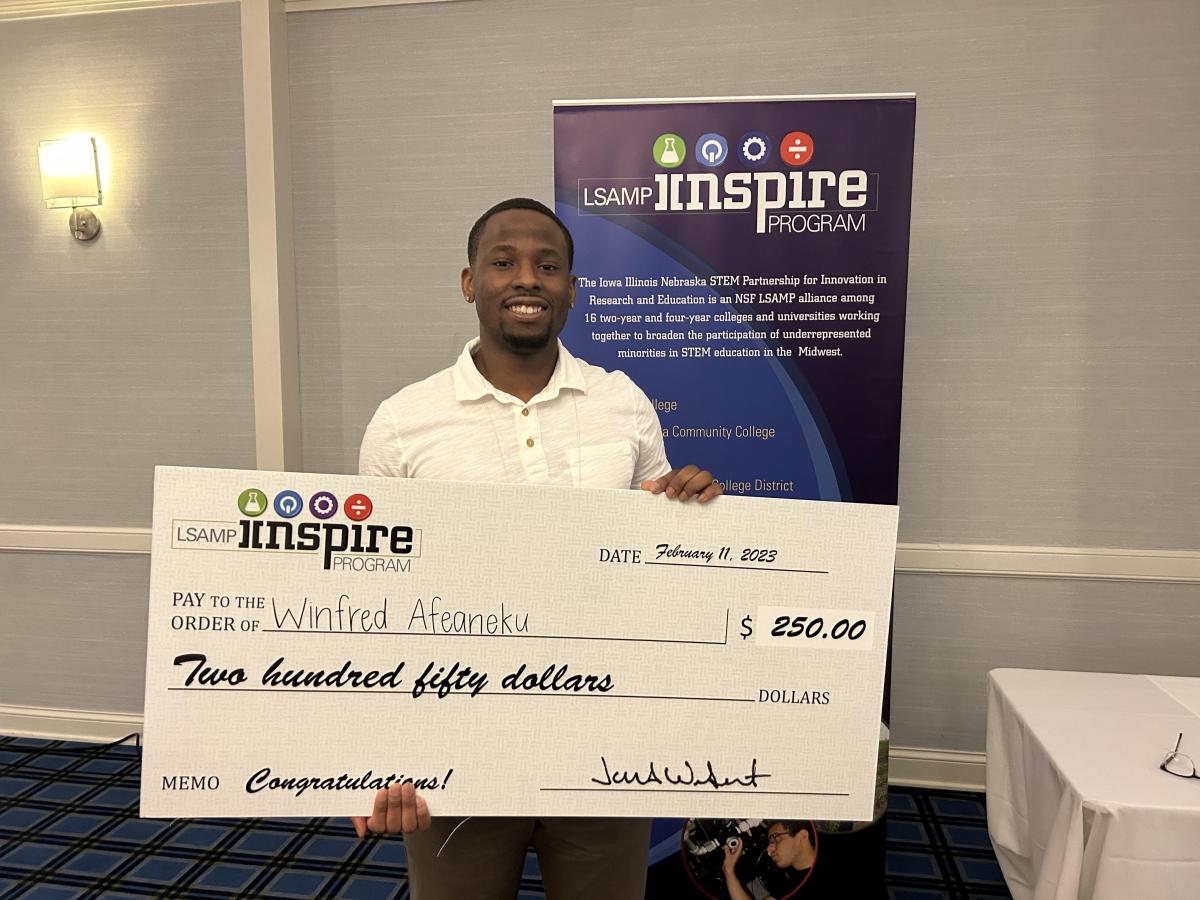 Winfred Afeaneku's experience at the University of Northern Iowa has taken him more places than he's ever dreamed. As a junior computer science major, he is working to develop a mobile app and has presented his research on several occasions. 
"I've had a lot of great opportunities here," said Afeaneku. "I've gone after them, and it's paid off. I'm really glad I came to UNI because it's really helped me expand myself and make myself better."
Afeanenku's research focuses on SocioApp, a mobile app he's working to develop with assistant professor of computer science Dheryta Jaisinghani. The app monitors how social you're being and provides you with personalized feedback about how to increase your engagement. 
"The app will encourage you and give you good advice on what you can do to help yourself improve in those areas," Afeaneku explained. "It's not going to force you to be social, but it's going to give you suggestions — like to help a friend with homework, or go ask the professor about a question you're stuck on or something like that." 
Afeaneku has been working on the project for almost a year. In that time, he's presented it twice, once at the Louis Stokes Midwest Regional Center of Excellence Conference near Chicago and once at the Iowa, Illinois, Nebraska Louis Stokes Alliance for Minority Participation (IINSPIRE LSAMP) Conference in Iowa City. During his most recent presentation in February, he walked away with the Favorite Poster Award.
"When I first signed up to present my research, I was a little nervous," Afeaneku admitted. "But after Chicago, I just fell in love with presenting. I felt like I had something really good to share, and people were really interested." 
IINSPIRE LSAMP is an initiative committed to expanding STEM education opportunities in the Midwest for historically underrepresented populations. As an alliance institution, UNI is committed to cultivating an inclusive, supportive learning environment for students like Afeaneku who are studying a STEM field. LSAMP has supported Afeaneku's research since he started working on SocioApp.
Douglas Mupasiri, department head and professor of mathematics who is also the UNI campus director of IINSPIRE LSAMP, joined Afeaneku at the conference. 
"I am so proud of Winfred for winning the award," Mupasiri said. "It's been my great pleasure to watch him grow academically and become the confident and outgoing student that he is now."
Going to these conferences and getting to not only present but also hear about the experiences of others through various seminars has been incredibly impactful for Afeaneku.
"It really showed me you need to enjoy the journey of where you want to go and not just focus on the destination. The journey is what really counts," said Afeaneku. "A lot of people have wonderful stories where they just kept going when everything else was telling them not to. Because of their determination and their persistence, they got to where they are today."
This experience is quite different from the one Afeaneku would have envisioned for himself as a high school student. He initially was interested in pursuing accounting, but right before college classes began, his dad convinced him to give computer science a try. He instantly fell in love with the subject and hasn't looked back.
Afeaneku especially values the close relationships he's been able to form with professors at UNI thanks to the smaller class sizes. He believes this is one of the things that has propelled him toward success.
"UNI is a perfect size campus," he said. "If I had gone to a bigger school, I would have had a harder time connecting with my professors and getting one-on-one help."
Afeaneku has big dreams of someday owning his own software company. He is confident that his college experience developing mobile apps will help him reach his goal.