STEM
UNI alum receives STEM Teacher Award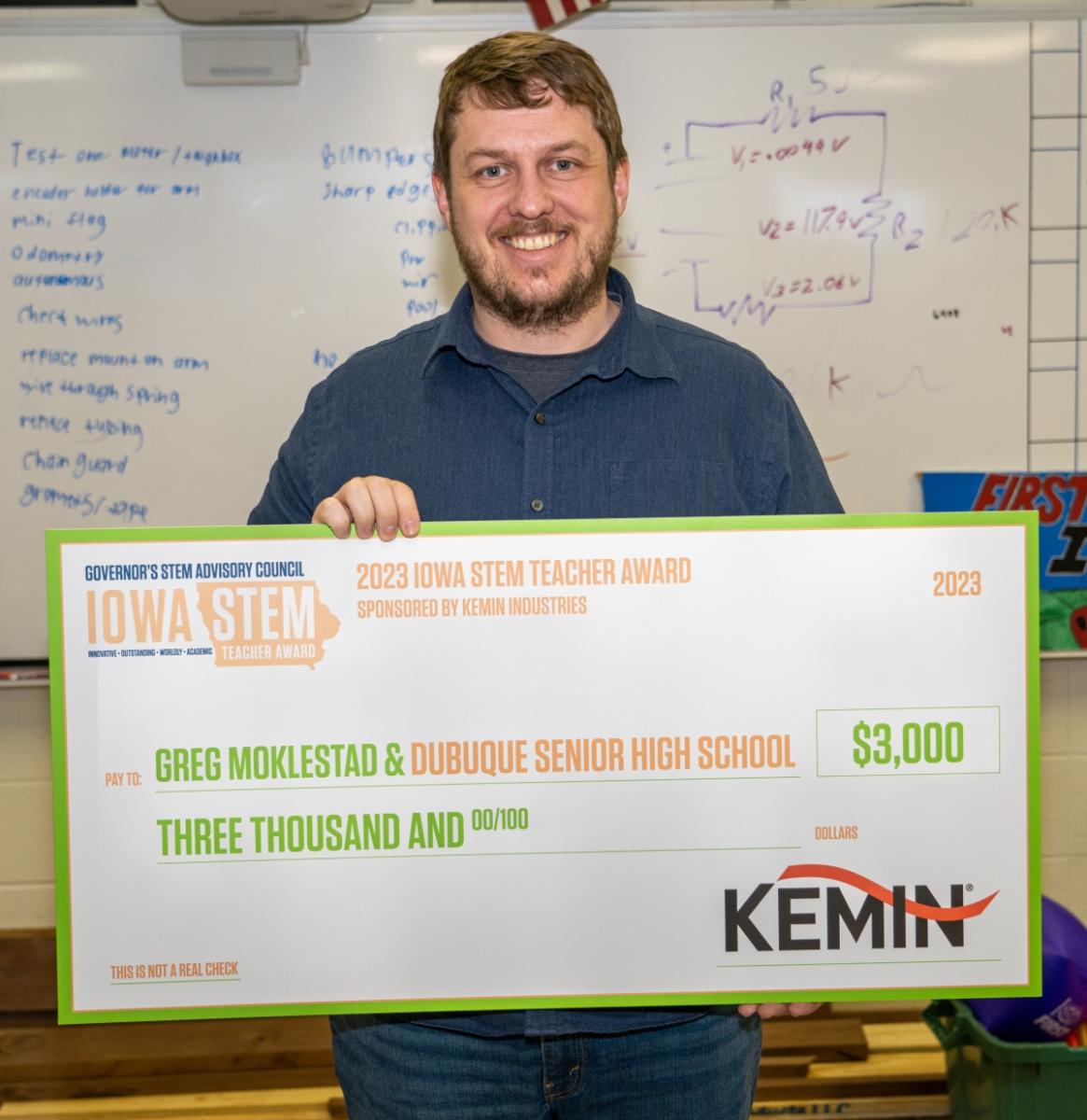 Greg Moklestad didn't always dream of being a teacher. But after receiving a STEM Teacher Award, it's clear he made the right decision by pursuing this line of work.
To receive consideration for the award, Moklestad had to be nominated by administrators, fellow teachers, counselors, parents, students or other STEM advocates. He's one of just six teachers, one from each STEM region, to receive the award this year. 
"I feel like it's validating not just for me as a teacher but for the classes I teach as well," he said. "People are acknowledging the time and work teachers in my field put in to prepare students for life after high school. There are so many of us teachers in the industrial tech area that cover most of the STEM fields throughout our curriculums and are constantly having to grow and learn in our fields to help prepare students. Besides me being acknowledged, I really feel like this acknowledges a lot of the other teachers I work with throughout the state."
Originally from Forest City, Iowa, Moklestad came to UNI with his associate's degree. He started as a political science major and planned on staying at UNI for only a year before transferring to another university. But Moklestad enjoyed UNI so much, he decided to stay and change his major to technology teaching and training.
"While I was in various liberal arts and political science classes, I discovered I liked that element, as well as the mechanical theory element," he said. "Then I discovered a technology teaching and training degree embodies multiple educational fields. I tried it out and ended up liking it, so that's the direction I chose."
While at UNI, Moklestad got involved with multiple residence hall governments and Model United Nations. He also spent many evenings enjoying the guest speakers who came to campus.
"I took advantage of all the opportunities UNI gave me," he said.
After graduating from UNI, Moklestad got his first teaching job in Illinois. For Moklestad, the biggest learning curve was classroom management. 
"Like most first-year teachers, you're never going to feel completely prepared when you are by yourself in that classroom that very first year, but I believe as a whole, UNI did an excellent job preparing me for my teaching position," he said.
Moklestad advises young teachers to be patient and stick with it because they will only improve as a teacher with time.
Right now, his work heavily emphasizes computers and electronics but, over the years, it's included teaching a variety of skills such as metalworking and woodworking.
"Basically I teach whatever the school I'm teaching at wants and needs for the community, and right now, they need me for a lot of computer stuff."
Moklestad also coaches the FIRST Robotics team at his school. When he was in school, he remembers how meaningful teachers pulling him aside and encouraging him to get involved outside the classroom was. Now, he tries to pass that along to his own students. He loves seeing the skills the students acquire through being part of the team. The team even competes in the UNI-Dome.
One of the biggest challenges for Moklestad over the years has just been keeping up with the fast-evolving nature of technology. One way he has helped stay up-to-date is by getting involved with the Iowa Governor's STEM  Advisory Council's externship program. Through this program, Moklestad has been able to spend summers "interning" for different companies like John Deere to enhance his real-world skill set and ultimately pass that knowledge on to his students.
"A handful of years ago, I heard about another teacher doing something like that, and they learned a lot from the experience over the summer," he said. "I decided to throw my hat in the ring."
Thanks to those connections, students in one of his engineering classes now partner with mentor engineers from John Deere to work on real-world engineering projects.
The STEM Teacher Award grand prize comes with $3,000, which includes $1,500 for Moklestad's classroom and $1,500 for personal use, sponsored by Iowa Governor's STEM Advisory Council and Kemin Industries.
While accolades such as the award are certainly welcome, they aren't what keeps Moklestad going day to day. He loves getting to see students mature and grow and succeed after they graduate high school.
"I believe education is a clear path to improving many lives, and getting to be a part of that is really rewarding," he said. "That's a big part of staying on as a teacher regardless of what goes on in the world. People are always going to have to learn and get new skills and adapt to the new world, and teachers are usually on the front lines of preparing students for that."