Alumni
Community-driven dedication takes Jamison Whiting from UNI Football to one of the largest law firms in the country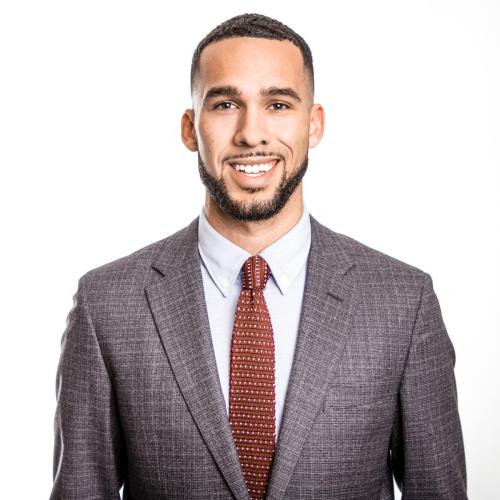 For up-and-coming Minneapolis lawyer and University of Northern Iowa alum Jamison Whiting, it was an unexpected venture into activism that sparked his ambition to become an attorney. But, it was his undergrad experience at UNI that gave him the foundation and tools he needed to succeed. 
"I'm a huge fan of UNI," he said. "My whole experience there was awesome. You know, there's the friends you make and the relationships you form with the professors and all those things you expect from college. But for me, the thing that made my experience so positive was the feeling that the entire community was invested in my success in all facets - athletically, academically, socially. It was just an amazing time for me."
Whiting was a defensive back for the Panthers all four years of his college career, which included a 77-yard pick-six interception in 2015 against Indiana State.
A Minneapolis native, Whiting first became involved in activism in high school, where he helped lead a protest against the dismissal of a "very near and dear" staff member. The protest drew one of the biggest turnouts in Minneapolis Public Schools history.
That experience, Whiting said, lit a fire in him to focus on his education and get his law degree - a journey that started with his football scholarship to UNI.
"That was when I realized education was the way to experience the things I wanted to experience in life," he said. "And I made the decision to invest in academics as much as I  invested in football."
Today, Whiting is an up-and-coming corporate attorney with Faegre Drinker in Minneapolis, one of the 50 largest law firms headquartered in the United States. He was recently appointed by Minneapolis Mayor Jacob Frey and the city council  to serve as a member of the Minneapolis Commission on Civil Rights​.
The commission was created to promote and protect the civil rights of Minneapolis residents through public information, education, mediation, conciliation and enforcement. Members of the committee are appointed to provide leadership, encourage and educate the public, identify civil rights issues of concern to the community and advise the mayor, city council and city departments on civil rights matters.
"I'm still kind of at a loss for words," Whiting said. "It's a huge honor and an incredible opportunity, I think, to give back to my community in a truly meaningful way."
For Whiting, who grew up on the south side of Minneapolis, doing work that can help and better his community and the people who live there is where he finds the most fulfillment.
In May of 2020, during his third year of law school in California, the city of Minneapolis was the center of civil unrest following the death of George Floyd, an unarmed black man who was killed by a white police officer. The police officer was later convicted of murder. 
"I grew up three blocks from where Floyd was killed," he said. "And in the aftermath, I had a lot of friends reach out to me asking how they can help. They were 1,900 miles away and didn't know what they could do to help."
Whiting and his fiancé started collecting donations for local business owners who suffered losses during the unrest and to purchase food and other supplies for those in need. In the end, he and his fiancé raised more than $14,000.
"A lot of businesses were damaged or destroyed in minority neighborhoods and we felt the need to help however we could," he said. "Every single dollar we raised went directly into the hands of those in need and those helping to rebuild our city."
Today, Whiting continues to stay involved in his community, and he particularly enjoys working with the city's youth, dedicating time as a volunteer football coach at his hometown high school.
"That's probably the best part of my week," he said. "I get to work with these young men and be a source of support for them and have a positive impact in their lives, like my UNI coaches did for me, especially Coach Brandon Lynch, who is now a coach for the Cleveland Browns."
With all his recent success, Whiting continues to look back on his time at UNI and appreciate how his undergrad experience as a double major continues to influence his daily life. He earned a Bachelor of Arts in Political Science and Philosophy at UNI, and also ran for student body president.
"Between athletics and academics, UNI did a great job of instilling a sense of confidence and comfort in me that everything will be okay. You know, life can be stressful and there are times when it will be really challenging, but as long as you're doing what you need to do, everything will be okay. So I've tried to keep that mindset as a guidepost and it's been pretty good for me so far. UNI did a wonderful job of supporting me as I moved forward. I had amazing mentors and people I looked up to, and I don't think I would have made it to where I am in life without their help."