Alumni
Where art meets advocacy: UNI alum Isaac Campbell spotlights American detainees
Image Courtesy of Jamey Simpson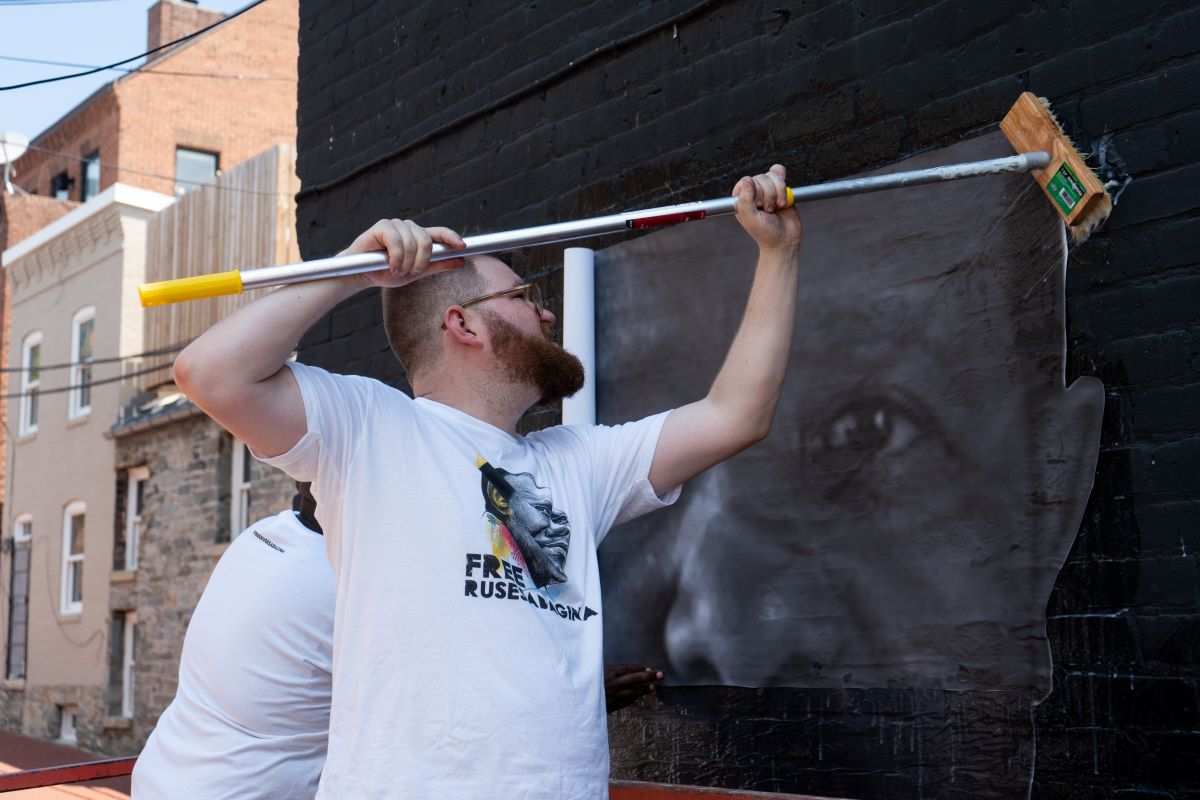 On March 29, Paul Rusesabagina, the real-life inspiration for the film "Hotel Rwanda," returned to American soil after being held captive in Rwanda for more than two years. Among those celebrating this long-awaited homecoming is Isaac Campbell, a UNI alum who designed the Bring Our Families Home mural in Washington D.C., depicting Rusesabagina, Brittney Griner and more than a dozen other wrongfully detained Americans. 
Rusesabagina is the eighth detainee depicted in this work to return home since the mural went up last summer. A U.S. Presidential Medal of Freedom recipient, Rusesabagina is known for sheltering approximately 1,200 people at the hotel he managed during the Rwandan Genocide in 1994.
"This project happened because of Paul and Paul's team," said Campbell, an Ottumwa native, who graduated from UNI in 2014 with a Bachelor of Arts in Electronic Media and in 2021 with a Master of Arts in Communication Studies. 
The mural would not have come about if it weren't for Campbell's time as a Fulbright scholar in Hungary in 2018-2019. He made numerous friends with the other grantees, including one with family in the film industry. That led to Campbell's work being seen by a representative of Paul Rusesabagina, who then requested a meeting.
When the two started discussing plans for a mural, the words of Emmy-winning film editor Josh Bodnar, who Campbell had seen speak years ago at UNI, echoed in his mind: "Say 'yes' to every project." So Campbell signed on to the project. 
Initially, the plan was for the mural to just be of Rusesabagina. But in planning with the Bring Our Families Home campaign, the idea evolved with the belief the mural would be more impactful if it included numerous hostages and Americans being held abroad.
"That's where a lot of my scholarship from my master's started to come into play in understanding how to create something that educates the public about an issue that they have no idea is going on," said Campbell.
At that point, even Campbell didn't know much about the American hostage crisis. He describes the process of educating himself on the topic as "grueling."
"It was also inspiring because I got to meet and work with a group of people who are totally committed to bringing their loved ones home," he said.
The Washington mural is a wheat paste mural, Campbell's medium of choice. These murals are printed paper pasted onto a backdrop using a biodegradable glue made of flour, sugar and water. They typically last three to six months, but can sometimes last more than two years. Installing these murals is a team endeavor, led by Campbell. He constructed wheat paste murals in College Hill in 2019 and in downtown Cedar Falls in 2021.
"I love it because I get to teach people," he said. "I love introducing them to wheat pasting, and knowing the impact it can have is just really exciting because I like to help people. I like to involve myself and my skills for causes, whether that's promoting a town and making an event happen that we can really be proud of as a community or getting American hostages home."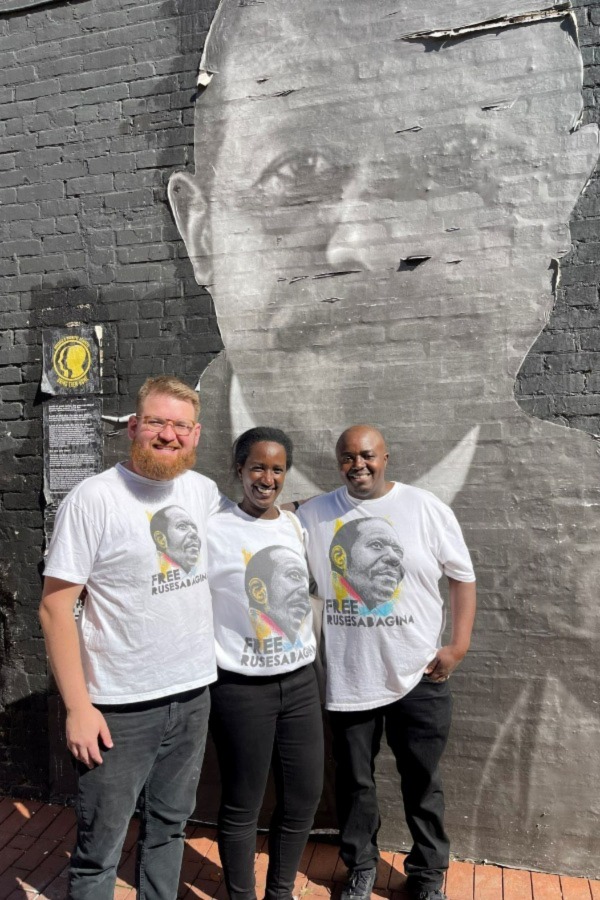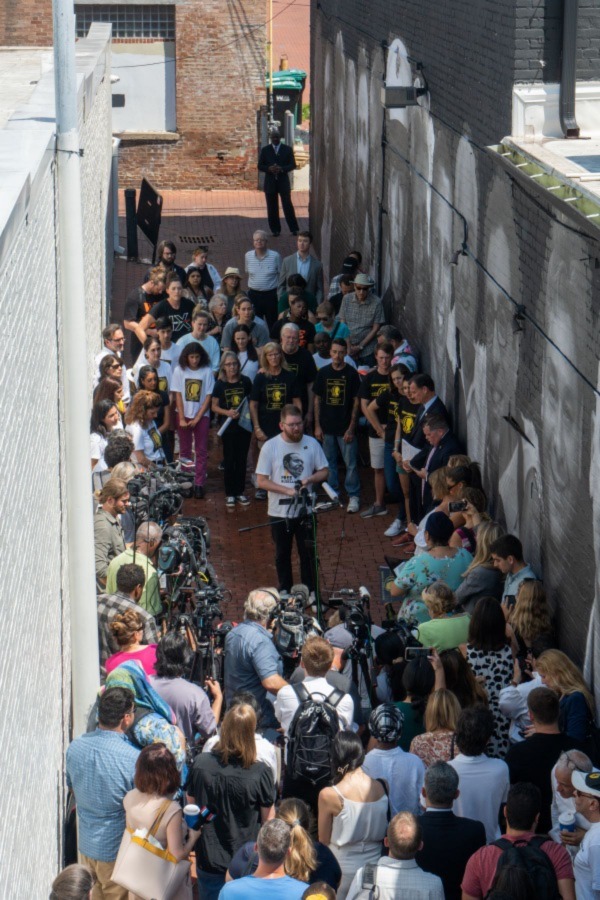 Image Courtesy of Jamey Simpson
It took about eight hours to construct the mural. Campbell had help — not from other artists, but from family members of the hostages and wrongfully detained Americans portrayed in the mural.
"I knew that in order for us to get the traction we wanted, for this to work the way it needed to work, it had to be constructed by the families," said Campbell. "There had to be pictures of family members putting their loved ones' faces on the wall."
And work it did. The mural drew national attention, being featured in the New York Times, Washington Post, CNN, ABC, NPR, Reuters and others.
Campbell gets emotional recounting how meaningful the process was for families. One family even told him putting up the mural made them feel heard for the first time in the many years they'd been trying to get their loved one home.
"Something I think art does better than anything else is give people an emotional experience, a hopeful experience, something that really energizes them," Campbell said. "Life has a new sense of purpose when you do a project like this."
It's amazing to think how successful the campaign has been considering that when Campbell signed onto the mural project, he accepted he probably wouldn't get to see anyone brought home. Of course, he's overjoyed to have been wrong.
"I can tell you when I found out Paul was coming home, there was a lot of crying," said Campbell. "I was jumping up and down."
While Campbell is excited about the prospect of hopefully meeting Rusesabagina someday, he's disappointed he didn't meet him years ago when Rusesabagina was a guest speaker at UNI and Campbell was a student.
"UNI brings in some pretty great speakers, and I think a lot of students miss out on that," he said. "So, go, because you never know who you might see. It's disappointing that I didn't see Paul in 2009 because that would have been an even cooler full-circle moment, seeing Paul at UNI and then contributing to his release."
Campbell may not have been able to meet Paul in 2009, but he had plenty of other experiences at UNI that helped shape him and get him to where he is today. UNI helped strengthen his project management skills and his ability to collaborate with others — skills that he's used as a self-employed artist.
"My life would not be what it is if I had not had the experience that I had at UNI," he said. "I wouldn't have had this happen if it wasn't for what happened to UNI. You can be from Iowa and make big impacts on the world. You can go to UNI and have an experience that is far bigger than what you'd ever imagined."
If you're interested in learning more about U.S. hostage diplomacy or supporting the Bring Our Families Home campaign, please visit their website. 
"

You can be from Iowa and make big impacts on the world. You can go to UNI and have an experience that is far bigger than what you'd ever imagined.

"