Business
Student entrepreneur runs Pakistan-based business from UNI campus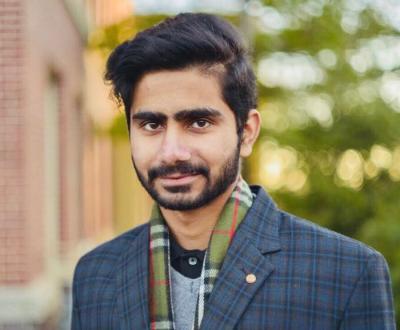 This article is second in a four-part series on the current residents of the R.J. McElroy Student Business Incubator. Read part one on Emma Slagle, part three on Skyler Ramsey and part four on Anna Gilbreath.
Every small business faces obstacles. But for University of Northern Iowa second-year grad student Noman Ikram, his biggest obstacles have been unique, most notably being separated from his employees and business partner by more than 7,000 miles and a 10-hour time difference. 
This is because Ikram's clothing business, Zemira, is based in Pakistan, but Ikram runs as much of the operations as he can from the R.J. McElroy Student Business Incubator at UNI's John Pappajohn Entrepreneurial Center (JPEC). To make sure he can chat with his employees at a time that works for them, Ikram often wakes up at 7 a.m. and won't go to bed until 1 a.m.
His hard work and talent, combined with knowledge gained from his UNI business classes and JPEC mentors, have helped make the online fashion retailer a success. The company, which specializes in traditional Middle Eastern garments for women, sold out its first collection within a few months. 
"Selling something online in Pakistan is not very easy," Ikram explained. "The online market is not very reliable, and people don't really shop a lot online in Pakistan. So selling out of everything in a few months was a big achievement."
After graduating high school in Islamabad, Ikram decided to get his undergraduate degree at UNI on the advice of his uncle, who has lived in Cedar Falls for about 15 years and owns four local convenience stores. Ikram considered larger universities, including some Ivy League schools, but chose UNI knowing it offered a high level of personal attention from faculty while still being affordable.  
When he arrived on campus in 2015, it was his first time in the United States. 
"Every single thing was basically new to me," Ikram said. "Since I was an international student, language was also a barrier for me, but my professors helped a lot. They would go out of their way to help me with writing papers and things like that."
It was during Ikram's junior year studying construction management that his passion for entrepreneurship ignited.
"I realized somehow that I am more interested in having my own business than working for someone," he said. "It could be a construction business, but I would rather have my own organization."
Ikram first heard about the JPEC as an undergrad student through his friend Russel Karim who graduated from UNI in 2015 and has started several businesses of his own, including Dhakai, Inc. After earning his bachelor's degree, Ikram went to New York in the hopes of getting his master's degree from Niagara University. However, he decided to transfer back to UNI to finish his degree in business administration when he realized he had been learning more at UNI
Last semester, he took an entrepreneurship class with Lindi Roelofse who told him more about the student business incubator. Roelofse introduced Ikram to Bart Schmitz, the program manager at JPEC, and the two helped Ikram get his office space for Zemira. Schmitz has continued to mentor Ikram throughout his journey of building his business, especially when it comes to Ikram managing Zemira's three employees who are all in Pakistan.
"I told Bart I needed his help. I was confused and stuck because I was paying my employees, but I didn't really know if they were being productive or not," Ikram explained. "Bart has given me some very good advice. Whenever I need advice from someone who has a business background or has business knowledge, there are so many people in the JPEC who I can always reach out to, and they are always willing to help me out."
Ikram has learned that one of the best ways to overcome the challenges of distance is to maintain constant communication with his employees. Not only does he make sure he talks with them about work, but he also prioritizes getting to know them on a personal level. By letting his employees know that he cares about them, he believes they are more likely to be productive even if he's not around.
Even though Zemira was only founded in June, Ikram has big plans for the business, starting with the launches of new collections in March and again in July. In the future, Ikram hopes to expand the business throughout the U.K and U.S. markets. Until then, the company is focused on increasing brand awareness by sending publicity packages to Pakistani models and actresses as well as by running Facebook ads.
The team settled on calling the business Zemira, which is also a popular women's name in Pakistan, after discovering that it means "to be praised" in Hebrew, which aligns with their two goals: crafting garments using premium fabric and providing superior customer service. One way the women's fashion retailer provides such exceptional customer service is by allowing customers to request refunds or exchange their items within seven days of purchase, Ikram said. According to Ikram, this is unique for businesses in the Pakistani marketplace.
After graduation, Ikram's goal is to work as a business analyst, using the skills he's already built at UNI and his e-commerce business.