Business
Student-run business helps provide equitable access to real estate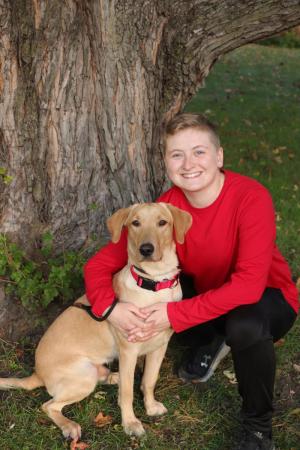 This article is third in a four-part series on the current residents of the R.J. McElroy Student Business Incubator. Read part one on Emma Slagle, part two on Noman Ikram and part four on Anna Gilbreath.
There was a time when University of Northern Iowa senior Skyler Ramsey lacked the confidence to see themself as an entrepreneur. But since they started running their real estate consulting and renovation business from UNI's R.J. McElroy Student Business Incubator in the John Pappajohn Entrepreneurial Center (JPEC), that mindset is a thing of the past.
Ramsey said they founded their business, Teal Phoenix LLC, with the goal of making real estate more accessible for individuals with limited mobility.
"After getting a taste of what it's like to navigate the world using a mobility aid through my volunteer work, I became passionate about helping others more seamlessly navigate real estate," said Ramsey, who uses they/them pronouns. "Everyday tasks like using the restroom shouldn't be marked by obstacles—but for individuals with limited mobility, they often are.
If an accessibility fix is simple, the Teal Phoenix team may be able to repair the property on their own. Other times, if it's something like widening a doorway for wheelchair users, they may have to hire a licensed contractor to get the job done. 
"Before starting Teal Phoenix, I figured that I could never be an entrepreneur," said Ramsey. "Then I found out that to add the entrepreneurship minor at UNI, it was only like another two or three classes here. So I added the minor and then I fell in love with it. As I progressed, I realized that it is where I fit."
This perfect "fit" is obvious since Ramsey has since immersed themself in all things entrepreneurship at UNI. They've participated in UNI Entrepreneurs Club and the Early Founders Program which is a multi-week crash course in launching a business. Their team placed first in a week-long competition for student entrepreneurs in western Iowa hosted by Iowa Lakes Corridor Development Corporation, and they have mentored in the International Panther Cage Challenge put on by UNI to help high school students from Pakistan learn how to pitch their business ideas.
"Having access to the resources and the connections that the JPEC and my UNI professors have been able to give to me so that I can do networking and research has been very, very valuable," Ramsey explained.
Ramsey's growth has been obvious to everyone around them, including JPEC director Laurie Watje.
"Skyler has truly immersed themself into the world of entrepreneurship and has taken advantage of every opportunity offered at the JPEC and as a result of that commitment, I've seen their confidence grow in their business model and in themself!" she said.
While the content of the courses and their professors have played a role in Ramsey discovering their passion, one of the biggest factors came from an unlikely place: Ramsey's volunteer work training service dogs through Retrieving Freedom in Waverly. 
Ramsey started volunteering with Retrieving Freedom as a senior in high school. As they got used to navigating the world with the service dogs they were training, their eyes opened to some of the unique challenges individuals with limited mobility face on a daily basis, specifically in terms of real estate.
"When I'm with a dog, if there's not a wheelchair accessible stall in a bathroom, I am not able to use the restroom because I can't physically fit into the facility," Ramsey explained. "That gave me a new perspective on the reality experienced by people who may be in a wheelchair or use a walker."
While making real estate more accessible for people with mobility issues by widening doorways and lowering countertops is important, Ramsey is clear that those aren't the only ways Teal Phoenix can help when consulting for clients. One small but crucial detail in accessible real estate is light switches. For individuals who struggle with fine motor skills due to cerebral palsy, arthritis or another condition, using pinch and push light switches can be extremely challenging. This is why Teal Phoenix recommends using rocker panels instead.
"Our work can really vary depending on what our clients need and what the market is showing there's a need for," Ramsey explained.
Although the 23-year-old grew up less than 10 miles away from Cedar Falls in Janesville, they didn't immediately attend UNI following their graduation from the Consolidated Community School District high school. In fact, Ramsey started their college career as a liberal arts major at Hawkeye Community College, thinking they might become an anesthesiologist.
When Ramsey realized that they were more drawn to the analytics of anesthesiology rather than medicine, they knew it was time to pivot their career path.
"I figured that business would better suit my passion for math and analytics while also being universal enough to apply to any industry, which is comforting for job security after graduation," Ramsey explained. "Once I decided I wanted to major in something business-related, it came naturally to want to transfer to the best business school in the area: UNI!"
During UNI orientation, Ramsey discovered they could double major in real estate and finance for just a few classes extra. They decided to go ahead and double major, even though Ramsey was convinced finance would be their best option at that point. That all changed once Ramsey progressed into their upper-level courses and realized that real estate was their "true calling."
While the initial concept was Ramsey's, they haven't created the business alone. The co-founder of Teal Phoenix is Skyler's husband, Kyle Ramsey who they have been with for over five years. Kyle is a senior at Hawkeye Community College who will be transferring to UNI for the fall 2022 semester. Currently, they are the only two business employees.
The name of their business plays homage to something that's broken and imperfect (like the current state of real estate) turning into something "beautiful and strong," according to Ramsey. They also say that teal symbolizes restoration, so they wanted to include the color in the business name.
While Teal Phoenix is still pre-revenue, Ramsey hopes that the business will start making money this summer. For the future, Ramsey says they hope to keep working in the Cedar Valley but also expand the business to other parts of Iowa, including Des Moines and Iowa City. Eventually, they hope to see Teal Phoenix doing work outside the state as well.