Business
UNI senior gives back with family-owned apparel business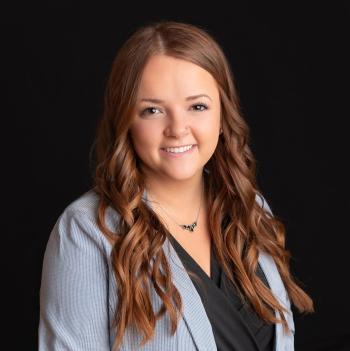 This article is first in a four-part series on the current residents of the R.J. McElroy Student Business Incubator. Read part two on Noman Ikram, part three on Skyler Ramsey and part four on Anna Gilbreath.
While most college seniors gearing up for graduation might be preparing for their next step in life, Emma Slagle is already hard at work helping make her family's business a success. 
After she graduates from UNI in May with a bachelor's degree in communication and entrepreneurship, the 22-year-old will be working full-time at Honor and Respect, an American-flag-themed athletic shoe and apparel business she helped create to support first responders and military personnel. The company donates all its profits to organizations that provide mental health help to first responders. 
It's a company she created with her dad, Ron Slagle, a Marion police officer and Air Force veteran, and manages from the R.J. McElroy Student Business Incubator in the John Pappajohn Entrepreneurial Center (JPEC).
"Nobody knows what they're really getting into as a first responder," said Slagle, whose family includes three generations of first responders and service members. "They know what could happen, but you can't prepare for some of those calls."
Their simple father-daughter fundraising project started in 2018 when Slagle was a UNI freshman, but took off in 2019 when Fox News featured the company on its "Fox & Friends" morning show the day before Independence Day. "The flag is a symbol of what we fought for and what a lot of Americans are fighting for today," Ron Slagle told the show's hosts during a four-minute segment. 
Their small e-commerce site quickly went from 30-40 views each day to 25,000 and they quickly sold out of shoes.  The experience encouraged them to create new designs and keep going. Currently, they have five designs for shoes in addition to apparel and accessories for sale.
"We didn't plan to start a business out of this. We planned to do it as a fundraiser," Slagle explained. "After it skyrocketed, we were like, 'Okay, we need a lawyer! We need an accountant!'" 
Slagle was drawn to UNI because of its smaller size and proximity to home. Since her graduating class at Cedar Valley Christian was just 17 people, she was intimidated by the thought of going to a larger university. She also loved that it was close to her family in Cedar Rapids without being too close. 
Long before college, Slagle had always been close to her father, especially since he coached her in basketball and soccer from the time she was five years old. When Slagle left home for college, they needed something new to bond over. Given their mutual love for sports and Shark Tank, designing an athletic shoe seemed like the perfect plan. 
Initially, the family placed an order for 600 pairs of athletic shoes with their original design. They had hoped to sell at least 300 to break even. While they didn't quite meet their goal, the endeavor started getting local press coverage. The story spread throughout the Midwest, and about a year later it even went national when "Fox & Friends" had reached out.
Right now, Honor and Respect supports first responders and service members by donating to about 12 nonprofits including Running 4 Heroes, Tunnel to Towers Foundation and Blue H.E.L.P. Recently, Honor and Respect also helped establish a mental health scholarship at Covenant Family Solutions for those that may not be able to afford the mental health assistance they need.
Although Honor and Respect was the first business Slagle and her dad started, entrepreneurship is a bit of a family tradition as Emma's paternal grandfather, Jerry, started a sign company in Texas. Unfortunately, Jerry passed away before getting to see the success of Honor and Respect.
Slagle got connected with the JPEC initially through the Entrepreneurs Club which is a student organization for aspiring business owners. She joined the club hoping to get more involved on campus, but she ended up getting so much more when she met JPEC's program manager Bart Schmitz. He was the first to tell her about the student business incubator in JPEC and how students could use it for office space. 
The idea excited Slagle. She got her incubator space for Honor and Respect during her sophomore year and has had it ever since. Her favorite thing about having the space is being able to interact with other entrepreneurs. 
"It's cool to bounce ideas off of people because we're all like-minded in that area," Slagle explained.
Although Slagle and her dad are the two founders of the business, Honor and Respect is really a family affair. Slagle's mom, Bambi, her brother and sister, her sister-in-law, her sister's boyfriend and her fiancé all pitch in to keep the business running.
"I could not have accomplished even half of what we have done without their help," Slagle said.
When Slagle is able to go full-time with the business following graduation, she hopes to focus on creating new designs and exploring retail partnerships.