Business
UNI Future Business Leaders of America students place at national leadership conference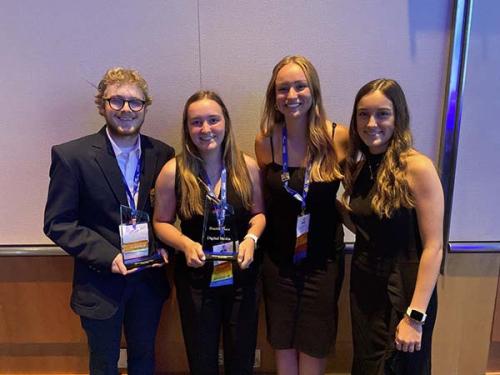 Two members of UNI College of Business' Future Business Leaders of America (FBLA) placed at the National Leadership Conference in Chicago this summer. Brady Beyer ('23) came in third in statistical analysis category and Lauren Kraemer ('24) placed fourth in the digital media category, beating out students from colleges across the United States. 
The annual conference brings together more than 12,000 FBLA collegiate students, who attend learning sessions with industry leaders, compete in national competitions and elect a national student officer team. Beyer and Kraemer qualified to compete on the national stage because of their performances at the state leadership competition earlier this year.
Kraemer, whose older sister, Madison, was elected the FBLA President for this academic year, put together a multimedia marketing package following a prompt to promote recycling, reusing and repurposing for a new clothing store. She was encouraged to reach out to the community and embrace positive business practices.
She created a new store brand called "ReClothes" and leveraged different visual media effects to show a person going into the business and using their services to donate and reuse clothing. She presented the film to a panel of judges who asked questions and critiqued her work.
"I was kind of shocked and thrilled," Kraemer said about learning she had placed a few days later at the award ceremony. "I've been a part of FBLA since high school, but this was my first time coming to the national collegiate conference, so it was very exciting."
Instead of a competition, Beyer took an exam to test his digital analytics knowledge. While he didn't know exactly how comprehensive the test would be, he studied material from past exams online and leveraged lessons learned in class.
"I actually been to a couple of national conferences before, but I've never placed," said Beyer, who has been a part of the organization since high school. "It was awesome to see kind of finally being able to replace it at one of the national conferences and walk across the state to accept."
Beyer and Kraemer served as state officers for the organization this year. Beyond the awards, they embraced the opportunity to attend the conference, represent the UNI College of Business on a national stage and network with other students and even potential employers.
"I enjoyed meeting and forming relationships with people from across the country that I would never be able to meet anywhere else," Beyer said. "There were tons of awesome workshops and networking activities. We also had time to be on our own and explore the city."
To learn more about PBL at UNI, check out their Twitter account. You can also find more about the state organization on their website.