Campus & Community
UNI Day at the Capitol in Des Moines very successful
Highlighting the University of Northern Iowa's commitment to education and preparing today's students for tomorrow's workforce, UNI gathered at the Iowa State Capitol in Des Moines on Feb. 14 to engage with lawmakers and showcase our programs, services and partnerships.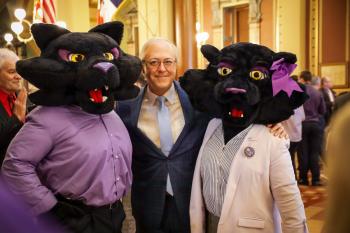 An annual event, UNI Day at the Capitol allows for one-on-one feedback with policy makers to demonstrate exactly what we're doing and showcase the best UNI has to offer. Over 50 students joined President Mark Nook, TC and TK, faculty, staff and alumni to meet with lawmakers, their staff and visitors to the State Capitol and discuss programs across the university and how UNI meets Iowa's workforce needs.
A string quartet from UNI's School of Music played during the event. Their outstanding music was heard throughout the Capitol building and was greatly appreciated. UNI's School of Music is recognized as one of the finest music schools in the Midwest.
Eighty-six percent of UNI graduates from Iowa stay in the state after graduation to live and work. Additionally, more than half of UNI undergraduate students from outside the state stay in Iowa following completion of their degrees. Ninety-one percent of all UNI graduates earn degrees aligned with Iowa's most in-demand jobs.
UNI's high job placement rates in Iowa lead to a strong return on taxpayer investment.