Campus & Community
University of Northern Iowa celebrates 50+-year partnership with John Deere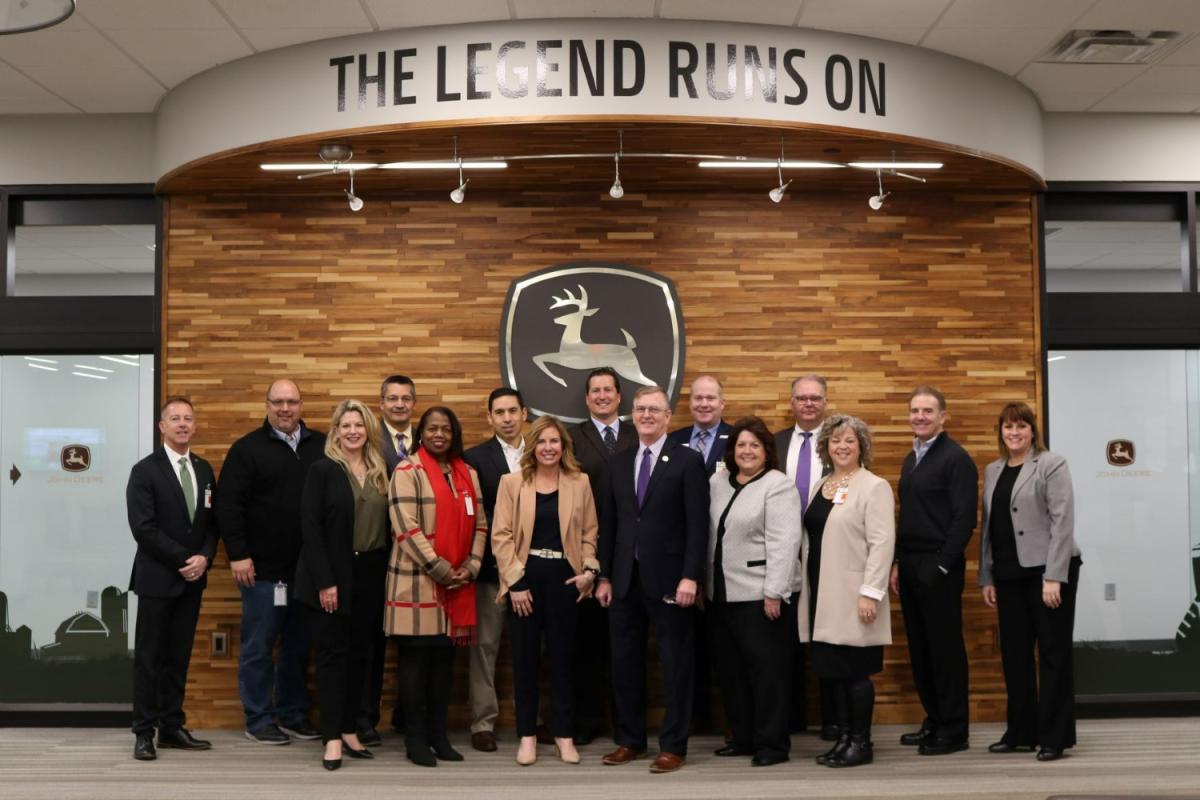 On Jan. 12, University of Northern Iowa President Mark Nook and other members of the UNI leadership team visited the John Deere Waterloo Operations facility for an annual meeting with Waterloo Factory Manager Becky Guinn and other members of John Deere's management team in Waterloo. President Nook and the UNI contingent toured Deere's tractor cab assembly facility and discussed the university's decades-long partnership with John Deere. 
"The University of Northern Iowa and John Deere have collaborated for more than 50 years in the greater Waterloo-Cedar Falls area and surrounding counties," said Nook. "Becky and her team at Deere's Waterloo Works have embraced our passion for supporting education at all levels. UNI strives to continue serving as a good steward of Deere's generosity as we both seek to meet the workforce needs of Iowa, in addition to enhancing quality of life and diversity initiatives in our shared footprint."
The University of Northern Iowa has a longstanding relationship with John Deere. Since 1971, John Deere has given almost $5.4 million in charitable donations to UNI, benefiting students, enabling building renovations and more. 
Almost $1.8 million has benefited the Department of Applied Engineering & Technical Management, including an extensive renovation currently underway at UNI's Applied Engineering Building. John Deere's $750,000 commitment to the renovation is the lead industry gift on the project to date. 
John Deere is also an instrumental supporter of UNI's partnership to enhance the U.S. Department of Defense supply chain with the Industry 4.0 Adoption for Metal Castings project. Several UNI computer science students are actively working on this project at the TechWorks Campus in Waterloo.
In 2022, John Deere sponsored two professional development events on UNI campus: the John Deere Symposium on Machine Learning and the Global Trade and Supply Chain Forum. The events brought together students, faculty and industry professionals for a dialogue about machine learning and its applications and current issues with the supply chain.
John Deere has also helped the next generation of bright minds put STEM skills into practice by sponsoring the 2022 return of the FIRST Robotics regional competition at the UNI-Dome.
Through its financial support, John Deere is helping to grow the Teach Waterloo partnership between the Waterloo Community School District and UNI. Teach Waterloo aims to diversify the K-12 workforce in support of student success by creating a streamlined path to earning teacher licensure through UNI for paraeducators and other support personnel of color. 
UNI's partnership with John Deere extends beyond UNI students and staff. Through John Deere's continued support — in addition to funding from the U.S. Department of Education — the UNI Classic Upward Bound program is able to continue serving low-income and future first-generation college students in the Waterloo area.
As part of Upward Bound, the John Deere Mentorship program has engaged 46 employee mentors with 64 mentees from all three Waterloo high schools. John Deere employees have also mentored and coached the Upward Bound Robotics Team.
As the largest private employer of UNI graduates, John Deere sees a clear return on these investments. Almost 1,300 alumni report being employed by John Deere, including its global chief financial officer, Josh Jepsen ('01) and large tractor program manager Josh Wittenburg ('97). John Deere is consistently one of UNI's top five recruiting partners in terms of internships and student employment opportunities. UNI is grateful for the continued partnership with John Deere and looks forward to strengthening the partnership even more in the future.