Community
Future educator tops off legacy at UNI with Lux Service Award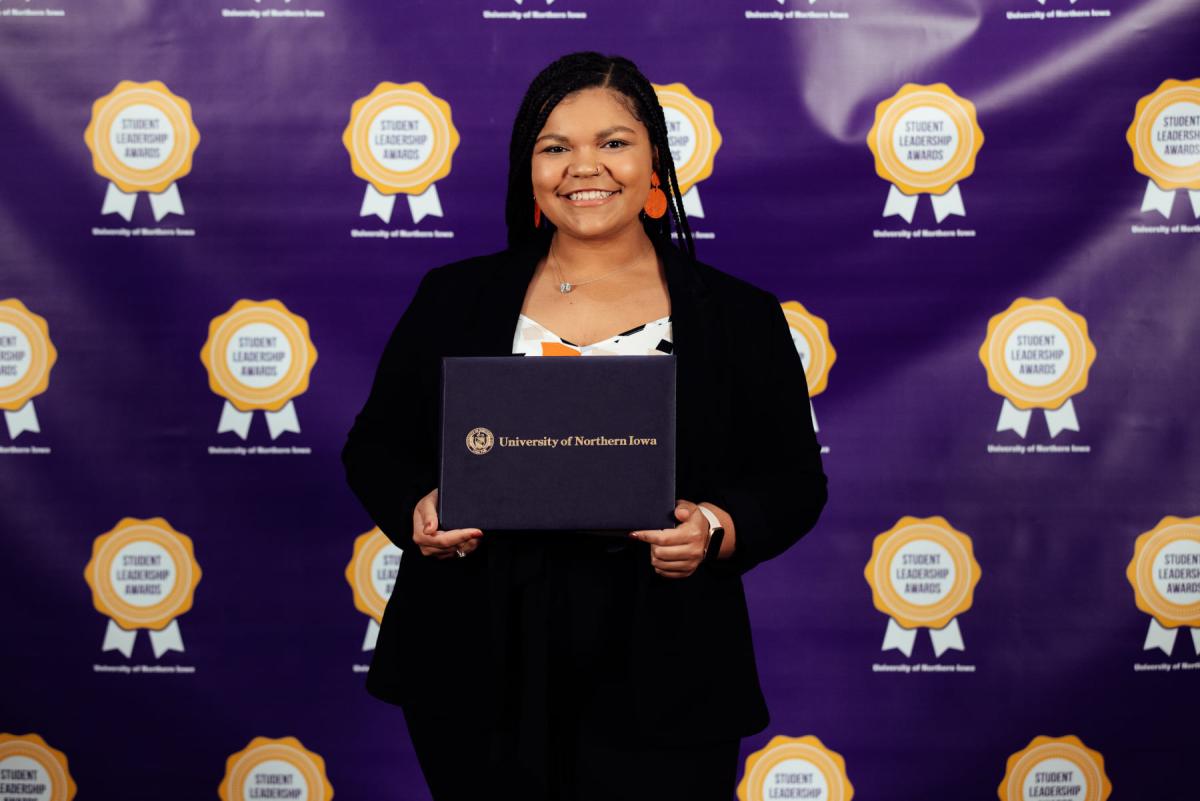 When Alexis Moller heard that one of the winners of this year's Lux Service Award was an elementary education major, she didn't think much of it, knowing she was in a room with many students who fit the description. But as more details about the winner were divulged, she quickly realized she had just won one of the most prestigious Student Leadership Awards, meant to recognize the culmination of a graduating senior's achievements at the University of Northern Iowa.
"A lot of the work that I do is not campus-wide. It's not something everyone knows about," Moller explained. "So to know people appreciated and noticed the work I was doing was very humbling."
It's easy to identify Moller's passions based on how she's chosen to involve herself, not only at UNI but in the Cedar Valley as a whole. She's mentored middle school students in the Discover the Dream Program through the Chief Diversity Officer's office, participated in Dance Marathon, and provided tutoring for children of migrant families in Waterloo through the Migrant Education Program. She served on the Student Leadership Council hosted by the Dean of the College of Education and College of Education Dean Search.
Moller also described issues around diversity, equity and inclusion as another passion of hers. She said being active in the Center for Multicultural Education (CME) and seeing the diversity there has been instrumental in developing that passion, leading to her being active in the Black Student Union and Ethnic Student Promoters. She is also part of the College of Education Diversity, Equity, and Inclusion Committee.
"I am very much a leader," Moller said. "I was involved in things throughout high school, but not to this extent. As I was exposed to more and fell more in love with education and diversity, equity and inclusion, these opportunities kept arising. I felt like I had to take them."
Moller was one of two Lux Service Award winners at the April 12 ceremony. The other winner was Jerrell Bates.
Moller won her award surrounded by her parents, who she says have been crucial to her success.
"Growing up, my parents always spoke to me and my brother in positives," she said. "They never let us quit and made sure we kept trying. They always said, 'You can do it, and we have your back'."
This perspective is one of many things Moller has already carried into the classroom during her field experience. She knows that she will continue to incorporate this positive way of thinking and speaking when she starts student teaching and when she becomes a teacher.
"I let my students know they have a chance to leave a very powerful impact on this world," Moller explained. "I let them know they are capable of great things, and they can do anything that they put their minds to. But they have to put their minds to it."
Because of her passion for working with kids and her love of learning, becoming a teacher was the easy choice for Moller. She grew up in Dubuque and graduated from Dubuque Senior High School. While initially she had planned on attending school out of state, she made the switch to UNI at the last minute. Four years later, she can't picture herself anywhere else. 
"I was meant to be here," she said. "I've had great experiences and amazing opportunities with field placements, the people I've worked with and the kids I've taught."
Ultimately, Moller hopes that she leaves a legacy of kindness and passion behind at UNI. She will also be student teaching in Arlington, Texas, in the fall. After student teaching, she hopes to get a master's degree in the area of human development in education and social justice education and later teach in urban schools and work with their communities. 
"I feel like I'm beyond prepared and ready to go," Moller said. "UNI has done a fantastic job helping me get here. I'm not even praying for a certain grade because I really don't care. I feel ready no matter what."