Campus & Community
UNI senior believes Lux Service Award shows tremendous personal growth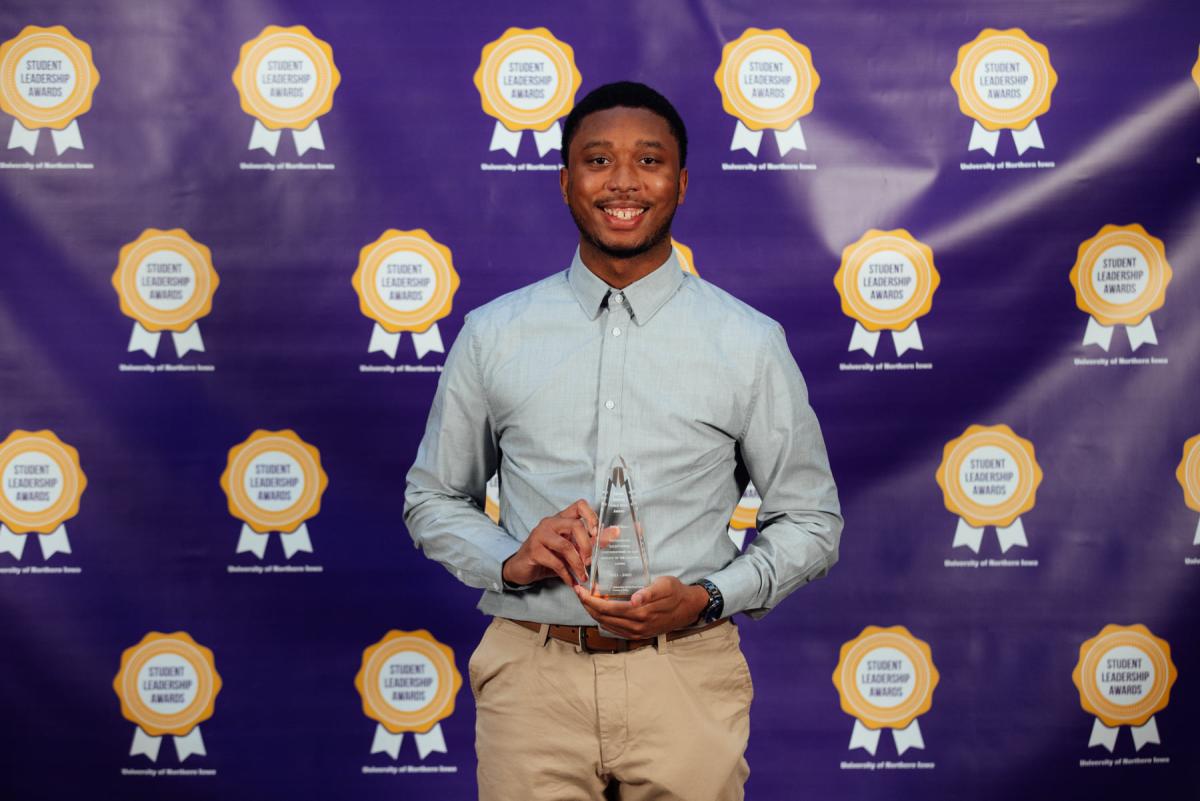 Jerrell Bates has accomplished quite a few things during his time at the University of Northern Iowa, from being named a Newman Civic Fellow to serving as president for Ethnic Student Promoters. But of all the things he's done in his four years, the senior psychology major believes winning the Lux Service Award is his greatest achievement.
"I came into college, introverted, with no intention of doing anything — just being in my room, going to class, going to work for four years," Bates explained. "Winning the Lux showed me the kind of personal growth that I've had."
Each year, the Lux Service Award is given to a graduating senior to recognize the culmination of their overall involvement at UNI. It's considered the most prestigious award handed out at the annual Student Leadership Awards ceremony. The other winner this year was Alexis Moller. 
While Bates said he wouldn't describe himself as an emotional person, he does say he got a little emotional on April 12, the night of the ceremony, when he won, surrounded by his mom, his mentors and his friends.
"It was surreal, to be honest. I'm still shocked."
Getting out of his shell in his early days at college required some help from UNI Thrive, a peer mentor program for multicultural students. Bates said that his mentor Yakira Sanders ('19) "refused to let him be anti-social." The mentorship program was so impactful for Bates that he also became a mentor.
Working in housing and dining in a more customer service-based role also helped Bates break out of his comfort zone. Bates has stayed active on campus in other ways, including as a member of the Black Student Union, a student program coordinator for the Department of Diversity, Inclusion & Social Justice, and a student representative on the President's Council for Inclusion, Transformative Social Justice & Advocacy.
One of the greatest lessons he says he's learned while being so involved on campus is to be comfortable with the uncomfortable.
"I've learned that there's a lot of stuff you're going to be uncomfortable with," he said. "You just have to get used to it. In order to succeed, you have to keep pushing because if something gets uncomfortable, and you just decide to stop there, then you might never reach the heights that you're capable of reaching."
While Bates will be attending graduate school in the fall at UNI for mental health counseling and he plans to go on to get his doctorate, there was a time when he didn't think he'd go to college at all. 
Bates grew up in Waterloo. As he approached graduation from West High School, he realized he had two options: enter the workforce or go to college. Knowing he wasn't quite ready to enter the workforce, he opted for the college route and decided UNI was the best choice for him due to the closeness to home and the friends he had working on campus.
Bates says that coming to college has changed him for the better both professionally and personally. It also further ignited his passion for helping others with their mental health struggles and made him realize his dream of becoming a mental health counselor. 
"Through my professors and my coursework, my eyes were opened to exactly how bad the mental health situation is in America," he said.
After going through undergraduate studies, Bates says he is "fully prepared" to continue his education with grad school in the fall. For Bates, the choice to get his next degree at UNI was an easy one.
"Coming to UNI is when I realized that I have a passion for serving others," Bates said. "I believe my purpose is to help others improve their quality of life and realize their true potential. So I'm very much looking forward to going out and continuing to do that — not just my community, but as far as I can."