Campus & Community
UNI-CUE scholarships help make college possible for four local students
For four local high school students, the road to college just became a bit easier thanks to scholarships from the University of Northern Iowa's Center for Urban Education (UNI-CUE).
The four students — Nathan Anderson, Caleb Borwig, Michellel Jones and Alex Grimm — were each awarded a $4,000 scholarship to help cover the cost of tuition and other expenses, according to Nickole Dillard, Director of the Educational Opportunity Center. The scholarship may be renewed annually provided eligibility requirements are met and funding is available. The scholarships are funded through the Academic Attainment Fund (AAF), which was established with a generous grant from the CUNA Mutual Foundation. 
Scholarship recipients undergo a rigorous application process that requires candidates to write essays and complete a budget worksheet and Free Application for Federal Student Aid (FASFA) application, as well as demonstrate a need for financial help, Dillard said. 
The scholarship is open to all students participating in UNI-CUE's TRIO programs — including Upward Bound, Educational Talent Search and Educational Opportunity Center — which serve around 3,200 students annually. The TRIO programs are federally funded by the U.S. Department of Education and hosted by the University of Northern Iowa, and are designed to provide broad opportunities and tools to enable students to choose the best educational path to meet their goals and needs. 
Come fall, Nathan Anderson and Caleb Borwig said they will be attending UNI, Michellel Jones said she plans to go to Coe College and Alex Grimm said he will be starting at Iowa State University.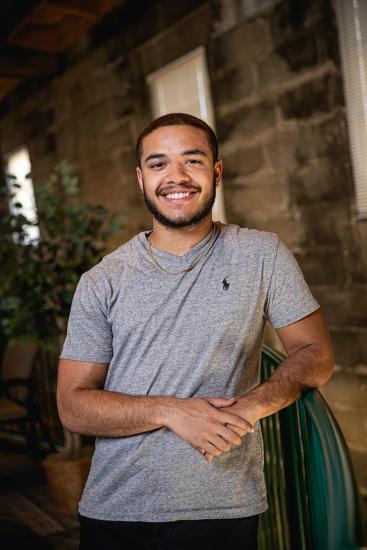 Nathan Anderson
Born in South Carolina and raised in Waterloo, 18-year-old Nathan Anderson aspires to be a documentary filmmaker and believes the interactive digital studies program at UNI will help him achieve that goal. 
A graduate of West High School, Anderson said he has been involved with UNI-CUE programs since he was in the sixth grade — first with the Educational Talent Search and later with the Educational Talent Search student ambassadors. 
"The talent search program was incredibly influential for me," he said. "We got to do so many things, like college visits, financial literacy courses and we even got to take a trip to a college expo in Chicago where I was able to talk with several historically Black colleges and universities, which I really enjoyed. I even got some acceptances on the spot, and I was just like 'wow.'" 
Anderson said his participation in UNI-CUE programs has helped him build confidence and prepare for college.
"It's definitely a new chapter in life," he said of starting college at UNI. "But that's what I'm kind of looking forward to. I've always just kind of been waiting for this moment to come. I'm excited, and I feel like UNI-CUE and the counselors at West High School have prepared me for this moment."
Anderson will start at UNI in the fall. He is interested in possibly joining a fraternity, he said, and is eager to get involved with the Black Student Union. He said he is also looking forward to the freedom that comes with leaving the nest and venturing out on his own, none of which would be possible without the scholarship from UNI-CUE. 
"When I found out I was going to get the scholarship, I was really happy and a bit relieved," he said. "I have also gotten several other scholarships, but every little bit will help me pay for college, so it's a huge weight off my shoulders."
Anderson said he was encouraged by his high school counselors to check out UNI and the interactive digital studies program jumped out at him. 
"It seemed like a really good program, and when I looked into life at UNI, it seemed like it would be a really great fit for me," he said. 
Caleb Borwig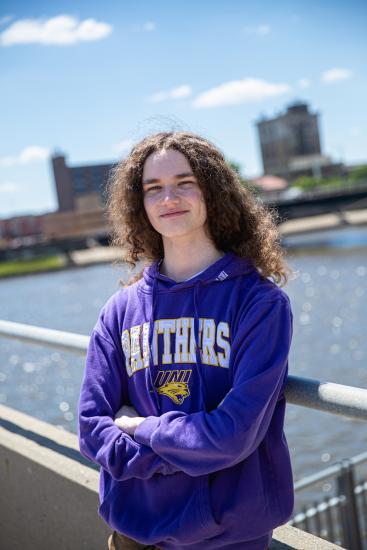 For 17-year-old Caleb Borwig, being selected for a UNI-CUE scholarship means he may not have to take out loans to fund his schooling. 
"I'm essentially funding all of my college education on my own," he said. "I don't have a specific person in my life, like a parent, who is helping me, so it was very, very important that I applied for a lot of scholarships because I am very much trying to avoid debt. The importance of the UNI-CUE scholarship is essentially my education, because without that help I wouldn't be able to fund my education."
Borwig will start at UNI in the fall where he plans to major in graphic design. 
A graduate of West High School in Waterloo, Borwig views his involvement with UNI-CUE's  Upward Bound program and his participation on his school's robotics team as the opportunities that really shaped his high school career and prepared him for the future. 
"Those are the two things that I dedicated all of my time to and felt like I put the most amount of work into," he said. "UNI-CUE, for me, was mainly a summer program, and it really helped keep me on track with my GPA and get me through high school. And then as part of the robotics team, I got to meet new people and really learned how to work as part of a team."
 
Borwig was not heavily involved in the actual building and operating of the robot. Instead he was focused on marketing the team, where he would create content to promote his team and his school.
"That's kind of where I found my passion for graphic design," he said. "So, I think robotics was one of the biggest helps, but I wouldn't have found opportunities like the robotics team without programs like Upward Bound."
Through Upward Bound, Borwig was able to take advantage of a number of services, including tutoring, mentoring and volunteering opportunities. 
"But one of the biggest things that Upward Bound does is this summer program where they have students — freshmen to juniors — come in from high school and spend the entire summer staying in the dorms on UNI's campus and take high school classes," he said. "Then when you're a senior, you take two actual college courses. So it's just a really great opportunity to earn high school and college credits, but also familiarize myself with the UNI campus and get a tiny taste of what it might be like to attend college there."
Borwig said he is nervous about starting college and moving into campus housing, but at the same time he feels prepared thanks to Upward Bound and the experiences he has already had on campus. 
"I feel that without Upward Bound, there's a chance that I wouldn't even be trying for college at all," he said. "Upward Bound has completely shaped how I think in terms of my education. And even with the scholarship I received - I would never have found that opportunity on my own and  would never have sought it out. So basically, Upward Bound is really a big reason why I am going to college and with all the scholarship help, it's why I am able to go to college."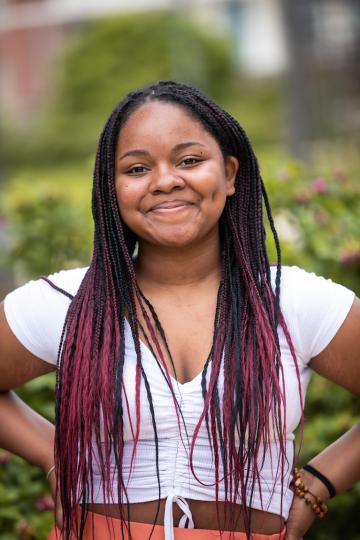 Michellel Jones
At 18 years old, Michellel Jones has already accomplished a lot. 
The Charles City native racked up a long list of her achievements during her high school career, including senior class president, serving on the student council and as a student school board member and involvement in numerous student groups and organizations. 
"I also started an equity group and I joined the school's equity team, which is a branch off of the school board," she said. "Then I started a smaller equity team with a couple of eighth graders and me and a couple of my friends and we would talk to eighth graders about things in general, like social issues and we would try to educate them. We talked about a lot of different things, racism, mental health, the LGTBQ+ community, using pronouns correctly and inequity."
A graduate of Charles City High School, Jones said she plans to attend Coe College as a psychology major in the fall. 
"At first, I wasn't sure where I wanted to go, but as I looked more into Coe and what it's all about, the more it sounded like it would be a good fit — the college has a lot of resources, and I could definitely see myself doing well there," she said. 
Jones said she was inspired to study psychology by her guidance counselor, Chelsea Moen. 
"She meant a lot to me throughout my high school career," Jones said. "She was always a person that really made me feel more comfortable, she always supported me and when I would struggle, she would tell me that things were going to be okay and give me a new perspective. She also helped me hold myself accountable."
Throughout high school, Jones said she struggled with depression and anxiety, but she didn't think her experience counted when compared to people struggling with more severe forms of mental illness. 
"Mrs. Moen was able to help me see that my experience was real and legitimate," she said. "One of the things that was really difficult for me was that my family is not able to pay for mental healthcare, even though it's something I really need — and honestly everybody needs — so I really want to be a person who can provide support for somebody who doesn't have that, because I know what it feels like to not have something that you absolutely need. And Mrs. Moen really inspired me to want to be that person for other people because she does such a great job that I honestly want to be just like her."
Jones, who is a participant in the Educational Opportunity Center TRIO program, said the UNI-CUE scholarship will help her achieve that goal. 
"Receiving this scholarship meant a lot to me because going forward, knowing I have one more  scholarship gave me a sense of comfortability in my educational path and knowing I would be able to go to college, because there was no way I would be able to afford to go without the scholarships I've received. And, I'm excited to go on and start college."
Alex Grimm
After college, 18-year-old Alex Grimm said he wants to go to work for SpaceX or NASA. Planning to major in aerospace engineering, the Independence High School graduate said receiving the UNI-CUE scholarship makes that goal more attainable by helping him pay tuition at Iowa State University. 
"It meant a lot," he said of winning the scholarship. "Getting a scholarship like this means I can go to school and focus on my major without having to worry so much about the financial stuff."
Grimm, who lives in Independence, said he chose Iowa State University because it was close to home and offered the major he was interested in. 
"It was kind of a no-brainer," he said. 
During his high school career, Grimm was involved in several activities including volunteering to do AV work for school productions and events, as well as being a member of the school's jazz band and its robotics team. He was also a participant in the Educational Opportunity Center TRIO program, which is how he learned about the UNI-CUE scholarship opportunities. 
Grimm said he had been involved with the robotics team since seventh grade, starting off as a builder and later becoming team captain. 
His experiences in high school, he said, have left him feeling well prepared for college. 
"I'm not really nervous at all," he said about transitioning to college. "I feel like I learned and did a lot of things in high school that have helped to prepare me for this next step." 
While at ISU, Grimm said he plans to make the most of the experience and take advantage of as many opportunities related to his major as possible. 
"I hope I can make a lot of good connections and new friends and learn about my field (engineering) and do really cool projects," he said. "I'm definitely planning to join as many clubs and organizations that focus around engineering as I can and just learn as much as I can."
And with the UNI-CUE scholarship, Grimm said he feels even more confident embarking on this college adventure. 
"I was kind of shocked when I realized I had gotten (the scholarship)," he said. "I wasn't expecting to get it. It lifts a lot of weight off my shoulders as far as paying the tuition goes, so that was definitely a nice, pleasant surprise."