Education
Mentoring the next generation of teachers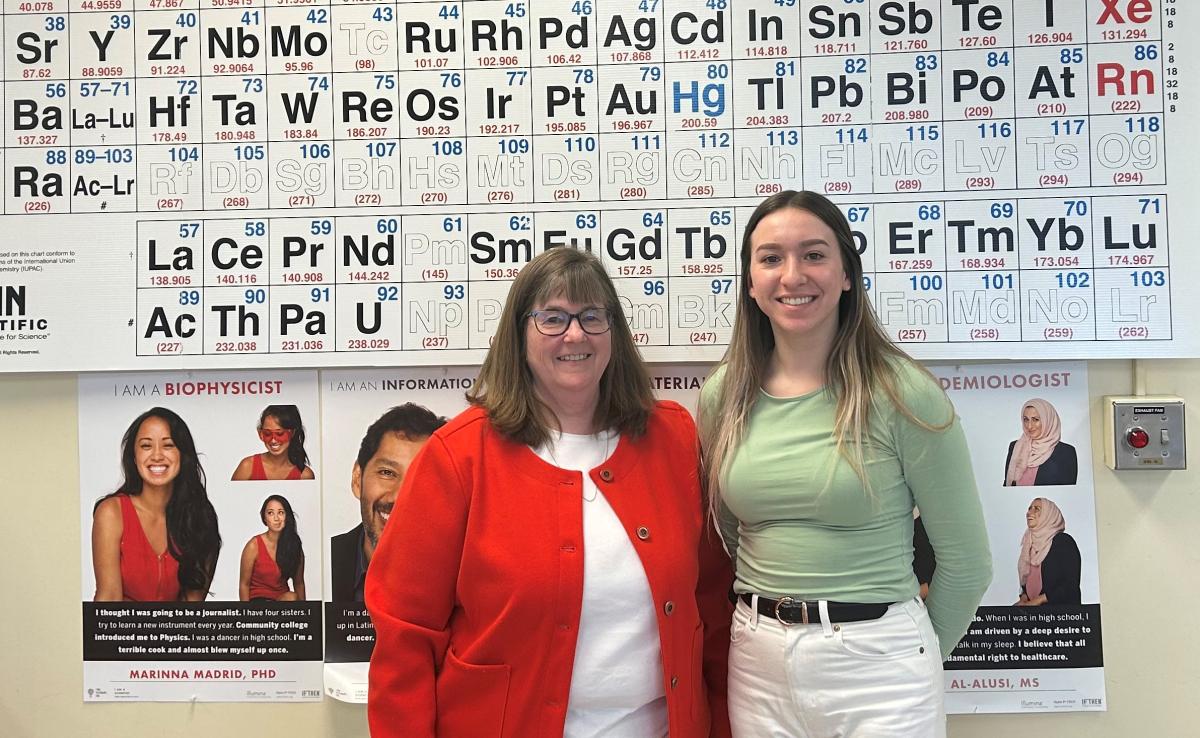 It takes a village to build a teacher. At UNI, that village includes 1,000 mentors spread across 275 school districts throughout Iowa and beyond. These mentors help students who participate in more than 2,000 field experience placements annually. 
"The people that I've worked with — whether it's my student teacher coordinators, mentor teachers or my professors that helped with education and chemistry — they've given me a lot of support," said Hannah Bustamante, a senior majoring in chemistry teaching with an earth science teaching minor. "So if I need help with something or if I just need someone to talk to because I'm stressing, they're very supportive and guiding me in the way that I need to go to make sure I'm successful."
Throughout the student teaching experience this semester in Omaha, Bustamante's mentor teachers have been a huge source of support. "It's easy to be scared because it's a really big, new, crazy thing," she said. "But there's a lot of support throughout the entire experience. So there's nothing to worry about."
Bustamante's current mentor teacher is chemistry teacher Sharon Elliott. She appreciates the freedom Elliott gives her with teaching.
---
"

It's fun to look at somebody and see their whole life is ahead of them. Any impact I can have on making that better or giving resources to help another teacher be successful in the future — I want to have it.

"
---
Before Bustamante began student teaching for her second placement, she reached out to Elliott to set up a Zoom meeting. 
"I was very impressed," Elliott said of their first meeting. "She had a lot of good questions. She asked me about my classroom and about what my expectations were and what type of students I had. She was excited to be here. She seemed very mature and very ready to take on the challenge of teaching."
Elliott provides feedback and answers Bustamante's questions as they arise. She also shares her own journey to teaching with Bustamante.
"My role is to guide but not tell her what to do," said Elliott. "Every teacher has to find their own way and what they're comfortable with."
One of the greatest areas Elliott has seen Bustamante grow is in her classroom management abilities. This is especially important because it's the area Elliott thought was the most challenging to grasp when she first became a teacher.
Another area that took some adjusting for Bustamante early on was gauging how long her lessons would take. Sometimes a lesson she thought would take a whole class period would take just 30 minutes or vice versa. But, with time, she has been able to get a better grasp on how to plan her lessons.
For Bustamante, the best thing about student teaching is the relationships she's able to build with the students. Rather than just being with students for a few days like in her earlier field experiences, she gets to be with them all day every day.
"I get to meet the students and build a relationship with them," she said. "And instead of just doing one lesson in the middle of their regular unit, I get to plan the entire unit."
Bustamante has been pleasantly surprised with the way that other staff members have treated her as if she was another teacher. Whenever there are staff outings, she's invited and she's included in conversations just as if she were a teacher.
"If you're a new teacher, you have plenty of other teachers that are ready to support you and say, 'Hey, here's some lesson plans,' or 'Here's what I use for my year,'" she said. "So there's a lot of support in that way. That's given me an opportunity to take a deep breath and get a more realistic idea of how things are going to happen."
While there have certainly been challenging moments throughout the process, there have been lots of positive moments, too.
---
"When students leave the class saying they love the class, that makes it all worth it."
-Hannah Bustamante
---
‌In the fall, Bustamante will start her first full-time teaching position at Cedar Falls High School. Anticipating the start of her new position makes the end of student teaching bittersweet.
"I don't want student teaching to end necessarily because I do love the students, and I do enjoy having Sharon as a mentor teacher," she said. "So I'm sad about that part. But I'm really excited to graduate and then start to get ready for my own classroom where I get to be with the students year-round."
Elliott believes Bustamante is more than ready to tackle her own classroom.
"I think she loves teaching," said Elliott. "She loves being in the classroom. She gets along really well with students. She has a good rapport with them. She knows the content — she's comfortable with the content. You can just see that she just loves being in the room with the students. And that they understand that and see it as well."