Education
Why Becoming a Teacher Could Be the Best Decision You Ever Make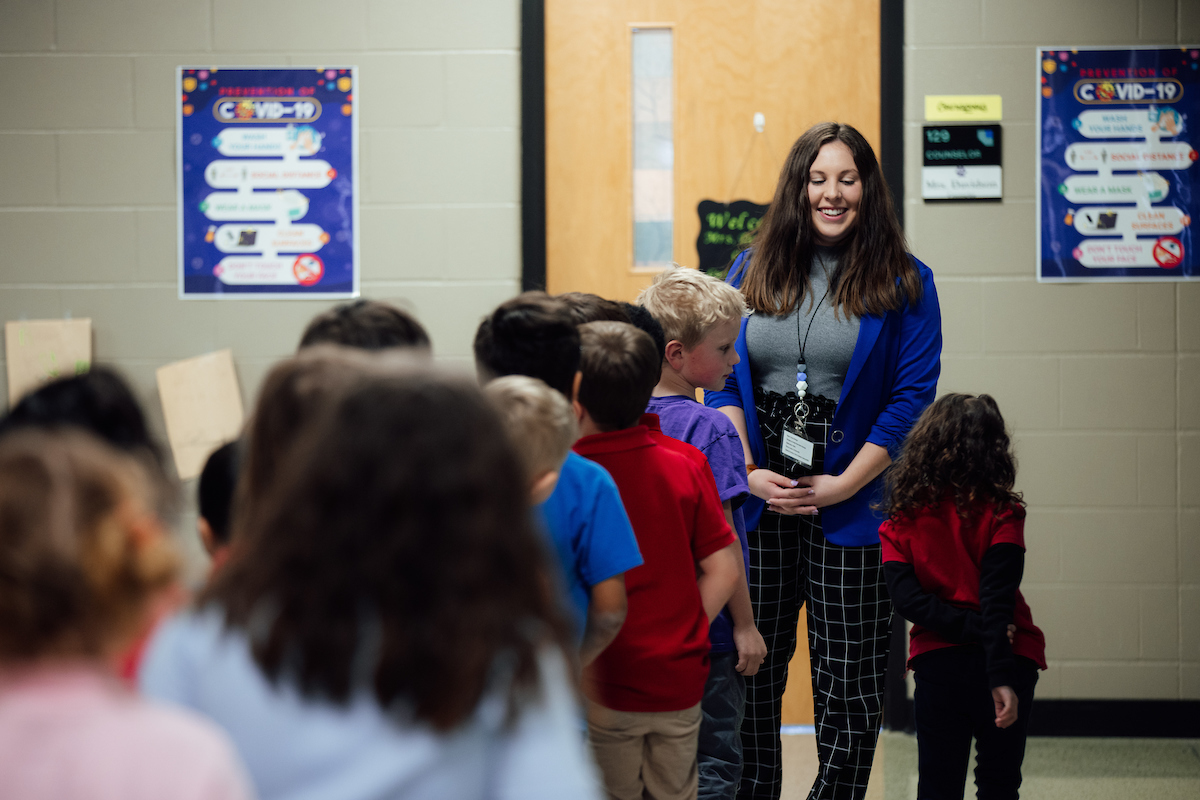 The life of an educator isn't for everyone, but, for many, this career choice is the best decision they ever make. If you want to hear from a few real educators on why you should become a teacher, keep reading.
1. You Get to Be a Positive Influence on Students
The difference that teachers make in the lives of their students goes far beyond the classroom. In fact, it goes beyond the years that students are in school. Whether students come from a difficult home life, are struggling with self-confidence or just really need someone who believes in them, a teacher has the ability to make school a safe, welcoming environment that leaves a lifelong impact on students. 
Math teacher Diann Herington, '15 and '19, loves the relationships she gets to build with students at North High School in Davenport, Iowa. She loves learning about her students' passions and hopes for the future which is why she also makes it a point to support students outside of school, such as at sporting events and other activities. There are few jobs where you have the opportunity to form close relationships with as many people as you do in teaching.
Of course, you'll also get to influence your students academically which means you will have a sense of pride when you see students master skills they once struggled with. Whether you get to witness students tie their shoes for the first time, finally solve a complex math equation or improve their overall grade in your class, few things are more rewarding than seeing the pride students feel as they learn and grow.
2. You Learn New Things Constantly 
Learning isn't just something that stops once you get a degree. It's something we all do every day. There may not be a job where this is more obvious than that of a teacher. While you're the one teaching students, they're also teaching you. This is one of the things that Amanda Olberding, '12 and '21, loves the most about her job as a K-5 art teacher at Brookview Elementary in Waukee, Iowa. She enjoys constantly learning from her students and being reminded that everyone is a lifelong learner.
Being a teacher means you get to retain the knowledge that other adults your age forget. As a music teacher, you get to maintain your knowledge of music theory and constantly have the opportunity to learn new songs. As a history teacher, you should have no problem remembering the dates of key historical events because you're getting to teach them every day in your classroom.
There are many other skills the teaching profession will instill in you that will benefit you in and out of the workplace. For example, as a teacher, you get to be a leader in your classroom and at your school. You also get to master your presentation and organization skills. Even after you've been a teacher for decades, you'll continue learning which makes becoming a teacher that much more exciting and rewarding. 
3. You Accumulate the Best Stories
When you become a teacher, you'll get to meet all kinds of unique personalities which makes coming to work fun! No matter what age you teach, kids really do say the funniest things. This is why the best thing about being a teacher for Brian Cross, '07, is having conversations with his PE students in the Cedar Falls Community School District the most. Even years after a student has left his class, he says he can still remember those conversations that made him laugh. 
While seeing the funny, creative side of students makes for memorable stories, so do the moments that show just how thoughtful kids can be. You'll get to see students develop passions and friendships blossom. You'll also be touched by handwritten notes, homemade art and other thoughtful gifts from students. These small gestures will remind you why you became a teacher!
4. You Build Long-Lasting Relationships 
What you give to students is important, but sometimes you may find that they give even more back to you. This is the best part of the job for Hannah Herington, '18, a third-grade teacher at Ekstrand Elementary in Central DeWitt Community School District. She takes advantage of every opportunity to participate in activities outside of her classroom so she can build relationships with students throughout the whole school and not just her own class. 
This is also the best thing about teaching for Seth Nicholson, '13, who is a sixth-grade social studies teacher at Storm Lake Middle School in Storm Lake, Iowa. He loves running into former students and catching up with them. Middle schoolers may not always be the easiest to teach, but he knows how important having a good role model is, and that's exactly what he strives to be for his students.
While bonding with students is important, you'll also get to build relationships with parents and with other teachers. This makes teaching the perfect career choice for those who thrive on lots of social interactions. 
5. You'll Have a Job That's More Than a Job
Last but certainly not least, becoming a teacher could be the best decision you've ever made if you're looking for a career that gives you purpose, not just a paycheck. Teaching allows you to make a long-term impact on your community and shape the next generation. It's a way for you to make a difference in the lives of many students (and their families) and get paid in the process. 
As Diann puts it, "It isn't always about the content. It's about being a positive person in students' lives and encouraging them to be good humans."
Sometimes going over a science concept or teaching English literature may not feel like it's making an impact. But when you get the chance to slow down and talk to your students about what's going on in their lives or cheer for them at the softball game they invited you to, you will see that becoming a teacher is so worth it.
Becoming a Teacher in Iowa Starts with Committing to UNI
So now that you know why you should become a teacher, it's time to start thinking about how to become a teacher. The University of Northern Iowa is the place to go if you want a quality education that shapes you into the best teacher you can be. You'll be in good company since UNI has been a leader in pre-K through 12 education for almost 150 years! With UNI's teacher education program, you'll get into the classrooms starting your very first year. This hands-on learning is exactly why UNI teachers are employed in 99% of Iowa school districts and in all 99 counties. 
Our teacher education experts can answer any questions you might have on how to become a teacher and how you can make sure it's the right decision for you. Apply today to start your journey to becoming a teacher in Iowa.
As Iowa's only regional comprehensive university, we are designed to provide critical coursework with real, practical fieldwork. 
Real, relevant academic excellence for a world that expects future-ready graduates.
94% of UNI grads find success within six months of graduation.
 
UNI graduates more teachers than any other university in Iowa.
 
UNI's middle level education dual major is the only one of its kind in the state.
 
UNI is ranked a top regional public university by U.S. News & World Report.