Press Releases
UNI launches first Center for Urban Education scholarship fund
The University of Northern Iowa's Center for Urban Education has launched the UNI-CUE Academic Attainment Fund with the support of a $117,000 grant. The fund will support two scholarship programs — the first to be offered directly through the UNI-CUE.
"UNI-CUE's mission is to empower underrepresented people to further their education to be able and have the opportunity to participate in the American dream," said UNI-CUE Director Robert Smith. "I'm thrilled that we were able to work with CUNA Mutual Group Foundation to add some assistance to help out our families. I can't be more happy that they believe in us, and I'm proud of the relationship we're developing."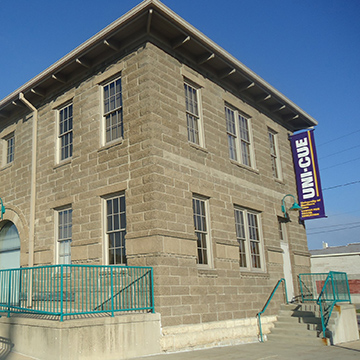 The grant, from CUNA Mutual Group Foundation, the philanthropic arm of Wisconsin-based mutual insurance company CUNA Mutual Group, will support two new programs for two years. Those are a "last dollars in" scholarship fund that will provide up to $2,000 per semester for eligible students, and a mini-grant program that can support students with up to $1,000 per academic year to assist with financial barriers, including housing, transportation and childcare. 
"It's amazing how many times people don't get to the next semester because they fall short $500 or $1,000," Smith said. "There's a lot of hurting families and there are a lot of kids who I know academically can get it done, but they just don't have the funding. We want to be able to help. I'm excited about CUNA Mutual being able to step forward and provide this funding."
"This is a way for the university to truly show its leadership with low income, first generation and populations of color. UNI is going to be able to provide so many more services and access to postsecondary education to a community that hasn't had those resources readily available," said Yolanda Williams, director of UNI's Classic Upward Bound program, who led the grant application. "We're blessed that CUNA Mutual Group Foundation saw that vision in what we were trying to provide to the community."
The UNI-CUE serves around 15,000 students annually through several programs, including Classic Upward Bound, Educational Talent Search and Educational Opportunity Center. The new grant will allow UNI-CUE to provide financial assistance to around 200 college students.