Alumni
Generous alum gift creates new UNI-CUE scholarship for UNI students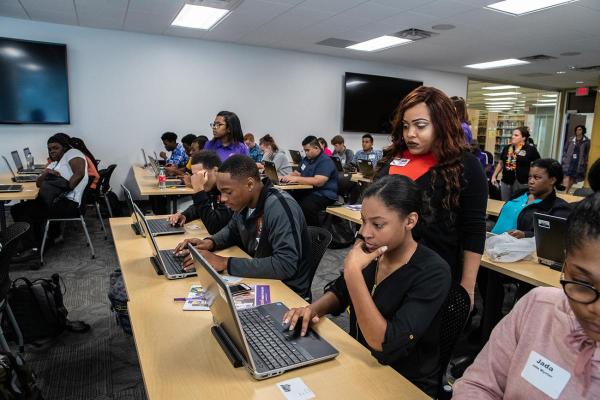 Paying for college just got easier for three University of Northern Iowa students, thanks to a new scholarship that was created as the result of a generous gift from a UNI alum.
The $100,000 gift, received recently from 1965 graduate John Hall, was used to create the Grace and Joe Hall Scholarship — a $2,250 scholarship that will be awarded to three students each semester through the University of Northern Iowa Center for Urban Education (UNI-CUE). Each scholarship will be renewable as long as the recipients continue to meet the award requirements.
"It's just really a blessing because there are so many kids who are in financial need, who have the ability to be a graduate of the University of Northern Iowa, and never get the chance because of financial reasons," said Robert Smith, executive director of Educational Opportunity Programs & Special Community Services. "We all know about the challenges student debt can create and for those young people who may not have the support or ability to pay for a college education, those challenges might deter them from pursuing a degree. So, I'm really happy and grateful to John for allowing us the opportunity to provide this assistance to the students we work with, because many of them have the potential to do well in school but they don't or can't make it because they don't have the financial means to do it."
A Waterloo native and graduate from West High School, John Hall believes access to education changes lives. Currently living in Chicago, Hall decided he wanted to do something to support the students in his hometown by making college more accessible for first-generation college students and those coming from low-income backgrounds.
Working with the UNI Foundation and UNI-CUE to determine the best way Hall could help, creating new scholarships seemed like the best way to help the most students. The three scholarships were divided among UNI-CUE's three TRIO programs — Upward Bound, Educational Opportunity Center and Educational Talent Search — with one scholarship going to a student from each program.
In addition to being a TRIO program participant, to qualify for the scholarships, students must be graduating from a Waterloo Community School District high school or transferring from a community college, having already graduated from a Waterloo high school. Students must be attending UNI and enrolled full-time, taking a minimum of 12 credits, maintain a grade point average of 2.5 or higher and demonstrate financial need through the Free Application for Federal Student Aid (FAFSA).
For first-generation college student Madisyn Abbas, 17, learning she had been awarded one of the three scholarships felt like affirmation that she was on the right track. Abbas graduated this past summer from West High School.
"I feel really good," she said. "Getting the scholarship is really helpful, and I feel very proud of myself for even going to college because my mom didn't finish and my dad didn't finish high school."
A freshman at UNI this year majoring in environmental science, Abbas said her involvement in Upward Bound and UNI-CUE has been crucial to her success in high school and navigating her way to college and in securing funds for classes, schoolbooks and other necessities.
After college, she said she plans to work in water resource management or become a Department of Natural Resources officer.
"I'm just really grateful for the opportunity to go to college, and the scholarship will help me pay for my classes and the supplies I need without having to rely on student loans," she added.
For 18-year-old Brock Kiewiet - a freshman who started at UNI this semester - and 42-year-old Shamar Ambrose - a public health: community health major who transferred into UNI as a junior - receiving the scholarships served as motivation to further succeed.
"It makes me more motivated to work hard and do what I need to do in order to reach my goals because there are people that want to help me," Kiewiet said. "It helps a ton with books and the supplies I need for classes, and I also thought it was cool to receive a scholarship from UNI-CUE since I have been involved with Educational Talent Search since middle school."
And help is exactly what John Hall wants to do.
Following a successful career in business after graduating from UNI, John opened Goose Island Beer Company in Chicago in 1988 after he was inspired by the beers he tasted while traveling across Europe. When he returned to the states, Hall got to work perfecting his own line of craft brews and, in the 30 years that followed, he opened breweries, brewpubs and a bottling plant to keep up with demand. In 2011, Hall sold Goose Island to Anheuser-Busch, but still remains involved in the business.
Hall has always been passionate about education and ensuring underrepresented communities have access to college education. For many years, he has been involved with Erie Neighborhood House in Chicago, a social services nonprofit that provides comprehensive support — including resources for children and youth, mental health and community wellness, adult education and training and legal services — to immigrant and low-income families. Erie Elementary Charter School, a K-8 nonprofit public charter school serving the Chicago Northwest community, was born from the work Erie Neighborhood House has done.
"John has always been passionate about supporting students from underrepresented backgrounds because he knows how influential education can be," said Ryan Randall, associate director of development for the UNI Foundation. "With these new scholarships, he is able to focus support in his hometown of Waterloo while helping provide educational access to students who may not otherwise have the support needed to achieve their dreams of a college education. John has always maintained his connection with UNI, and he feels strongly about the high-quality, accessible education that we provide."