Alumni
UNI alum pays it forward to next generation with work as director of Educational Opportunity Center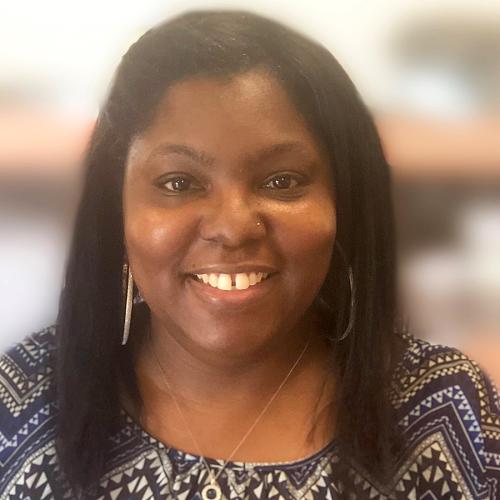 If you ask Nickole Dillard why she is so passionate about the work TRIO programs at University of Northern Iowa Center for Urban Education (UNI-CUE) do, she'd tell you, "I am TRIO."
"I was a low-income kid from Fort Dodge, the first in my family to go to college and graduate, and that's exactly who TRIO programs are designed to assist," said Dillard, director of the Educational Opportunity Center at UNI-CUE. "I was TRIO before I knew what TRIO was. So it's kind of like things have come full circle, and I think that's really cool."
UNI TRIO programs, like the Educational Opportunity Center, are federally-funded programs that are designed to provide educational opportunities and support to students from underserved communities. The programs — which include Upward Bound and Educational Talent Search, in addition to Educational Opportunity Center — serve around 3,200 students annually. UNI-CUE also recently launched an Educational Talent Search program in Cedar Rapids, which is funded to serve 500 students in Cedar Rapids area schools.
An accomplished athlete at Fort Dodge Senior High School, Dillard was such a talented basketball player that she received a full scholarship to play basketball at the University of Northern Iowa, where she majored in psychology. 
"I thought I would be a sports psychiatrist," she said. "That's what I wanted to do was make sense of sports. And in high school, I had this awesome teacher who taught psychology and social psychology, and I was like, 'This is what I want to do. This is who I am. I want to study behavior and people.'"
"Then you learn how much school it takes and, you know, your goals kind of change," she added with a chuckle. 
Dillard described her student experience at UNI as "blessed."
"It wasn't always easy, there were definitely challenges, but I really loved being there and learning and playing sports," she said. "Because I was there on a basketball scholarship, basketball was like my full-time job, and then I had track and of course my classes, so I was really busy all the time, but I loved it. Being the first in my family to go to college, I knew how important this was and I really wanted to do well and succeed."
Shortly after graduating from UNI in 1996 with a bachelor's degree in psychology, Dillard said she "fell into" social work. A friend and fellow college athlete, she said, was working at Bremwood Lutheran Children's Home — known today as Lutheran Services in Iowa (LSI) — in Waverly, Iowa, and suggested she look into applying. 
LSI is a Lutheran-affiliated social services organization that offers a variety of programs including mental health services for children, adolescents and adults, as well as services designed to help immigrants, refugees and individuals with disabilities. 
"I wasn't sure about it at first, but I applied and was hired as a counselor offering direct care to children housed in specific units." she said. "I helped supervise the residents — it was a residential facility — so I was in the trenches, on the floor with the kids, doing the day-to-day as far as managing behaviors, doing programming and running behavioral group sessions."
Over the course of about 10 years, Dillard continued to work with LSI, rising through the ranks from counselor to co-director of the entire campus and its facilities.
"I really loved it," she said. "I really loved working with the kids and knowing I was helping them and their families. They were great kids, most of whom had made mistakes or found themselves in bad situations or rotten circumstances."
Toward the end of her nearly 10 years with LSI, Dillard became a caseworker where she managed a caseload of families who were court ordered to obtain and maintain behavioral health intervention services designed to support children and families, and often provided in-home services.
"That was toward the tail end of my tenure at LSI, and I only did it for a few years," she said. 
Over time, Dillard said the constant travel and long hours the caseworker position required left her feeling stretched thin, and she decided it was time for a change. 
"Then I saw a position open for an educational counselor for EOC at UNI, and I was like, 'Let me see what this is all about," she said. "I had no clue what I was getting myself into."
Dillard said she knew next to nothing about TRIO programs when she first applied for the position, because there were no TRIO programs offered in the Fort Dodge area when she was in high school. 
"It was a steep learning curve at first," she said. "I didn't really know anything about grants or applying for grant money or the financial aid process, but I learned a lot and I really love what I do — I love the students, I love what TRIO stands for and its mission and I love meeting and working with the students and their families."
TRIO programs are designed to help students follow whatever educational path they think is best for them and support them as they move through all the processes that come with applying for schools and obtaining scholarships and/or grant money. 
"We really try to meet each student where they are at," she said. "If that's wanting to go to community college, we help them with that. If they are looking for help with career assessment or help applying to a program or technical school or a four-year institution, we offer that assistance. If they want to apply for financial aid, we can help them with that. If they want to seek out and apply for scholarships, we can help with that too."
Recently, Dillard - who is nearing her 17th year at UNI - said it seems like life has come "full circle" for her as she has started seeing kids she once helped at LSI participate in TRIO programs and prepare to go to college. 
"It's really amazing to see these kids and they are so grown up and doing so well and setting out on good paths," she said.
Though it wasn't something she pictured herself doing in the long run, for Dillard, finding her path to UNI-CUE was meant to be. 
"I really like helping people and making a difference in their life," she said. "And sometimes that difference is small, like helping a student with their FASFA application, but that one small thing can lead to really big things for that student and their family, and being able to be even a small part of that means a lot to me."