Business
Student entrepreneur molds her own future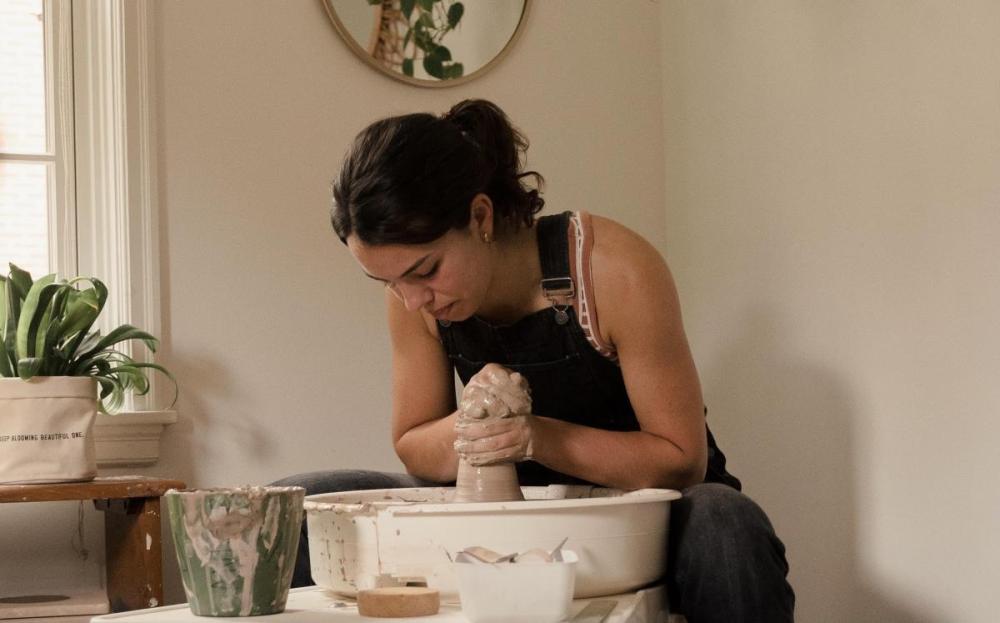 This article is the final installment in a four-part series on the current residents of the R.J. McElroy Student Business Incubator. Read part one on Emma Slagle, part two on Noman Ikram and part three on Skyler Ramsey.
At age 20, University of Northern Iowa sophomore Anna Gilbreath has already managed to accomplish what many dream of but few actually achieve: turning her passion into a business. 
For Gilbreath, that passion is pottery, which she makes and sells through her business Anna Grace Creates. While she makes the pottery itself in Kamerick Art Building, she utilizes her office space in the R.J. McElroy Student Business Incubator which is housed in the John Pappajohn Entrepreneurial Center (JPEC) for other business tasks such as product photography and collaboration.
"Being a student entrepreneur at UNI is a special experience because I have a community of friends, roommates and other students around me on campus who are always ready to support me," said Gilbreath.
Initially, Gilbreath was drawn to UNI because of the interactive digital studies program and the way it merged art with business. As an art studio major with an emphasis on ceramics and a marketing minor, Gilbreath has found her own unique way of merging art and business since her art is her business.
"Anna's creativity and style are inspiring, and I have confidence that she will be very successful in building her business," said JPEC director Laurie Watje.
Gilbreath started crafting ceramics as a sophomore at Roosevelt High School in Des Moines. At the end of Gilbreath's senior year, all the upperclassmen were supposed to host a pottery sale with their own ceramic creations. But because of COVID, the sale was canceled.
"I felt kind of unfinished because I had been really, really excited for the sale," Gilbreath explained. "It didn't feel right. I didn't want to be done with pottery yet."
At that time, Gilbreath had been using the Anna Grace Creates name as a way for her to sell calligraphy and hand lettering. But that feeling of "unfinished" was her first inkling that she wanted to expand her vision and make pottery more than just a hobby. 
That feeling continued to grow when Gilbreath was introduced to the UNI Entrepreneurs Club (UNI-E) by a friend. Through this student organization, she began learning more about the opportunities and support available through the JPEC.
"I thought the fact that there were free offices for students was really cool," Gilbreath said. "I knew I'd love to have something that would allow me to be in this space.
Over the 2020/2021 winter break, Gilbreath had a pivotal moment when she attended the Early Founders Program, a multi-week training program for aspiring student entrepreneurs. She walked away bitten by the entrepreneurship bug. Not only did she purchase a pottery wheel shortly after, but she also looked into getting office space at the JPEC to further build her business. As luck would have it, a spot was available, and she got her own set of keys.
That summer when she headed back to Des Moines, Gilbreath put her brand-new wheel to good use, spending as much time as she could making mugs, bowls, vases and jewelry dishes out of clay. All that creating, which she chronicled on Instagram, culminated in her very first pop-up sale with a local flower farm. Almost everything sold out, including some of the creations she had left over from her senior sale that never came to be.
So far, the two sales where Anna Grace Creates has been featured have both been in the Des Moines area. In the future, she hopes to branch out to get her pottery out in the Cedar Valley.
"I've enjoyed the face-to-face interactions at my sales with people I've only ever communicated with on Instagram," Gilbreath said. "It's been really, really cool to see my community come and support me, especially since I was scared about how things would go."
As Gilbreath progresses through her studio art classes, she's continued to learn more about throwing clay and stretching her artistic abilities. But her connections at JPEC continue to be an important part of growing her small business.
"I feel like I would be directionless without the support and the mentorship that the JPEC has provided," she said. "There have been a lot of meetings where we just brainstormed or I've been able to unload, and the people here help filter that. They encourage me to push through my doubts."
Gilbreath sees Bart Schmitz, the program manager at the JPEC, as one of the most meaningful connections she's forged with the staff. When Gilbreath was unsure what direction she should take her business, Schmitz helped her see through it. 
"He's shown he cares on all levels of my life, not just my business, and I really appreciated that," she said.
After college, Gilbreath hopes to work as an apprentice to another potter and someday own and operate an art studio full-time. Whatever the future throws her way, Gilbreath is excited to mold it into something beautiful